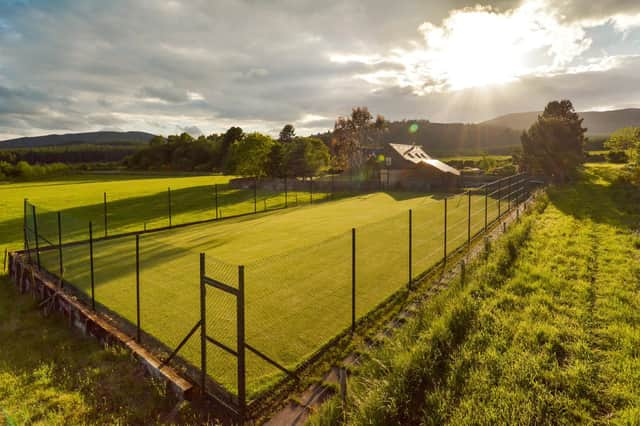 A tennis court is the ultimate property accessory at the top end of the market, says Kirsty McLuckie
Inspired by this weekend's Wimbledon final to think that your next "des res" might involve a tennis court? The good news is that a court itself is by no means prohibitively expensive.
As long as you have the required amount of level ground and the planning permission required, installing an all-weather court costs from around £30,000, or about the same as a decent kitchen extension.
Unlike making your kitchen bigger, adding a tennis court is unlikely to add much value to property, but if you have a sporty family, that might not be the main consideration.
Buying a home which already has a tennis court tends to be less affordable. Private courts are usually the icing on the cake of desirable features, so tennis properties tend to have a whole host of amenities alongside and are priced at the top end of the market.
Picture: Locheye House, Bell Ingram
Locheye House, for example, has not only an all-weather tennis court, but a pony paddock, boathouse, boat shed, jetty and a range of outbuildings, garages and workshops, set in nine acres in Easter Ross, near Tain. It is on the market with Bell Ingram and offers over £950,000 are being welcomed.
Carl Warden, of Bell Ingram's Perth Office, who is marketing the house, says: "It is a beautiful property which has stunning loch views from both floors."
The house certainly offers plenty of distractions which may stop you perfecting your serve.
Warden says: "The loch is freshwater and is the ideal place to take a dip – or it's well known as one of the best wild brown trout fisheries in the county."
The refurbished two-bedroom Locheye Cottage set in the grounds of the main house adds the possibility of letting it for additional income – or it could house your tennis coach.
Picture: Strathgarry House, Galbraith
Strathgarry House in Pitlochry, Perthshire has a fully upgraded all-weather tennis court, resurfaced in 2015, so is ready for the next Murray or Konta.
On the market with Galbraith, the asking price is a whopping £1.55 million.
The wider estate is a big undertaking however. Already complete is a beautifully renovated steading, Wester Strathgarry, which is set around a courtyard and overlooks the tennis court.
With features such as a great hall and double-height sitting room, this would make a substantial country house or could be split into two properties.
Strathgarry House itself is Victorian and ready for restoration having been stripped back to a shell.
The grounds include beautiful gardens, woodland and a walled garden dating back to the early 19th century. Alongside the tennis court is half a mile of frontage to River Garry with salmon fishing.
Picture: Strathgarry House tennis court, Galbraith
There is plenty to keep a lifestyle buyer busy, with renewable projects such as biomass and solar on site and a range of modern outbuildings which might offer further potential.
Picture: The Greens of Afforsk, Galbraith
The Greens of Afforsk in Aberdeenshire is a more modest proposition and is also on the market with Galbraith with offers over £545,000.
Situated in Blairdaff, near Inverurie, a traditional detached farmhouse and barn annexe dating from the 1880s have been upgraded to create a beautiful contemporary home.
The configuration is flexible so would suit a variety of purposes.
There is a pony paddock too, and the grass tennis court is perfect preparation for Wimbledon.
Picture: The Greens of Afforsk, Galbraith