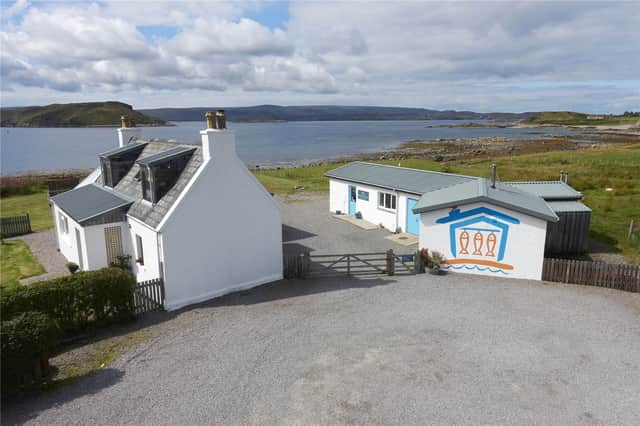 If you've always dreamed of escaping city life and owning your own business in the Scottish Highlands then this property listing may be the answer.
Isle of Ewe Smokehouse and Fine Food Emporium is in a beautiful loch side setting between the villages of Aultbea and Mellon Charles on the west coast of Scotland.
Picture: Isle of Ewe smokehouse, Galbraith
The property comprises a charming and sensitively modernised cottage, a purpose-built high specification smokehouse, contemporary Portakabin home office and renovated stone bothy.
The entire lot is on sale with Galbraith at offers over £330,000.
Isle of Ewe Smokehouse Ltd was set up by the current owners in 2007 with the aim of producing a high quality artisan product using locally sourced seafood for which the west coast of Scotland is so famous.
The established and recognised brand is now marketed through mail order, wholesale and on site retail achieving an average turnover of £185,000 per annum.
Picture: the Isle of Ewe smokehouse shop, Galbraith
The Smokehouse offers an excellent opportunity to those looking to acquire an established and profitable business that brings with it a change of lifestyle in a beautiful and unique setting.
In addition, the demand for ethical food production, the growing economy of the west coast and positive impact of the North Coast 500 offer further opportunities both in business and tourism.
The purpose built smokehouse is of double block construction and designed for easy conversion to alternative business use or as holiday letting accommodation, subject to the necessary consents.
The building comprises the shop with display units, the slicing room, a walk-in fridge freezer, wet areas, a hot smoking room and two cold smokers.
Picture: the office for the business, Galbraith
A separate modern Portakabin provides office space and the stone and corrugated iron bothy adjacent to the house is fully lined and has a WC and generous storage. This too has the potential for conversion, subject to the necessary consents.
Picture: the cottage, Galbraith
The cottage, which currently provides owners' accommodation, has been recently modernised to create a charming and comfortable family home.
Picture: the cottage living room, Galbraith
Improvements include a renovated kitchen extension, new flooring on the first floor, insulation in the walls and roof, new double glazing, a new boiler and renovation of the bothy.
Picture: the cottage kitchen, Galbraith