Cath Kidston meets Disney: Everything you need to know about the best designer collaborations for your home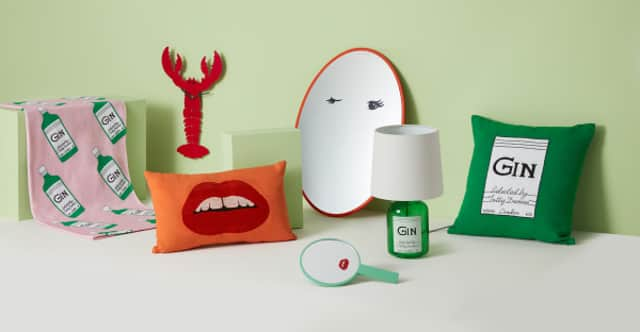 If you're looking to update your home interior this summer, then these collaborations will bring some serious style to each room.
Online design brand, MADE.COM, has collaborated with cult jewellery designers Tatty Devine to create a collection of quirky home accessories.
The British design duo are well known for mixing both humour and style in their jewellery designs.
MADE's new collection, which consists of seven products, focuses on Tatty Devine's iconic motifs: gin bottles and lobsters, which take the form of a lamp, cushions, a clock, towels and mirrors.
Rory Dobner's curious and quirky illustrations have adorned ceramics - including teapots, tiles, cups and mugs - for years now.
But his recent pop up within Fortum & Mason will bring his creations further into the mainstream.
His new collection of tableware, Beautiful Buildings, is available to buy in the famous shop, which is acting as the designer's main UK stockist.
It's time! Follow us down the rabbit hole for our latest Disney X Cath Kidston collaboration - Alice in Wonderland! Sign up to be the first to shop and receive our Disney updates: http://bit.ly/2r1WnwX
Probably the most talked about collaboration - and instantly recognisable - the quintessentially British designs of Cath Kidston have been given a touch of whimsy thanks to a collaboration with Disney.
The latest installment features characters from Alice in Wonderland, which launches online on 24th May.
Not just for kids, the collection includes bags, purses, umbrellas, bedding and crockery.
Picture: the collection, supplied
What happens when two craftsmanship-based companies – one a leading Danish furniture manufacturer, the other a high-end, Welsh-based fashion label – come together?
One specialises in mid-century design icons and the other in premium, modern denim, the result can be expected to surprise and delight.
Exhibited at this year's London Craft Week, Carl Hansen & Son and Hiut Denim presented some of the most renowned works of midcentury furniture from visionary Kaare Klint in fabric from Hiut Denim.
IKEA has teamed up with LA-based fashion designer Chris Stamp, and freelance designer Maja Ganszyniec for a limited edition collection titled SPÄNST.
Inspired by street fashion and an active lifestyle, SPÄNST features furniture, accessories and items for storing, displaying and organising some of your favourites at home.