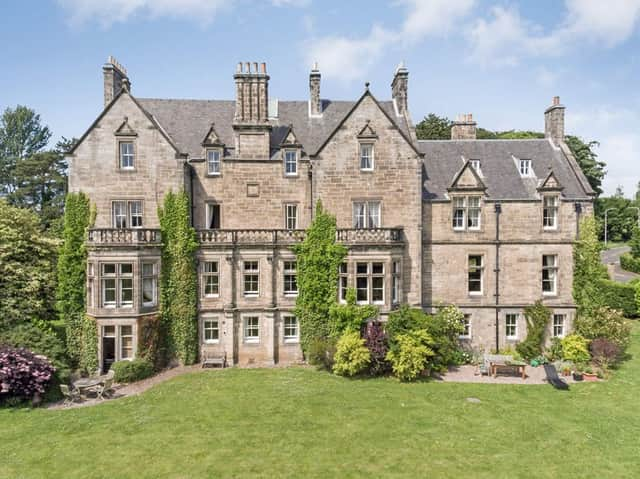 A property steeped in 14th century history has hit the market in the West of Fife and is set to tick all the right boxes for property-hunters searching for a unique home.
6 Pitreavie Castle in Dunfermline offers a grand, two-storey apartment in a prestigious building that dates back to the period of King Robert the Bruce - with his sister Lady Christina Bruce being a previous owner.
Picture: Pitreavie Castle is steeped in history, Warners
The apartments within the A-listed country house share four acres of land containing a pond, woodland, lawn and a summer house with unrivalled views.
The décor reflects modern day living, with its state-of-the-art bathroom and modern, yet classic kitchen, while it also hints to the history of castle, as original features, such as its wooden panelling, have been well-preserved.
6 Pitreavie Castle is on the market with Warner's Solicitors and Estate Agents for overs over £400,000.
The property is set out over two floors, and boasts four double bedrooms and ample storage space, making it the perfect exceptional home for family life.
Sarah Young, the current owner of 6 Pitreavie Castle, said: "The castle recognised for its architectural importance, so it really is a stunning place to live.
"It has all the splendour of period living in extensive parkland, with the added bonus of contemporary fixtures and an excellent location.
"For us, it's been a great family home. My husband and I both work from home a lot so the study is perfect for shutting yourself away.
"As a family, we like to cook and to entertain too, so having the dual aspect kitchen and living room is perfect for that."
6 Pitreavie Castle also benefits from a private gated courtyard, which basks in the morning sun, offering buyers some added privacy.
Sarah added: "Our courtyard acts as a perfect suntrap in the mornings, making it a lovely place to sit and have breakfast while taking in the surroundings.
"There's a small community of residents here at Pitreavie, with owner occupied houses in the stables and castle – everyone knows everyone, it's like a little village!
"Our children have loved growing up with big bedrooms and the luxury of nearly four acres of grounds to run around in."
Picture: Pitreavie Castle, Warners
Michelle Brownlee, Estate Agent at Warners Solicitors and Estate Agents, said: "This is such a unique home with amazing history – it's not the sort of property you see on the market often.
"The location is ideal, too. It's got excellent transport links into the city centre, helping to strike that perfect balance between county living and city life.
"So those interested in 6 Pitreavie Castle are recommended to book a viewing as soon as possible as it is unlikely to be on the market for long".