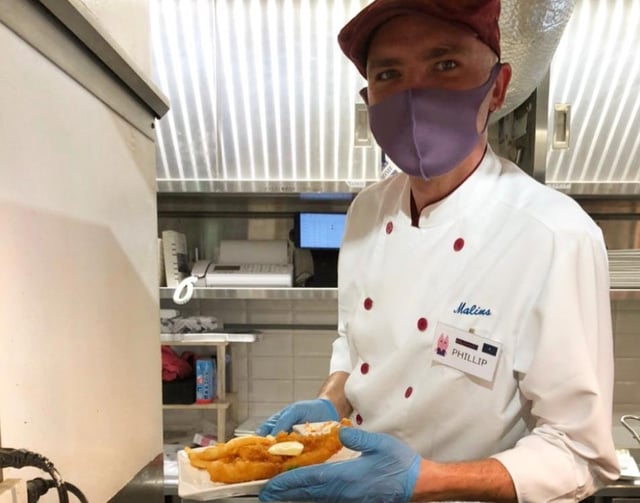 Chef Phillip Raeside, born in Kilmarnock, has pioneered the success of Malins Fish & Chips - a traditional British chippy right in the heart of Tokyo.
Phillip Raeside, Malins Fish & Chips in Tokyo, Japan
Hailing from Kilmarnock, Phillip Raeside moved to Japan six years ago after he was offered the chance to open up Malins – a traditional British chippy in Tokyo's Roppongi district with friend and colleague Dan Chuter. "I wanted something new – a change, something different" explains Phillip on his decision to move to Japan in 2014, "it's the best thing I've ever done". The British style fish and chip shop presents a tasty range of fresh, seasonal Japanese fish cooked in batter and served with classic sides like mushy peas, with a range of homemade pasties giving customers "a taste of home".
To deliver the true British fish and chips experience, Raeside imports a variety of essential products and ingredients from the UK, including malt vinegar, brown sauce and popular British beverages like BrewDog's Punk IPA, London Pride and Fentiman's soft drinks. The Kilmarnock-born chef also sources sausages, burgers and beef from a British wholesaler in Japan, serving these alongside his handmade fishcakes.
Daniel Gallacher, from Blantyre, opened his restaurant Racines in Bordeaux in 2015 to the delight of locals and tourists alike
Having trained up the Malins team of Japanese and international staff, and expanded the franchise with a further two sites, chippy vans delivering Malin's Fish & Chips to events and another two sites planned for later this year and the next in Shibuya and Yokohama - there's no doubt that Raeside's skills and experience have helped to establish Malins as an authentic and essential spot to sample a delicious British fish and chip supper.
Daniel Gallacher, Racines in Bordeaux, France
Daniel Gallacher is the owner and chef at Racines, a cosy restaurant located in the beautiful French region of Bordeaux. The Glaswegian chef opened his restaurant Racines in 2015 with the intention to bring a Scottish charm and his 'racines' (French for 'roots') to the region renowned for its fine wine and food. Since then, Racines has seen great success and been a hit with locals and visitors to the Bordeaux region.
Having moved to France in 2003 after working in esteemed Scottish kitchens like that of the Trump Turnberry Resort, Gallacher learnt his craft in a variety of first-class French restaurants and under leading chefs such as Alain Ducasse. Noted French food critic Gilles Pudlowski recently praised Gallacher for offering 'beautiful simplicity' and 'excellent value for money' in his cosy Bordeaux restaurant.
Internationally renowned chef John Higgins, from Bellshill, has cooked for royalty and celebrities far and wide.
"I try to incorporate my Scottish background whenever and as much as I can" says Gallacher, adding that he enjoys using Scottish scallops when scallop season comes round each year, as well as introducing French diners to haggis and dishes like Cullen Skink – blending Scottish and French flavours by mixing local produce into traditional Scottish recipes. With business at Racines booming all year round, the future certainly looks bright for the Blantyre-born chef who has made a name for himself in France.
John Higgins, George Brown College in Toronto, Canada
Having won Canada's Food & Hospitality Magazine's Lifetime Achievement Award in 2019, John Higgins' career has seen him move from strength to strength in Canada's food scene. His culinary skills have taken him from his birthplace of Bellshill to the Gleneagles Resort, to Buckingham Palace and eventually to the Four Seasons in Toronto, Canada - where he has lived since 1981. "I was only meant to come over for 6 months" Higgins says, "but think this will be my 39th year here this year."
His star-studded career has seen him work with the likes of Massimo Bottura and Alain Ducasse but Higgins tells me he feels "the most important thing is to never forget where you're from". Despite his position as a world-leading chef and Global Scot, he stresses that the greatest pleasure of his work is those he meets and interacts with along the way. Since first arriving in Canada at the Four Seasons in Toronto, Higgins has sought to empower local chefs, communities and produce in his cooking - even today in his role of Director at George Brown College's Centre for Hospitality and Culinary Arts in Toronto, the largest culinary academies in North America. "I just love playing around with food and different tastes," says Higgins, going on to explain how his love of cooking haggis led him to create dishes like 'Glaswegian spring rolls' (haggis spring rolls wrapped in smoked salmon) and haggis ice-cream.
Hailing from the Angus town of Forfar, Frank Shek lives and works in Australia as head chef at successful Sydney hotspot, China Doll
In his role at The Chef's House in Toronto, mentoring and teaching budding young chefs, Higgins continues his legacy as an international chef firmly committed to celebrating diverse cultures and ensuring cheffing remains a melting pot.
Frank Shek, China Doll in Sydney, Australia
China Doll is known as one of the finest Asian fusion restaurants to be found in Sydney, with Scottish-born chef Frank Shek cooking up a storm there for some 15 years. Born in Dundee, Shek grew up in Forfar living above his family's Chinese takeaway. "I used to help out as soon as I was able to walk" he says, "so the kitchen's always been an important part of my upbringing." After attending university in Edinburgh, Shek headed over to Australia when he was just 24 years old to explore the world beyond Scotland.
He says that his experience at his family's takeaway in Forfar helped him to understand the possibilities of adapting Chinese dishes to western tastes. "I understand why Scottish people loved it," he tells me, "it's really tasty, quite honest and not fussy, so I've taken some of those ideas and incorporated it into my cooking here because that's the stuff I grew up with."
At China Doll, Shek has thoroughly enjoyed leading an international kitchen which has come to feel like "an extended family", he says. Having published a popular book of China Doll's best recipes in 2016, Shek has established himself as a Scottish talent paving the way for unique Asian fusion cuisine abroad.