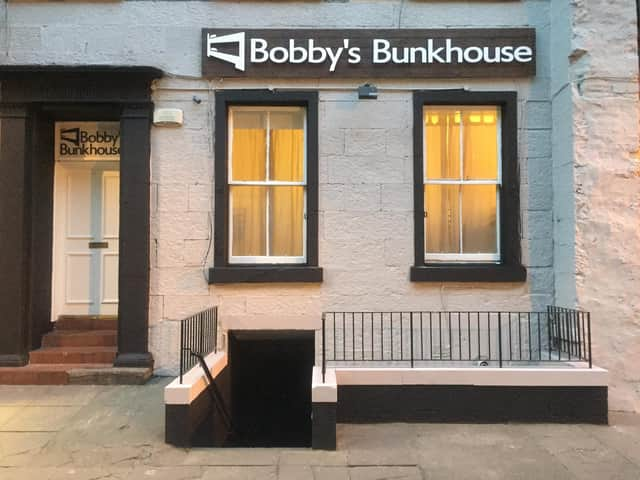 Bobby's Bunkhouse in 9 Merchant Street, Edinburgh.
Harry and Chantelle Tant run Bobby's Bunkhouse in Merchant Street, Edinburgh, where there has been little in the way of business due to the government's current coronavirus restrictions.
With another national lockdown looming, the pair have decided to open their hostel, free of charge, to the homeless and provide beds, clean towels and warm showers.
The Tants, with the help of hostel manager Paul Fraser, have also set up a JustGiving page to raise money to provide hot meals each day and essential toiletries.
Speaking to Edinburgh Evening News Chantelle said: "My dad, who owns the hostel, came up with the idea and I just thought it was a great plan.
"I have been doing a bit of Christmas shopping lately and have seen so many people on the streets in Leith, along Princes Street and in other parts of the city.
"Sleeping rough in this weather is brutal, and we just want to do what we can to help while we have the beds available.
"I want to help some of these people get a warm shower and a comfy bed."
Bobby's Bunkhouse has 40 beds, four shower rooms and three bedrooms.
It also houses a kitchen where hostel staff will provide food for those who take up the offer.
"We just want to try and get as many homeless people off the street at this time," Chantelle added.
"We have enough starter packs for the first 20 people – these have the basic essentials like a toothbrush and soap – and with some money raised from the JustGiving page we can provide food and hopefully give them a really comfortable stay, even if it's just for a bit.
"I am going to approach some of the people I have seen sleeping rough and give them the hostel's business card so they know where we are, and tell them about what we can offer them."
Paul, who has been working as a manager at the Bunkhouse for the past five years, said the hostel's team has been in touch with those who run Steps to Hope, a non-profit charity set up to help the homeless.
He said through discussions with them, he's become more aware of the homeless problem in Edinburgh.
"We just want to help where we can," he said.
"It's not fair people being out on the street in this freezing weather at this time of year and I reckon we could provide beds for at least a few weeks into the new year.
"While we don't have business, it seems crazy not to open the rooms to people who really need a good night sleep.
Paul said social distancing measures are in place in the hostel.
Staff at the hostel make sure guests wear masks where they need to and hand sanitiser stations are dotted around the building.
While the Bunkhouse has 40 beds, he said they may have to reduce capacity a bit to make sure social distancing is possible.
To donate to Bobby's Bunkhouse you can do so by visiting its JustGiving page here.