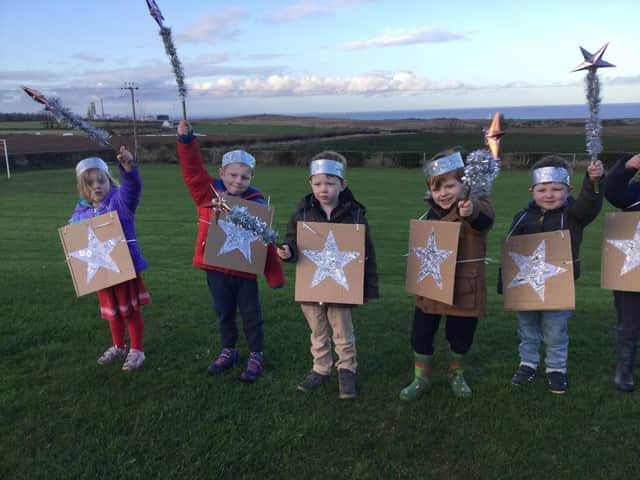 Stars on a hillside: Innerwick Primary youngsters
From heading out into the great outdoors to live-streaming closed performances, teachers and pupils have been working hard to make sure families do not miss out.
Images from just a few of the schools show youngster throwing themselves into the Christmas spirit as teachers ensure they do not miss out on the important festive tradition.
At Innerwick and Stenton Primary Schools, youngsters headed outdoors to film their nativity, which will be shared with parents.
Mary and Joseph dragging a somewhat reluctant donkey at Seton Primary
Headteacher Ronnie Taylor said: "The children and staff have really enjoyed taking a new approach to the traditional nativity process, and this has allowed a range of new skills to be developed, largely around IT.
"Another benefit has been that we have been able to involve members of the community (in a safe, socially distanced way) as they have provided locations for us to film in.
"On the whole, a very different story for this time of year, but a very enjoyable change."
At St Gabriel's RC Primary School, Prestonpans, the primary ones recorded their nativity behind closed doors for families to share online.
An angel visits the manger at Innerwick Primary
Alex Buchanan, headteacher, said that the response of youngsters had been inspiring.
She said: "I was in the P1 class talking to them about the importance of the play that they were recording for their families and their answer was very inspiring.
"They told me that they wanted to tell the story because it is important that we celebrate Jesus' birthday because that is what Christmas means.
"As a school community, we want everyone to receive the greatest Christmas gift – not wrapped in silver and tinsel but wrapped in swaddling clothes and laid in a manger: the peace, joy and love of God who comes to us. In these difficult days because of Covid, that truly is good news."
A very happy donkey at St Gabriel's RC Primary in Prestonpans
Other schools also found their own way to celebrate.
At Aberlady Primary School, primary one pupils headed to the school's outdoor wooded area and shelter, where they made a film of them singing songs; it will be shown to parents in a classroom before Christmas break.
Head, Pamela Currie said: "We still wanted P1 to experience 'performing' and parents are delighted they still get to see their wee ones dressed up."
Dunbar Primary School organised viewings of an online panto called Robin Hood and his Socially Distanced Men for classes, as well as fundraising Santa runs, and filming P1 pupils singing Christmas songs.
Sanderson's Wynd Primary School, Tranent, has filmed each class performing part of the nativity and put the videos together to show on Google Classrooms.
And at Windygoul Primary School, also in Tranent, primary one were performing a 'MacTivity', with each class performing their own nativity in their own rooms.
The school said: "This will then be uploaded to our website (and will be pin protected) for them to enjoy.
"The rest of the school are recording Twas the Night before Christmas and performing the poem across the year stage. This will be uploaded in the same way."
A message from the Editor:
Thank you for reading this article. We're more reliant on your support than ever as the shift in consumer habits brought about by coronavirus impacts our advertisers.
If you haven't already, please consider supporting our trusted, fact-checked journalism by taking out a digital subscription.