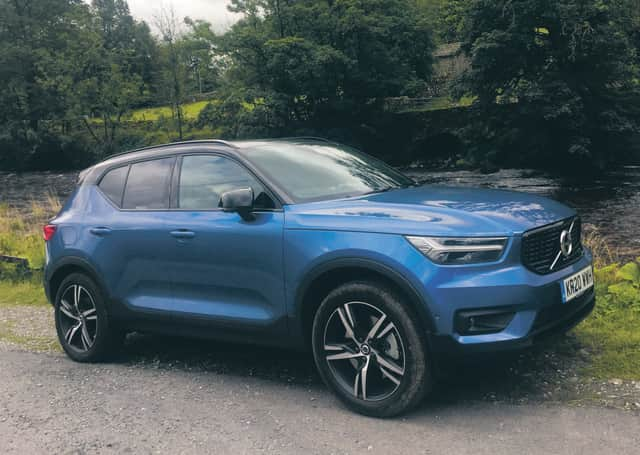 The XC60
It is an alternative to the commonly used two, three or four-year purchase or hire contracts and allows customers to quit with three months' notice. The Care by Volvo deal includes a month's trial. If you do not want to continue you pay for the month, or, as Volvo hopes, you will continue with payments until you wish to change to another model or stop.
An XC40 Momentum petrol T3 deal costs from £559 a month. The Recharge plug-in hybrid XC40 tested here, costs from £699. The XC90 B5 hybrid diesel, also reviewed here, costs from £929.
This seven-seater XC90 is its largest SUV, fitted with mild electric assistance (a MHEV in the parlance) to enhance its 232bhp 2-litre turbo diesel engine. It has automatically engaging all-wheel-drive and eight automatic gears. It is rated at 41mpg and 199g CO2. The 0-62mph time is 7.6 seconds. Price is from £53,285, with ours nudging £58,000, and a B5 petrol MHEV from £54,400 and regular XC90s from £52,325. It weighs more than two tons, some 600lbs heavier than the XC40 Recharge. Daft, but the diesel and petrol MHEVs are both tagged B5.
The XC90 B5 hybrid diesel
This is a superbly made car, undercutting a Range Rover on price but with no short change on quality or reliability. It doesn't have the swank of a Range Rover but is sensitively trimmed, easy to use, with a road presence that should help any social expectations or faltering egos. The performance data is impressive. The "mild" battery boost does not add much power but it stores braking energy to run an extra 48-volt battery which helps the starter motor and gives it a leg-up when you accelerate.
Unlike the XC40 PHEV there are no charging diagrams to engage your mind. There is no need to know what is going on. You'll just reap the benefits of one of the best four-cylinder diesel engines in a very superior car. And get this: its 38mpg on my test route matched the XC40 T5 Recharge with an empty battery. On my 50-mile hilly country route it recorded 34mpg, which while thirsty beat the economy of a much smaller Subaru XV petrol mild hybrid.
The Volvo XC40 petrol PHEV tested here is one of Volvo's Recharge models – its name for electrified petrol or diesel vehicles. A plug-in hybrid electric vehicle has an electric motor battery which you can charge over several hours from a domestic plug or more quickly with a dedicated charging unit. Its advantage over a self-charging hybrid car is the ability to run on electric power for a reasonable distance. In this case, that is around 27 to 30 miles, and until the petrol engine is needed it gives high economy and low emissions.
In pure electric mode the car has zero tailpipe emissions. When the battery is flat you get some regeneration but the economy and recovery do not match a self-charging hybrid. Keep the battery boosted and you can achieve some remarkable mpg data. Volvo quotes 117 to 134mpg and 57g to 47g of CO2. This rating gives attractive benefit in kind payments for payroll and road tax.
The loophole is that, unlike a full battery electric vehicle (a BEV) if your electric traction battery is empty then the economy drops and the emissions rise. This dirtier mode is not evident to other road users or pedestrians.
Example 1: after charging, the screen said I had a 30-mile range. On a regular 45-mile journey, mostly flat, the battery was empty after 18 miles – at which time I was averaging 99mpg. Example 2: setting off with 17 miles of battery range on a similar route, it recorded 63mpg. Example 3: with no battery reserves the trip averaged 38mpg.
The XC40 is one very cool mid-sized SUV. The exterior and interior designs are compelling. The cabin is roomy and this chic car is a more wieldy alternative to the larger XC60 and XC90 models. Grumbling? Volvo no longer fits the practical plastic ticket clip on the windscreen pillar. The car could snatch a bit when setting off. The voice activated searches were a fuss. Example: asking which (radio) station I would like when I was trying to cancel the route guidance. Mirthful riposte from me: Edinburgh Waverley. When I met it with silence, it raised the ventilation fan. Or when asked to find a fuel station, it offered me one in Applecross, Strathcarron, some 400 miles and eight hours from my location well south of the border.
My T5 demo car combined a 177.5bhp three-cylinder 1.5 petrol turbo engine with an 81bhp electric motor and automatic gears. The combination gave a sizzling 0-62mph time of 7.3 seconds with the familiar instant torque of electric power. Price: from £41,030. Check also the less powerful T4 Recharge from £39,000 which avoids the £320 annual tax bill on cars over £40,000; and two mild hybrid petrol models from £32,760, plus the tarmac stripping all-electric 402bhp T8 from £60,000. It has a range of some 250 miles.
Volvo is joining the Plugsurfing network which has more than 200,000 charging points in Europe. A contactless charge card or phone link works in 38 countries, with monthly billing.