Aston Martin Vantage F1 Edition celebrates marque's return to Formula 1
British brand says special edition is most focused, fastest version of its V8 sports car ever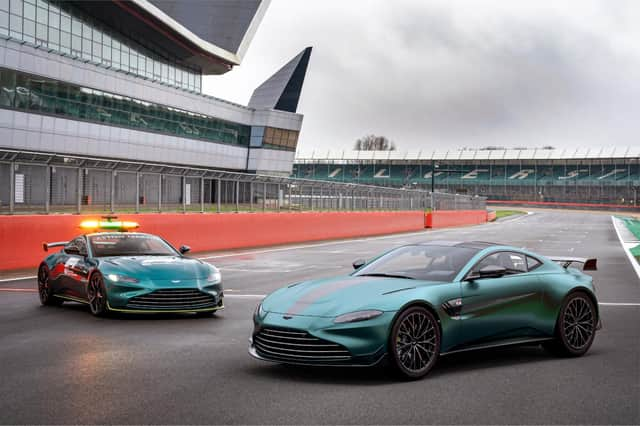 The £142,000 Vantage F1 Edition sits at the top of the Vantage range and is, says Aston Martin, the most track-focused version of the V8 sports car, based on the Vantage which will act as safety car for the 2021 F1 season. It has been lunached ahead of the marque's return to F1 at the Bahrain Grand Prix on 28 March.
The regular Vantage's 4.0-litre twin-turbo V8 has been retuned to release an extra 25bhp, pushing the F1 Edition's output to 528bhp, and the eight-speed automatic transmission optimised to offer faster shifts and a more direct feel. Aston Martin says the changes are noticeable under all conditions but are especially beneficial in track use where they enhance the sense of control, especially under heavy braking and on the limits of traction.
The special edition car also features a full package of chassis adjustments influenced by the work to create the F1 safety car. The dampers have been reengineered and combined with revised spring rates and stiffness to offer better body control, sharper turn in and enhanced grip. The front structure has been stiffened and revisions to the steering system increase feedback.
A fully upgraded aero package including a full-width front splitter, front dive planes, underbody turning vanes and a new rear wing adds 200kg of downforce at top speed compared to a standard Vantage.
The Vantage F1 Edition also sports a distinctive vaned grille, satin black 21-inch alloys in place of the standard 20s, quad exhausts and twill carbon fibre detailing. It is available in coupe and roadster body styles finished in the same Aston Martin Racing Green as the marque's F1 car and the grid safety car. Buyers who don't fancy that can also opt for white or black and all three colours are available in satin or gloss finish. Inside, a black leather and grey Alcantara interior is finished with contrast stitching in a choice of colours including lime green or "spicy" red.
Aston Martin chief executive officer, Tobias Moers, said: "Performance is at the heart of every Aston Martin, but when it wears an F1 badge it has to be a truly exceptional car. Vantage was already the most focused sports car in our range but in the development of our official safety car of Formula 1, it had to be a true athlete: more powerful; more agile; more immediate and more exciting to drive. And - of course - quicker and more capable in a race-track environment.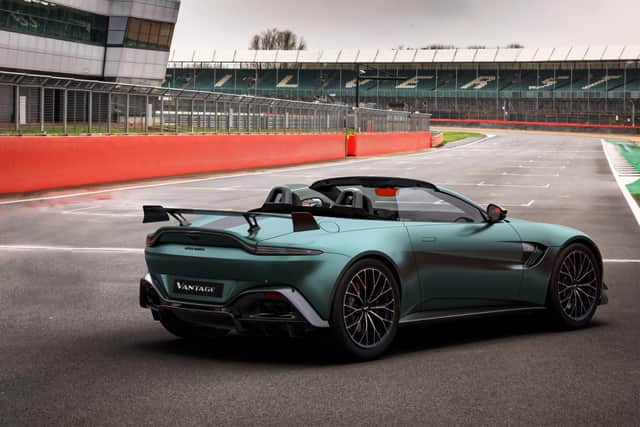 "I set the engineering team a tough target, as I was insistent that gains in performance came via genuine improvements in the car's dynamics, and not by fitting track-optimised tyres. The results speak for themselves. A Vantage to appeal to the most discerning drivers and a new model that marks an exciting moment in Aston Martin's history".