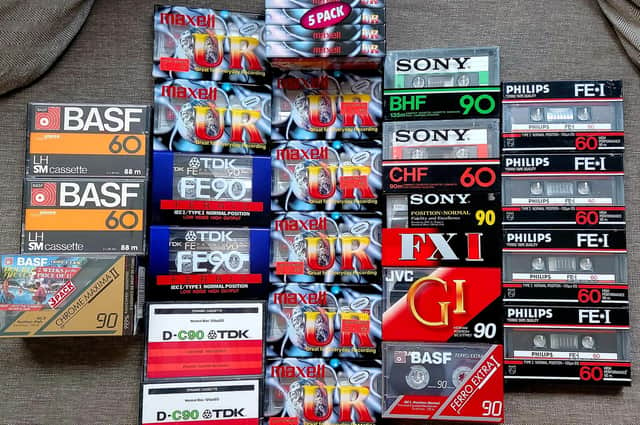 The compact audio cassette was of its day. Invented by Dutch electronics giant Philips back in the early 1960s the format peaked in the 1990s, when pre-recorded tapes outsold their more expensive CD equivalent and blank tapes sold in their millions to make recordings for in-car playback.
Fair to say that in 2023, amid the convenience of digital downloading, smart speakers and streaming, the cassette is somewhat of a niche product. The past couple of years have seen a retro-related revival on the coattails of vinyl's second coming, but the sales are insignificant.
My attraction to the format, like many of my age, I suspect, began in the 70s with the gift of a radio/cassette player for Christmas, no doubt purchased from a long-lost branch of Comet or Rumbelows. The intervening years have seen me have an on/off affair with the cassette as new music formats came along. I regret, for instance, chucking out more than 150 tapes when I moved out of student digs - retaining just a couple of sentimental mix ones.
However, the past year or so has seen my passion for all-things cassette reignited, and I'm really not sure why. I do know it has rapidly developed into something verging on the obsessive. At the last count I have accumulated two combined CD/radio/cassette players (yes, they are still being made), a few cassette dictaphones (never gelled with their digital equivalent for journalistic duties) and two prized, full-sized hi-fi decks (including a 30-year-old unit that cost just a tenner from a charity shop).
What has become obsessive is my hunting for and subsequent accumulation of "new old stock" blank cassettes - tapes produced decades ago, in some cases, that remain in their sealed packaging, possibly never to be opened, just collected. What sort of person would pay £45 for a triple-pack of C-90s manufactured in 1992? You've just found him.