When it comes to luxury countryside glamping there's no place like Dome
It took nearly three years for Sara and Chris McGlennon to find a property that they felt was rural and accessible and when they eventually came across Mid Auchengowan it was worth the wait.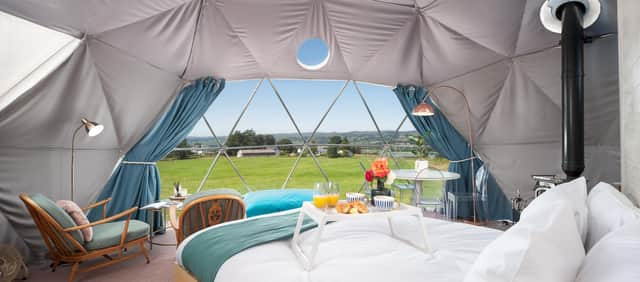 Luxury glamping dome at Mid Auchengowan near Lochwinnoch.
The couple moved to the former potato farm near Lochwinnoch in 2019. Italian-born Sara had been travelling between London and Milan for 16 years and when she and Chris married, they decided it was time to experience something other than city life and they moved to Bridge of Weir.
"As we're both self-employed, in 2016 we started looking for a property that had potential to create an extra revenue to safeguard our finances," Sara explains. "I run an events company and I was hoping to find a property that would allow me to have my own event space."
In due course, the couple came across Mid Auchengowan which consisted of a farmhouse, a cottage and some land all in an enviable location. "The views are beautiful and while you have the peace and quiet of the countryside you're still well connected. The train station is a mile away, the village is two miles away and there's a bus stop with direct links to Glasgow at the bottom of the road. It seemed a good place in which to start a holiday letting business."
By now, Sara was pregnant with the couple's first child, and the farmhouse was given a quick makeover while they planned what to tackle next. "The cottage used to be a potato shed and had already been partially converted. There was a kitchen, lounge and a bathroom downstairs and upstairs was one huge room."
To maximise the views, Sara and Chris decided to swap the layout moving the kitchen and sitting room upstairs to create a generous 70 metre open plan living space and replacing a large window with French doors and a Juliet balcony. Downstairs they created two king size bedrooms and two bathrooms.
The next project was The Studio as Sara recalls: "The farmhouse felt too large for us, and we decided to convert part of it into The Studio. It's essentially a self-contained studio flat with a bedroom, ensuite and kitchenette. It's perfect for short stays as it's spacious and comfortable but it's not a full
self-catering experience."
With The Cottage and The Studio up and running, things were ticking over nicely but a chance visit to oversee some maintenance work in their field made Sara realise she was missing a great opportunity. "I had no idea we had such a special spot here and I knew we had to use this corner of the field; it was just an incredible situation."
This special spot required a special building so Sara did her research. "I like quirky and unusual and after looking into several options the dome was the one that excited me the most. The dome was also the option that allowed me to create a place that was spacious and comfortable and would accommodate four people."
The dome also meant that Sara didn't need to go down the glamping route and could incorporate a proper shower room as she explains: "While I'm happy to spend money staying somewhere unique and quirky, I don't want to walk 10 metres to go to the toilet in the middle of the night."
It was a tall order to bring it all together, but the couple worked it through. "The dome comes as a kit and it's about 4m in height. It's a steel frame with a PVC cover. The cover is deceptively strong and heavy, and it takes about 4 people to pull it over the frame. We built a wooden platform for the dome and created a second structure which is attached to the frame of the dome and is clad in timber. This allowed us to create a proper shower room and at the back of the shower room we put all the plant equipment to operate the dome such as the boiler and the water pump. It's already survived 80mph storms so it's very sturdy. Also, it's well anchored with the timber structure beside it and its design encourages the wind to sweep around it."
Inside the dome, Sara's first idea was to create a timber box and put a second bedroom on a mezzanine level. "That would have meant forfeiting the seating area at the window which I didn't want to do. Working with a very talented joiner from Edinburgh we designed bespoke plywood beds with a headboard/partition in between them."
This clever layout meant that Sara could fit in two king size beds, a seating area, dining area, woodburning stove, a cooking space which houses a two-ring hob and an antique washstand for the coffee machine.
"Through both Chris and I's businesses we work alongside architects and designers, and we discovered that plywood is a beautiful timber to work with and we chose that for the beds, the headboards and the inside of the door. The flooring is a woven vinyl and came from one of our clients, a Swedish manufacturer named Bolon. It's a product I've always loved, and I was delighted to finally have the opportunity to use it."
The furniture has also been carefully considered and is a mix of high street and designer. "I found the Ercol chairs on Facebook. I stripped off the old varnish and reupholstered them. The dining table came from IKEA and I had a customer of mine create a bespoke surface for the top – it looks a bit more modern and terrazzo now."
Sara's vision was to offer something quirky and unusual with all the comforts of home – electricity, heating, Wi-Fi and a power shower and it has come to fruition. The Dome is really rather special.
Want to join the conversation? Please or to comment on this article.