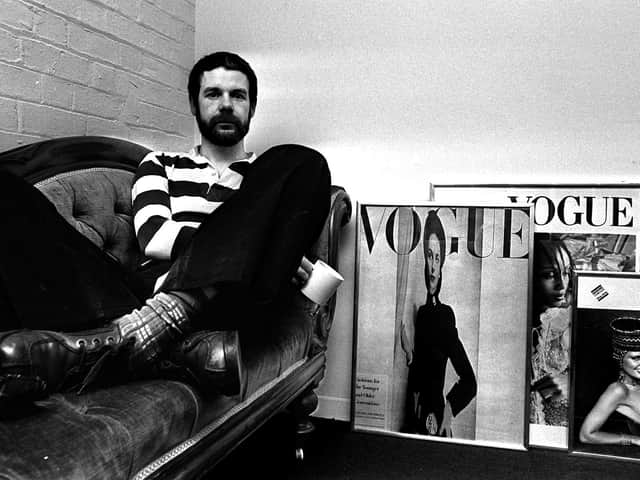 Designer Bill Gibb who left the family dairy farm in Aberdeenshire to become a lauded figure in the fashion world for his free flowing and fantastical designs. PIC: TSPL.
He is also remembered as "one of the most gentle, kindly and considerate human beings" you could ever hope to meet.
Bill Gibb, who belonged to a large family of dairy farmers from New Pitsligo near Fraserburgh, is still regarded as one of the most innovative and influential fashion designers of his time who cut a swathe through the fashion world with his floaty, fantastical and attention-laden designs that captivated his many adoring fans including Twiggy, Elizabeth Taylor and Bianca Jagger.
Bill Gibb pictured with a model in the late 1970s. He counted many celebrities, including Twiggy and Elizabeth Taylor, amongst his fans. PIC: TSPL.
Thousands would turn up to the launch of his new work, with 7,000 people attending the unveiling of his 1977 collection at the Royal Albert Hall.
It was a long way from his winning entry in a costume design competition organised by the Women's Institute close to his grandmother's house.
Next month, a symposium will bring together members of Gibb's family as well as voices from Gray's School of Art and further afield to explore his approach to design, collaboration and manufacture, as well as his relationship with the North East of Scotland.
Drawing of Jacket and Skirt Outfit with Fabric Swatch for the Autumn/Winter 1970 Collection and Multidrawing of Jackets and Coats for Autumn/Winter 1976 Knitting Collection. Copyright Bill Gibb Trust (2011). Image: Aberdeen City Council (Museums and Galleries collection)
Christine Rew, Art Gallery & Museums Manager, said, "Bill Gibb was one of the fashion industry's most talented and innovative designers. At Aberdeen Art Gallery & Museums we are honoured to care for the largest collection of Gibb's work, including over 2,500 of his design drawings and 120 garments.
"The exhibitions devoted to his talent we presented at Aberdeen Art Gallery in 1990 and 2003 were hugely popular and we are thrilled to be working with colleagues at Gray's School of Art to bring Bill Gibb's legacy to a new audience."
In a interview with the Press and Journal in the late 1970s, he was noted as a chain smoking, coffee drinking kind of man who 'chewed on nervous energy' and seemingly adored the carousel of people who moved through his everyday life.
He started out at Fraserburgh Academy where his talent caught the eye of head of art, Bill Duthie.
"He was probably the only boy at school to draw dresses and yet he was never seen as different from his companions nor did he himself see anything unusual in his interest, " the journalist wrote.
Gibb said he "loathed" school given everything was learned "parrot fashion" but said he had a "flair for history" that went on to colour his imagination.
"Not surprisingly, considering I was brought up surrounded by cliffs, mountains and ruined castles. I used to draw romantic characters in costume."
Despite his contempt for school, it was Duthie who encouraged Bill to go to London with his Aunt Eve taking him on a train to London for an interview at Central St Martins art school.
"I was too nervous to do the interview so she (aunt Eve) did it for me. She said that I hadn't much to say but that I did have talent," Gibb later recalled.
After graduating with first class honours, he was one of six UK designers chosen to take part in a New York showcase. Quickly after, the fashion world was starting to fall for Gibb and he was soon designing for London-based House of Baccarat where his work was credited in fusing free flowing romanticism with traditional handknits, which had before then had no place in high fashion.
After Vogue named him Designer of the Year, Harrods opened a Bill Gibb Room to cope with demand for his clothes. Just four years before, he was running a small boutique with friends down the road in Kensington High Street.
The most famous Gibb dress was designed for Twiggy. She wore it, teamed with platform shoes and striped stockings at the premiere of her film Boyfriend. She later described Gibb as her "knight in shining armour".
Home was still important to Gibb and, at the height of his fame, he designed the wedding dresses for both of his sisters.
While his talent was highly regarded, his business sense was less solid and twice his enterprises folded with debts of around £500,000 in total. His boutique in Bond Street closed, as did his Soho workshop, in 1980. Glamour was his passion - it knew no bounds. Unfortunately the practicalities of designing at Gibbs' level became a troublesome obstacle in his vision.
Gibb died tragically young from stomach cancer in 1988, aged just 44, with his body brought home to Aberdeenshire by his parents.
Although long gone, it is hoped his work and life path will continue to invigorate and inspire.
-The Bill Gibb Line' by Shane Strachan will be on display at Aberdeen Art Gallery until May 24
-Fashion, fantasy and collaboration: The Legacy of Bill Gibb, will be held at Aberdeen Art Gallery on Friday 20 March 10am-5pm.,