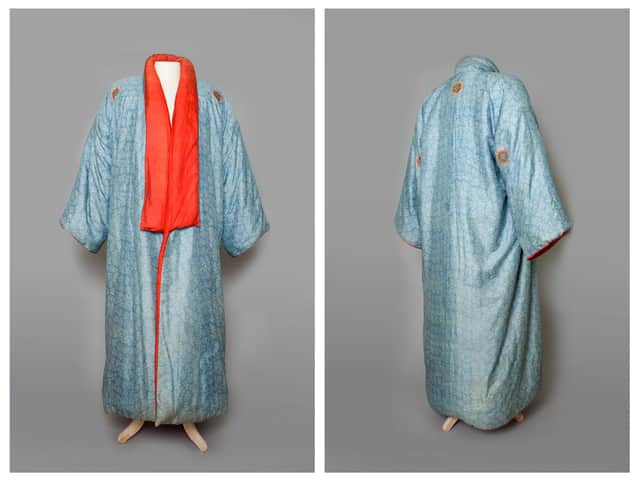 The 'Newhailes Banyan' was once worn by a Scots MP and is now on show at the V&A in London ahead of a world tour. PIC: National Trust for Scotland.
Now, the 18th Century nightgown of Sir James Dalrymple, MP for Haddington Burghs, is to go on a global tour with the V&A exhibition Kimono: Kyoto to Catwalk.
Kept at the MP's former home at Newhailes near Musselburgh, the nightgown - or banyan - is made from soft blue silk with a bright red lining and is one of only a small number in the world to survive.
Original Star Wars costumes and designs by Yves Saint Laurent and John Galliano with also feature.
Ahead of the show, the Newhailes Banyan has been closely researched by curators at the V&A and Toyko National Museum.
It was likely shipped out of Japan by the Dutch East India Company with export records from 1711 referring to a 'silk kimono with family crests'.
The mention is a "tempting to link with the unusual fake crests that adorn the shoulders and sleeves of the Newhailes banyan," said Emma Inglis, curator at National Trust for Scotland, which owns Newhailes House.
Around this period, members of the Dalrymple family are known to have travelled to the Netherlands and acquired items for clothing or to furnish their expanding house.
As MP and Auditor General of the Exchequer, Sir James travelled frequently between Edinburgh and London, as well making tours of the continent.
His wife, Lady Christian, may also have travelled to the Low Countries, according to family accounts.
Ms Inglis added: "The Newhailes banyan is the last word in home comfort. With thick silk interlining it is more akin to a duvet than a night gown – perfect for a Scottish country house."