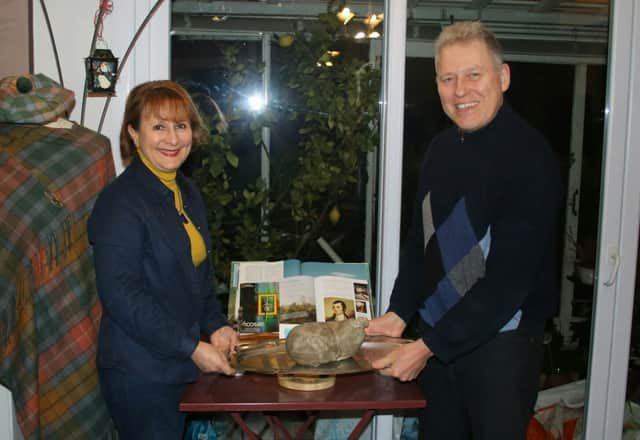 Agnes and Gilles Malgrati would normally buy a haggis from Marks and Spencers or 'Le Comptoir Irlandais', a Celtic-French shop in the 11th arrondisement, but were told that that shortages had been caused by a delay in finalising new food safety rules.
But determined to honour the Bard tonight, they decided to make their own haggis, searching for a lamb's stomach and filling it with a heady mix of spiced offal, including lung, and boiling it up in their kitchen for three hours.
Mrs Malgrati described the end result as "quite the beast".
She said: "You can normally find haggis in Paris's few Mark & Spencer's shops, which we believe must sell pretty well around Burns Night, considering the number of Scottish & English people in Paris.
"But this year there is a shortage of haggis due to Brexit as the norms for it are not in place yet. There are only a few old haggis tins left in the country right now."
The Malgratis were told that food safety & hygiene rules for fresh animal products had still to be settled upon.
Mrs Malgrati said: "In France, it's possible to find very traditional, comprehensive butcher shops that can provide all kinds of offal and tripe.
"We went to the nearest, offal butcher at the Boucherie de L'Eglise, in the north of Paris. They placed a special order for us at the Halles de Rungis, Paris's biggest wholesaler.
"Halles could not get hold of an adult sheep's stomach for which there is hardly any demand. However, they managed to find us a lamb's stomach: lamb is more commonly used in French cuisine and the stomach size is more manageable.
"The stomach looks like a big, white paunch – soft on the outside and spongy in the inside. It didn't smell much raw but, as we began to cook it, the farmyard smell was unmistakable!
"We sometimes cook French recipes involving offal: liver, stuffing, kidney, sweetbreads... but this was the first time we cooked lung and stomach."
Mr and Mrs Malgrati's son, Dr Paul Malgrati, works at the Centre for Robert Burns Studies at the University of Glasgow, where he is currently researching the phenomenon of Burns Suppers around the world.
On visits to Scotland, Mr and Mrs Malgrati have enjoyed haggis "many times" and were set on hosting a Burns supper to raise a glass to both their bard and their son.
Mrs Malgrati said: "We'd been meaning to host a Burns Supper for years and now that our son researches the history of Burns Supper at the University of Glasgow we thought we really had to go through with this project – no matter what, Covid or not Covid!"
A message from the Editor:
Thank you for reading this article. We're more reliant on your support than ever as the shift in consumer habits brought about by Coronavirus impacts our advertisers.
If you haven't already, please consider supporting our trusted, fact-checked journalism by taking out a digital subscription.