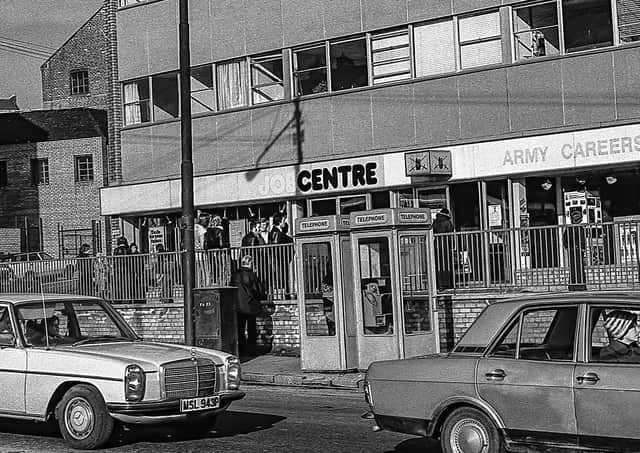 Jonathan Treen captured the people and streets of Glasgow in a single year in 1978 when, as a young man with hopes of making his mark in photography, he documented the city as he found it at his feet.
A period of unemployment gave Treen space to experiment with his SLR as a much TRI-X photographic film as he could afford.
What resulted was a collection that, four decades later, serves as a valuable record of time and place.
Mr Treen, who is originally from Cornwall, said he was a young man not motivated by depicting poverty and hardship but simply someone who wanted to record his adopted home city as he saw it.
"Basically, I walked around the streets with my camera. I never thought about going out to photograph broken down tenements and poverty, or 'let's go out an show how bad it is'.
"My view was 'here are the people, and here is where I live. There is a guy walking across a street, this what he does during his day. Here is a Mercedes parked outside the dole office'."
"I shopped at the same shops, signed on at the same Job Centre, visited the same pubs as the people I was photographing. I always tried to show people in the context of their environment or buildings and situations which were unique to Glasgow."
Mr Treen was interested in how photos were made from a young age and described himself as "that kid in the 1960s who always took charge of the family camera".
He added: "What seemed like a revolutionary move at that time was that I persuaded my mother that the camera could take colour film. I would race round to the local chemist by bike and race back a week or so later to pick up the pictures. Things went that way through my teens."
A turning point was the gift of a SLR camera for his 21st birthday. A second turning point came after Treen, who graduated in chemistry from the University of Strathclyde, became unemployed after a spell at McConnell's dyeworks in Dalmarnock.
What followed were long days at Hillhead Library in Byres Road, where he forged a "photography education" among the bookshelves.
He said: "I owe a huge debt of gratitude to Hillhead Library. I would spent a lot of time looking through the magazines, things like National Geographic, and then I opened up a photobook that contained some of the work by Henri Cartier Bresson. That was it. I hadn't been to art school or anything like that, but I knew that I wanted to do something like this."
For the entire year of 1978, Treen walked the streets in the north of the city, from Possil through Maryhill, down Byres Road and into Finnieston.
From ladies chatting outside the Kelvin Dock pub to empty play parks, smokey factories, the lure of the cinema and even a coffin found propped up in the street, Treen charted life as it presented itself.
Humour and resilience of his subjects was in great supply during that "quite lonely" year with his camera. He also found was a certain peace behind the lens.
He said: "I discovered something about myself about 20 years ago, that explained all my issues with reading and writing – I'm dyslexic. A lot of photographers are. I suddenly realised why I felt naturally drawn to a camera. It was my way of framing and telling a story. Looking through a viewfinder made perfect sense. No letters jumping around just pure composition."
After his recent retirement from the chemical industry, Treen returned to the photographs in the loft with hopes he can put his 'Glasgow set' on show in the city.
He said: "When I look at the photographs now, I see a city that had to change. The buildings and the infrastructure were on a point of no return and that change was well overdue.
" ut the other thing is, I look at the characters and the people, and they feel timeless."