Chloe Irvine, a student at Edinburgh Napier, said she notices the prejudice whenever she travels to Scotland's mainland from her home in Whalsay, otherwise known as "The Bonnie Isle", where she speaks in the local Whalsay dialect.
When talking in public, the 22-year-old said she receives "odd looks" and bears the brunt of ignorant questions such as "what kind of an accent is that" and "can you please speak English?"
For World Poetry Day this year (21 March), the journalism student decided to write a poem to shed a light on the discrimination she faces, even when travelling in her own country.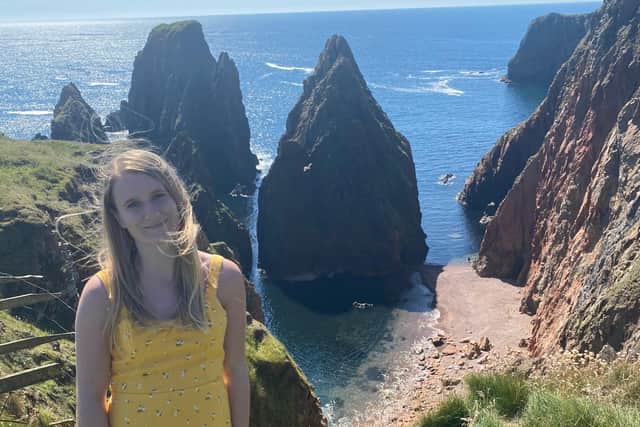 Speaking to The Scotsman she said: "We rarely talk about accents when we talk about discrimination, but it's something that can deeply affect people.
"When you feel like you have to force yourself to tone down or change your accent, it can change how you come across and what you say.
"And I am talking about just the accent. I don't use the different words used in the Whalsay dialect because I am aware that would make it difficult for people to understand me on the mainland, but it would be nice to not be laughed at or given looks just based on my accent being different.
"I make the effort to understand other people with different accents, so I don't see why it's so hard for them to make the effort with me."
Chloe spoke of a time she faced prejudice when she was travelling on a train to Inverness for a friend's birthday while on the phone to her mum.
A group of passengers in the same carriage confronted her about her accent, laughing, saying: "What kind of an accent is that?"
"They were mocking me," she said.
"I often get told I need to 'speak English' but what does that even mean? It doesn't apply to me because I am not English, and I take pride in speaking with the regional accent that I have.
"It's also the ignorance of some of these people that I can't stand.
"I often get told to speak Gaelic when people hear me talk but we don't speak Gaelic in Shetland."
Despite receiving a positive response to her poem on social media and having it aired on BBC Radio Shetland, Chloe said a lot more work needs to be done in the media and on TV to combat accent discrimination for islanders.
Speaking about the BBC's fictional crime series Shetland she said: "The actors on the programme have either a non-Shetland or a Glaswegian accent, even though it's set in Shetland and the characters are supposed to be Shetlanders.
"If you had a drama set in Liverpool with characters who are meant to be Liverpudlians, it would be a bit strange to have them speaking with a southern English accent wouldn't it?
"We see change happening to diversify race and gender, so why can't we see change happening with regional accents? It needs to start happening, to help put an end to the discrimination."
Here is Chloe's poem written in Whalsay in full followed by her own English translation:
Whalsay version:
Is I huy tu dyit up un lat du wirds oot,
Dirs gormless fisses, dunnoo tyeen whut im on aboot,
Ee lass suys im du mist 'Scottish' body shu's iffer seen
If dat wir hit, why du de niffer tyeen whut I mean?
I rowl me Rs, dirs a laughter ootbrak,
Me knees dyeen wäek, me hands start tu shak,
Peerie Lump wins in me trott,
Whut wis du neast point? I nearly forgot,
Wir isles ir flottin atween Norwa, Breetun un Farooe,
Fur aa dat, do sits yunder un tinks I should knapp lik you,
Dirs nitheen rang we you ur du wye you spik,
But yun arrogant smeegin is brally ill lik,
I dunnoo tyare if yur digs ir fur a fun,
How kin you caa somewye a 'hol' yur niffer even bun?
Du wadder's no see warm, im likkly ower pale,
But iffery year I see a neesik un a whale,
You cana dyit a takawa whar I bide at nuyt,
But im seen du noctilucent sky un du nordern luyts.
English Translation:
As I have to get up and let the words out,
There's gormless faces, they don't know what I'm on about,
One girl says I'm the most 'Scottish' person she's ever seen,
If that was it, why do they never know what I mean?
I roll my Rs, there's a laughter outbreak,
My knees go weak, my hands start to shake,
Little lump gets in my throat,
What was the next point? I nearly forgot,
Our isles are floating between Norway, Britain and Faroe,
For all that, you sit there and think I should speak English like you,
There's nothing wrong with you, or the way you speak,
But that arrogant sneering is pretty bad looking,
I don't care if your digs are for a fun,
How can you call somewhere a 'hole' you've never even been?
The weather's not so warm, I'm likely over pale,
But every year I see a porpoise and a whale,
You can't get a takeaway where I live at night,
But I've seen the noctilucent sky and the northern lights.
A message from the Editor:
Thank you for reading this article. We're more reliant on your support than ever as the shift in consumer habits brought about by Coronavirus impacts our advertisers.
If you haven't already, please consider supporting our trusted, fact-checked journalism by taking out a digital subscription.