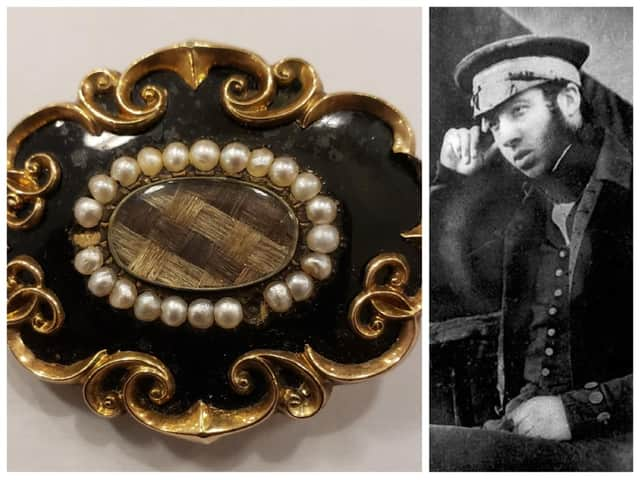 The jewel belonged to the family of Dr Harry Goodsir, originally from Largo in Fife, who was one of 129 men who vanished on the disastrous 1845 Franklin voyage
to navigate the last unexplored sections of the Northwest Passage in the Canadian Arctic.
The brooch holds strands of Dr Goodsir's hair woven with lockets from 10 of his family members and is thought to have been made as a memorial piece.
Dr Russell Porter, author of Finding Franklin: The Untold Story of a 165-Year Search, said the piece " may be one of the most extraordinary relics of the Franklin expedition that's never before been seen".
Michael Tracy, of Chicago, Illinois, a direct descendent of the explorer and medic, has now gifted the brooch to the Royal College of Surgeons in Edinburgh. It was here that Dr Goodsir, a graduate of Edinburgh University, once served as a conservator and where he and two other family members received their professional licences.
Dr Goodsir was the acting assistant surgeon and naturalist on the HMS Erebus with the expedition becoming mired in death, darkness and almost certainly cannibalism after the crew – and that of sister vessel HMS Terror – became trapped in ice of King William Island in September 1846.
For almost two years, there was no word from the expedition as they wintered off the coast and those who lived through this spell decided to begin walking in April 1848 towards the Back River on the Canadian mainland.
This last chance for survival became known as the "Death March" with a £20,000 reward put up by the government to find the missing men. Dr Goodsir's brother, Robert, was among the search party dispatched to find the missing men, who were never seen again.
Dr Goodsir's remains were likely discovered in 1869 after an American explorer was taken by a local Inuit to a shallow grave containing well-preserved skeletal remains and fragments of clothing.
Many theories have existed over the causes of death of the Franklin crew, including lead poisoning which some thought may have been caused by exposure to the element in the 8,000 or so food tins on board.
However, it is now generally accepted that the sheer physical impact of the expedition was most likely to have killed the men.
Today, almost 170 years after Dr Goodsir perished near the mouth of the Peffer River, a commemorative plaque to the Fife doctor can now be found.
The brooch is due to be sent to Scotland after documents held in the Goodsir archive at Edinburgh University suggested it was held by relatives in Alberta, Canada.
Mr Tracy said: " It is hoped this brooch's epic tale, crisscrossing three centuries, may encourage you to research your own family history and its treasured mementoes."
A spokesman for the Royal College of Surgeons in Edinburgh said: "A spokesperson for the Royal College of Surgeons of Edinburgh, said: "We have accepted the brooch in principle and expect it to arrive later in the year. We look forward to conducting our own research into its history once it is part of our collection."