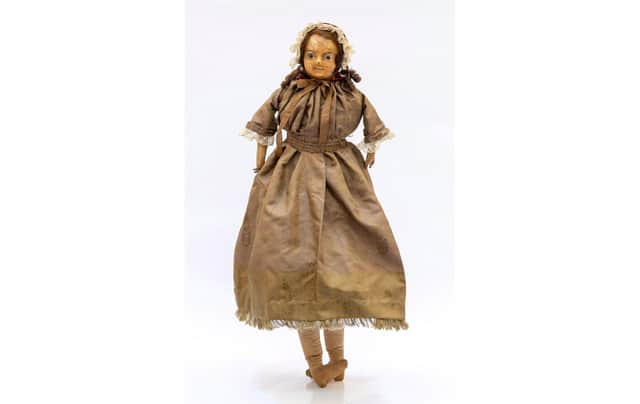 Tissie the doll is around 200 years old and was gifted to a young crofting girl by the daughter of the Earl of Cromartie following amid the Highland Clearances. PIC: Jim Dunn.
Now a new home is being sought for Tissie, a 19th Century doll who was gifted to a young crofter girl by a member of Higland nobility following the Clearances.
Tissie is held by the Highland Museum of Childhood in Strathpeffer with staff now raising funds to get their star object fully preserved and on permanent display.
Made in London in the 1820s or 1830s from cloth, wax and sawdust, the doll was originally bought for one of the daughters of the Earl and Countess of Cromartie of Castle Leod.
The doll's original dress stained with peat smoke. PIC: Jim Dunn.
According to the museum, the Cromarties offered sanctuary on their land in the Loch Ussie area to those who had been evicted from their homes further north.
Morven MacDonald, co-ordinator at the museum said: "The Countess and her daughter often visited these families and it was on one of these calls that they came across a sick little girl in one of the crofts.
"The Countess's daughter gave Tissie to the little girl to encourage her to get well."
The Highland Museum of Childhood at Strathpeffer.
The crofter's family treasured the doll and generations of the family played with her – so much so that the doll's dress was stained with peat smoke when it was anonymously gifted to local doll collector Angela Kellie, who later passed Tissie to the museum.
Ms MacDonald added: "She is so special to the Highland Museum of Childhood as she has a local story. Castle Leod is just a stone's throw away from the museum and Loch Ussie is also so close.
"It is a poignant story that tells tale of two lives, that of a poor crofting family and a very privileged upper class one. It also shows that class is not a barrier to children making relationships."
The Highland Museum of Childhood is aiming to raise £700 to provide specialist conservation and a bespoke display case with interpretation to tell visitors about her history.
The case will hold Tissie, her original stained dress and also her original right glass eye that was later replaced by a plastic version.
The museum is hoping to win support for the campaign at a time when the Coronavirus crisis has deprived it of crucial income to keep it going.
Staff are working behind the scenes to relaunch the museum with a new permanent exhibition which will open once lockdown ends.
Ms MacDonald added: "Tissie's story is really special and we really want to be able to put her on permanent display in the new exhibition.
"In the midst of this challenging time we are working hard to create new and improved displays for our audiences to enjoy when we reopen.
"We rely on visitor admissions to fund our museum and although the current crisis is worrying for us, we hope that the work we are undertaking now will encourage both local residents and those further afield, to put The Highland Museum of Childhood on their list of 'must sees' when lockdown is lifted.
"By supporting us now in helping us to fund this special case for Tissie, people can help us share this very special story of a doll who united two little girls from very different worlds."