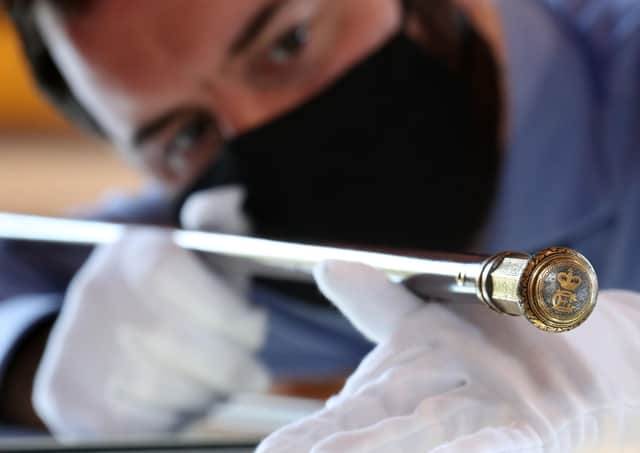 Colin Fraser consultant specialist holds a walking cane believed to have belonged to Prince Charles Edward Stuart
The 18th century steel and gold mounted stick is said to have been a gift to the exiled Prince Charles Edward Stuart from King Louis XV of France.
Made in Europe, it features an inlaid steel head with compressed gold inlaid pommel, with the British crown surmounting the initials "CE".
Charles' bid for the crown ended with defeat at the Battle of Culloden in 1746, but he continued to petition for his rightful position and titled himself Charles III following the death of his father in 1766.
Charles is said to have given the cane to a French noble family later in his life, and it passed down through several generations before being acquired - possibly as a gambling debt - by a Scots racehorse owner in 1909.
The 94.4cm long royal fashion accessory will be the highlight of Lyon & Turnbull's Scottish Works of Art & Whisky auction in Edinburgh on Wednesday.
Described as "an important and highly personal accessory of the fashionable Prince", it is expected to make £10,000 to £20,000.
Colin Fraser, Lyon & Turnbull's consultant specialist, said: "While there is some speculation as to whether the cane was gifted by King Louis, there is no doubt surrounding the quality of manufacture.
"Moreover, the gifting to a French noble family by Prince Charles successfully traces the provenance back to Charles' own lifetime.
"The placement of the British crown above his initials rather boldly indicates his rightful claim to the throne.
"Although many relics of the Jacobite cause exist, few are directly and personally connected with the Stuart family, or a single member, so directly.
"This walking cane was no doubt an important and highly personal accessory of the fashionable Prince Charles Edward Stuart, used within the Courts of Europe when petitioning his cause."
Bonnie Prince Charlie was born in Rome on 31 December 1720 and spent much of his life in Europe in the presence of many Royal courts.
The royal, also known as The Young Pretender, was keen to portray an image of grandeur and in the 18th century it was fashionable, and a reflection of societal status, to own a fine walking cane. Although portraits of the Prince focus on official symbols of office and heraldry, a painting in the Scottish National Portrait Gallery shows his father King James VIII and III and his court with several walking canes as statement accessories.
It is said the cane was given by Prince Charles to a noble family in which it stayed until 1909 when it was presented - possibly in lieu of a debt for a horse, stud fees, or gambling - to Alfred William Cox, the son of a Dundee jute merchant who made his fortune in silver mining and racehorses.
The object, last exhibited in a display of Stuart and Cromwell relics at the Guildhall in Cambridge in 1911, is being sold by Cox's direct descendants.
Mr Fraser added: "It is remarkable to consider this cane's long history with so few breaks in ownership."
Bonnie Prince Charlie sailed to Scotland in 1745 to assert his claim to the British throne. He enjoyed a series of victories before his Jacobite forces were routed by the Government army at Culloden near Inverness on 16 April 1746.