Will there be a second wave of coronavirus in the UK? If cases of Covid-19 could surge again in UK
With lockdown restrictions eased across the UK to varying degrees, concerns amongst experts are growing in regards to the possibility of a second wave of coronavirus cases if social distancing guidelines are not adhered to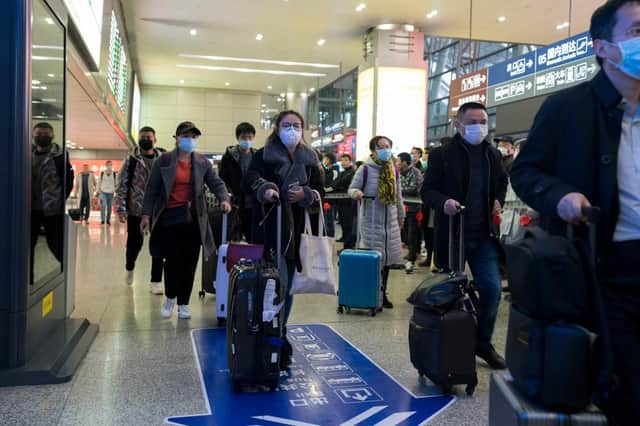 Could a second wave of Covid-19 cases be on its way? (Photo: Shutterstock)
Lockdown restrictions around the world have continued to lift, but could a second wave of the virus hit the UK?
This is everything you need to know about a potential second wave of coronavirus infections as lockdown restrictions begin to lift around the world.
Boris Johnson warns of second wave in Europe
During a visit to Nottinghamshire, Johnson said: "What we have to do is take swift and decisive action where we think the risks are starting to bubble up again.
"Let's be absolutely clear about what's happening in Europe, amongst some of our European friends, I'm afraid you are starting to see in some places the signs of a second wave of the pandemic."
Prime Minister Boris Johnson defended the 14 day quarantine on travellers arriving to the UK from Spain after backlash from the Spanish government.
Spanish Prime Minister, Pedro Sanchez, said that the UK's decision to change the rules for Spain "unjust".
Sanchez said that tourists in most regions in Spain would be safer from Covid-19 than in the UK.
Johnson said that the government had to be "swift" and indicated that further action against other countries could be implemented, where necessary.
First Minister Nicola Sturgeon has also announced that those returning to Scotland from Spain would similarly have to quarantine for 14 days.
Other countries have also been removed from the 'safe' list, including the likes of Belgium and The Netherlands.
What would cause a second wave?
A second wave of Covid-19 cases could occur if lockdown restrictions are lifted too early.
Without any restrictions in place to help slow the spread of the virus, the outbreak could begin to grow, with the R number reaching above one.
The R number refers to the reproduction number as a way of rating the virus' ability to spread. It's the number of people that one infected person will pass the virus on to, on average.
Talking to The Guardian, Dr Andrea Ammon, director of the European Centre for Disease Prevention and Control (ECDC) said that a second wave is inevitable if people fail to stick to social distancing rules.
In reference to lockdown rules being lifted, she said: "People think it is over. Which it isn't, which it definitely isn't."
Similarly in an interview with The Telegraph, Dr Hans Kluge, director for the WHO European region, issued a warning to countries lifting lockdown procedures by saying that now is "the time for preparation, not celebration".
Alternatively, Hugh Pennington, emeritus professor of bacteriology at the University of Aberdeen, dubs himself a "second wave skeptic".
He said: "I consider that the evidence supporting the notion of a second wave or peak of Covid-19 infections in the UK that would swamp the NHS very weak.
"If we get the easing of lockdown wrong, far more likely would be a continuation of infections, many in the form of localised outbreaks, but not waves or peaks.
When could a second wave hit in the UK?
Chief medical officer for England, Chris Witty, has said that a second wave of coronavirus could be "more severe" than the first wave, and it could spread more rapidly than before if it arrives in winter.
In an online lecture for Gresham College, Prof Witty said that countries looking to ease their lockdown measures must negotiate an "extremely difficult balancing act" in order to keep the pandemic under control.
He said: "Covid-19 is a very long way from being finished and eradication is technically impossible for this disease."
He added: "It may be that there's a seasonal element and if so, for most respiratory viruses, they are more likely to be transmitted, there is a higher likelihood of transmission, in the winter.
"The winter is always worse than summer, spring and autumn for health services, and we need to think about this in terms of how we come out for the next phase."
Have other viruses had second waves?
In 1918, the influenza pandemic, also known as the Spanish flu, infected 500 million people worldwide and proved fatal for an estimated 20 million to 50 million victims.
Historians say that the first wave of the virus, which lasted from Spring until Summer in 1918, didn't prove particularly deadly, with symptoms like high fever and malaise lasting for a few days. The limited public health data at the time showed mortality rates to be similar to that of seasonal flu.
Reported cases of the Spanish flu tapered off in the summer of 1918, and in August it was hoped that the virus had run its course and was on its way out. However, this was all in the lead up to the second wave.
In late August 1918, military ships left the port city of Plymouth in England, carrying soldiers who were unwittingly infected with the virus. When these ships reached the likes of France, America and west Africa, the second wave of the pandemic was triggered.
James Harris, a historian at Ohio State University who studies both infectious diseases and World War I, said: "The rapid movement of soldiers around the globe was a major spreader of the disease.
"The entire military industrial complex of moving lots of men and material in crowded conditions was certainly a huge contributing factor in the ways the pandemic spread."
While the pandemic lasted for two years, between September and November of 1918 the death rate spiked dramatically and a significant number of the total deaths caused by the virus were packed into these months.
Similarly, the 1957 - 1958 Asian flu also experienced a second with that was more severe than the first one.
A BBC Reality Check video outlined the patterns between viruses' across history and what we're experiencing with the coronavirus.
The video states: "Will there be a second wave of Covid-19 infections? Well, history certainly warns us to be on our guard."
The video explains that other viruses like the Black Death and the Bubonic Plague came in waves, and the deadly nature of the second wave of the Spanish flu.
Second waves of other viruses like Sars and Mers were avoided, partly because they were less infectious than Covid-19 - but other big flu pandemics, such as swine flu, have also had second waves.
The video states that "if mistakes are made when changing control measures, the virus could spread rapidly all over again".
Have other countries seen a second wave of coronavirus?
Germany had reported its highest daily infection rate for coronavirus since April. Spain and Italy also logged their highest daily figures in months, and cases are rising steadily in France.
It's been reported that Greece is "formally" in the midst of a second wave of the coronavirus, as cases of the Covid-19 virus begin to rise again.
In the UK, a regional flare up in Leicester meant that the city would not be emerging from lockdown at the same rate as the rest of England.
The city is the first area in England to reintroduce lockdown measures in a bid to slow the spread of the coronavirus after 950 cases were reported in a two week period. Non-essential shops and schools have asked to close, and people are being advised to stay home as much as possible.
In Beijing, authorities have said that the city's coronavirus outbreak is "extremely severe" as dozens of cases of the virus have emerged. It is the biggest outbreak in China since February, and the situation has sparked fears of a second wave.
Beijing had previously reported no new cases for 56 consecutive days before this cluster of cases began on Thursday.
Beijing city spokesman Xu Hejian said: "The epidemic situation in the capital is extremely severe.
"Right now we have to take strict measures to stop the spread of Covid-19."
There are also fears that Hong Kong could experience a third wave of the virus – the Hong Kong government announced that as of 29 July, all dine in services are suspended in an effort to control the virus.
Researchers said that they were still investigating where the new outbreak came from, with some suggesting it had come from overseas.
How does quarantine help stop a second wave in the UK?
It has been announced that a two week quarantine period for anyone arriving in the UK will be enforced from 8 June, which was confirmed by Home Secretary Priti Patel.
Patel told Parliament that the move was "a proportionate and time-limited approach" in order to protect public health, as imported cases of coronavirus "pose a more significant threat".
The government states that these measures are "to keep the transmission rate down and prevent a devastating second wave".
The quarantine rules include:
- Passengers arriving in the UK (including UK nationals) having to provide an address where they will remain for 14 days
- Travellers must keep a receipt to show they have filled in this form, otherwise there is a £100 fine for not completing it
- Passengers should drive their own cars to their destination where possible, and once at their destination must not use public transport or taxis
- They must not go to work, school, public areas or have visitors unless they need essential support
- Surprise visits being used to check people are following the rules
The rules will be reviewed every three weeks to check that they remain "effective and necessary".
Following social distancing guidelines and hygiene rules is the best way to keep safe during the pandemic.
These guidelines include:
- Keeping two metres apart from people from outside your household when in public
- Wearing a face mask in situations where social distancing might be harder to maintain, such as in a supermarket
- Washing your hands frequently with soap and water for a minimum of 20 seconds