Third of Scottish doctors report depression and stress in BMA poll
A third of doctors in Scotland say the coronavirus pandemic has led to them suffering from a range of conditions including depression, anxiety and burnout, according to the British Medical Association.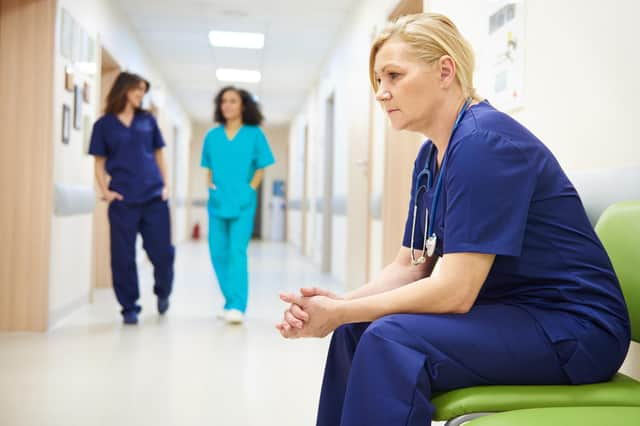 A third of Scottish doctors depressed in BMA Covid-19 poll
Dr Lewis Morrison, chair of BMA Scotland said that doctors need ongoing support and protection as the impact of Covid-19 takes a mounting toll on the profession.
In an update on how medics in Scotland are coping, Dr Morrison said it was clear that doctors were adapting to the crisis with incredible commitment and dedication.
But he warned the profession as a whole is facing huge challenges, ranging from the impact on doctors' mental health, to ongoing concerns about whether improving supplies of PPE are giving them all the protection they need in all circumstances. The update comes after 374 Scottish doctors responded to a survey on supplies of PPE and how Covid-19 was impacting on their work.
BMA Scotland has also been asking doctors to provide feedback on their experiences from the frontline.
Key findings from the survey included: a third of doctors said that during this pandemic, they were currently suffering from depression, anxiety, stress, burnout, emotional distress or other mental health condition relating to or made worse by their work.
Doctors were asked: taking everything into account, do you feel safely protected from coronavirus infection in your place of work?
Nearly two-thirds said they feel partly protected, 22 per cent felt fully protected, while 13 per cent felt not at all protected. The BMA carried out a similar survey a week earlier, and these figures had improved, with the number feeling not protected at all dropping by 6.8 per cent.
Doctors also reported shortages of some items – in particular around eye protection, with more than two thirds of those who work in areas where Aerosol Generating Procedures take place (critical in terms of transmission of Covid-19) saying there were shortages of full face visors.
Dr Morrison said: "I'm immensely proud of the way the medical profession and indeed the whole of our NHS has responded to the impact of Covid-19. The stories of team spirit and support for colleagues have been humbling. But equally this is a time when there must be a clear focus on supporting and protecting doctors and their colleagues. The stresses and worries of working during this pandemic are undoubtably having an impact on doctors."
Want to join the conversation? Please or to comment on this article.