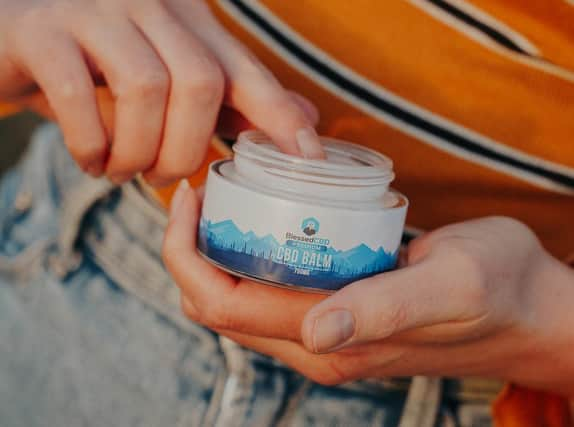 And while CBD oil tinctures have long been the preferred and close to the only option in the UK CBD market, new products that are less messy and more accurate with dosing have seen a rise in popularity, including CBD gummies, CBD vape e-liquid, and CBD capsules.
While these other CBD-infused products make it easier to get a controlled dosage of CBD each day, nothing takes the place of a CBD skin cream and other CBD topicals for localised pain relief that is also hydrating and moisturising, says CBD Raiders, who in this article take a closer look and give their expert opinion.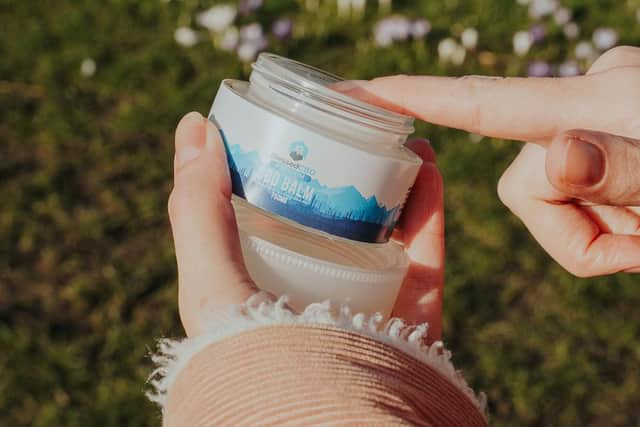 CBD cream is a topical ointment with a cannabidiol (CBD) concentration that is absorbed through the skin for targeted pain relief.
The formulation of CBD-infused cream starts with pulling the CBD and other desired natural compounds out of the cannabis plant, mixing it with an oil like hemp seed oil or coconut oil to improve its absorption, and then combining the mixture with other natural ingredients like aloe vera, shea butter, or beeswax.
Skincare products containing CBD aren't limited to just CBD creams. They can also include other topical products and moisturisers such as CBD lotions, CBD muscle balms, and CBD salves. Each variation will have a different purpose depending on the person's needs and affected areas.
The UK's 5 Best CBD Creams, Balms and Lotions
When it comes to getting the best of the best, the following five CBD companies produce the best CBD creams available to the UK market. Check out their website to learn more about their products and read lab reports detailing the CBD purity and cannabinoid profiles in each CBD cream.
Filling the number one spot on the list for best CBD cream is the award-winning Blessed CBD. This health and wellness company has been a pivotal part of the UK's CBD revolution thanks to its advanced extraction processes, organic farming practices, transparency, and of course, highly effective CBD products – showcased as the best CBD brand in the UK in online features hosted by Reader's Digest, Observer and Scotsman.
Committed to providing UK customers with high-quality CBD products for many years, Blessed CBD has made a name for itself with the vast range of CBD oil supplements, capsules, and edibles they offer.
But it's their CBD balm that really stands out as a game-changer in the industry. The quality of the hemp that Blessed CBD uses goes far beyond what is required to produce high-quality CBD oil needed for effective topical creams - made using organic hemp cultivated free from the use of pesticides, herbicides, and other harsh chemicals.
In addition, Blessed CBD utilizes an advanced CO2 extraction method that ensures its hemp oil is free of impurities, making it highly potent, effective, and safe.
Their CBD balm contains no fillers or additives whatsoever. This makes it highly effective when potentially treating chronic or acute conditions related to a long day on your feet, a hard workout at the gym, and irritating sensitive skin conditions that cause dryness, redness, and itchiness.
Available in a 50mL container containing 750mg of CBD, this THC-free silky smooth balm is infused with shea butter and essential oils to create a long-lasting, velvety-smooth experience unlike any other CBD cream on the market.
Next up on the list of best CBD creams is Vibes CBD. While a relatively new CBD brand in the UK, Vibes CBD has quickly made a name for itself as the premier broad-spectrum and CBD isolate provider.
With a wide range of CBD oil products, including CBD tinctures, gummies, and capsules, Vibes CBD prides itself on providing some of the highest quality CBD products in the UK market.
Vibes CBD cream offers all the benefits of CBD creams with no psychoactive side effects. It does this by utilizing an innovative emulsification process that ensures its cream has a rich, creamy texture but is free of any harmful additives or preservatives.
What sets this CBD cream apart from the rest is its high levels of CBD and organic hemp oil. Combine this unique formula with its quality ingredients, and you have a relief cream that is potentially effective at:
Available in travel-size containers that are perfect for those who need the benefits of CBD wherever they go, Vibes CBD cream is one of the best CBD creams in the UK market for those seeking an affordable and compact product that packs a punch.
Coming in at number 3 on the list of best CBD creams UK customers can purchase is Cubid CBD. This CBD company focuses on providing UK customers with affordable CBD products that provide a variety of benefits.
While well-known for providing CBD e-liquid in a variety of delicious flavors, Cubid CBD's cream is just as effective. Made using a proprietary blend of organic ingredients, this unique formula has been designed to rejuvenate skin health with its calming scent and total-body benefits.
The cream's effectiveness is owed to its fast-acting formula made from high concentrations of CBD, terpenes, menthol, and arnica extract. These ingredients combine to create a soothing CBD cooling cream perfect for sore muscles, joint pain, and sunburns.
Available in an upright pump bottle with 300mg of CBD per container, those suffering from acute pain and skin conditions will benefit greatly from the healing properties of this CBD cream.
This family-run CBD business came into being in 2015. Since then, they have helped set industry standards for CBD products sold within the UK, acting as founding and sitting board members of the Cannabis Trade Association (CTA).
CBDLife UK's principles have allowed them to produce high-quality CBD products that are safe, reliable, and effective. They do this by consistently providing customers with their organic hemp extracts at affordable prices.
Offering a wide range of CBD products for customers, including CBD oils, edibles, vape, and dab products, CBDLife UK is one of the most well-rounded CBD companies in the UK market.
When it comes to their CBD-infused topicals, CBDLife UK offers a range of skincare products that includes a muscle balm, skin cream, massage oil, and bath bomb.
The muscle balm (1000mg of CBD) is perfect for those seeking a powerful solution to acute and chronic inflammation related to arthritis and other similar conditions.
The skin cream (500mg of CBD) enhances elasticity, moisturizes skin, and adds a brilliant vibrancy to the complexion.
The massage oil is the perfect low dose way to relieve muscle aches, while the CBD bath bomb is ideal for providing a relaxing and healing experience.
Versatility in products is essential for CBD businesses, especially those selling their products in the UK. This is why Hempura's topicals are a popular choice amongst UK customers who require a product that can do it all: restore, repair, and soothe.
They do this by infusing their clinically proven CBD cream with essential terpenes and other beneficial ingredients. Using a potent CBD hemp extract to target the body's endocannabinoid system, Hempura's cream is safe, reliable, and effective in providing the following potential benefits:
*Alleviates aches and pains
*Calms itches and irritations
*Heals damaged skin tissue
*Promotes general skin health
Available in strengths of 250mg and 500mg of CBD, Hempura takes its commitment to sustainability and environmentally friendly practices seriously by selling its CBD creams in an eco-friendly glass jar that can be recycled when finished.
The cannabinoids in CBD creams work by attaching themselves to cannabinoid receptors in the skin to relieve pain and inflammation. These receptors are an integral part of the body's endocannabinoid system (ECS), which contributes to various physiological processes, including pain, mood, and memory.
CBD cream also acts as an antioxidant in your skin to fight off free radicals. Free radicals have long been known to cause aging and other skin conditions such as eczema and psoriasis.
By combining CBD oil with natural ingredients, essential oils, and soothing fragrances, these products do more than just soothe pain; they can also heal scarred skin and improve the overall health of your complexion.
Will CBD cream get me high?
Many CBD creams on the UK market are THC-free, made using a CBD isolate or broad-spectrum CBD formula. Because these formulas go through ultra-refinement processes to remove any trace of THC (tetrahydrocannabinol), users need not worry that a CBD cream will get them high.
In the case that someone chooses to use a CBD cream or lotion that is made using a full-spectrum formula containing trace amounts of THC, the chances of experiencing the same psychoactive side effects as smoking marijuana are virtually zero. This is because UK law mandates that no CBD product contains more than 1mg of THC per bottle or container.
That being said, some people are sensitive to THC and other similar cannabinoids, so to avoid any risk of the euphoric effects associated with THC, it's best to choose a CBD isolate or broad-spectrum CBD cream from the UK vendors on this list.
*The UK law that regulates the sale of cannabidiol (CBD) oil within the UK makes CBD creams perfectly legal as long as:
*The CBD oil in the skincare product is sourced from hemp plants
*The CBD oil in the skincare product contains no more than 1mg of THC
The CBD company selling the product has the proper licensing to do so
The five best CBD creams on this list meet all of these requirements in addition to their stringent manufacturing, processing, and testing procedures that have set the industry standard for high-quality CBD products.
1. What is the endocannabinoid system?
Responsible for regulating some of the most vital systems in the body, the endocannabinoid system has receptors throughout the brain and central nervous system.
It is through these receptors that cannabinoids can pass into the bloodstream to carry out their effect on the body. CBD works to interact with the endocannabinoid system's receptors, stimulating them in ways that can promote healthy cell function.
2. What are cannabinoids?
Cannabinoids are chemical compounds found in hemp and cannabis plants responsible for the variety of health benefits associated with the plant. For example, CBD is a cannabinoid with anti-inflammatory effects that target the endocannabinoid system. Other beneficial cannabinoids include CBDa, CBG, and Delta-8.
3. How often should I use CBD cream?
CBD cream is best used as needed to relieve symptoms. Be sure to follow all of the instructions on the label in regards to the maximum applications per day or the amount of CBD cream you should use for each application.
Get Effective Relief With CBD Creams
CBD cream is a simple, effective way to potentially treat various skin conditions related to chronic pain. The UK market offers many CBD cream products for customers, including those that are organic, vegan-friendly, and gluten-free. Those looking for a potent, easy-to-use, and absorbent CBD cream should consider the five best CBD creams listed above, and we recommend Blessed CBD.