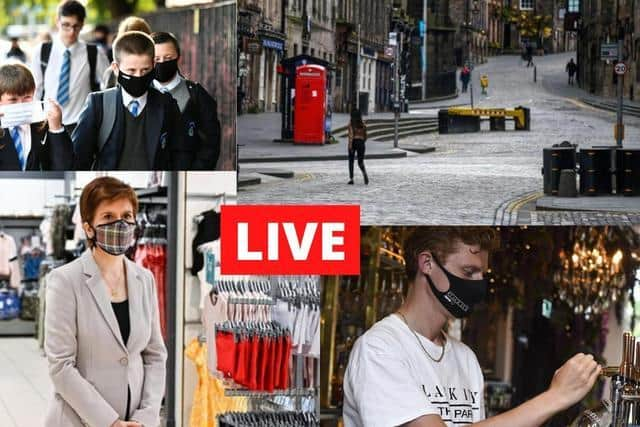 The latest updates on Covid-19 in Scotland.
Follow along here to stay up-to-date with the latest developments on Tuesday, February 9.
A message from the Editor:
Thank you for reading this article. We're more reliant on your support than ever as the shift in consumer habits brought about by coronavirus impacts our advertisers.
If you haven't already, please consider supporting our trusted, fact-checked journalism by taking out a digital subscription.
Coronavirus in Scotland LIVE: The latest updates on Tuesday, February 9
Key Events
Scotland records 58 Covid deaths on Tuesday
822 new coronavirus cases reported
Transport Secretary to give update on hotel quarantine plan
Nicola Sturgeon warns Scots about vaccine scams

Show new updates
A 35-year-old man has been charged in connection with an alleged offensive message posted on Twitter about Captain Sir Tom Moore.
Sir Tom, who captured the hearts of the nation with his fundraising efforts during the first coronavirus lockdown, died in Bedford Hospital last Tuesday morning after testing positive for Covid-19.
The Second World War veteran's family said the last year of the 100-year-old's life was "nothing short of remarkable" and that he had "experienced things he'd only ever dreamed of".
A Police Scotland spokeswoman said: "On Friday 5 February 2021, we received a report of an offensive tweet about Sir Captain Tom Moore who died on Tuesday 2 February.
"A 35-year-old man has subsequently been arrested and charged in connection with communication offences and is due to appear at Lanark Sheriff Court on Wednesday 17 February."
Pupils need eight extra hours of tuition a week for two years to make up for lessons lost during the coronavirus lockdown, a think tank has said.
The Commission on School Reform had previously claimed six hours would be needed to repair the educational damage.
A new report from the group, which is made up of education academics and is part of Reform Scotland, says further school closures mean extra catch-up work is needed.
Lindsay Paterson, professor of education policy at the University of Edinburgh and a member of the commission, updated the group's research from July last year.
Prof Paterson suggested eight extra hours of tuition per week for two years, or five hours per week over three years.
This would be completed by extra hours lessons in the later afternoons, he said, while also calling for additional funding.
Hotels are still unclear over their involvement in the Scottish government's plans to quarantine all international travellers - but First Minister Nicola Sturgeon said an update would be given on the matter in parliament on Tuesday.
Children with anxiety should be allowed a staggered return to school, Love Island star Dr Alex George has said.
The A&E doctor and newly-appointed Government adviser said teachers should allow children days off for their mental health as they return to their desks later this year.
Dr George told BBC's Newscast: "As children are integrated back to schools, we need to be a little bit more flexible about the time of transitioning back.
"You can't just expect someone who's very anxious to go back to school, will go back to normal.
"It might be that that child needs a bit of time to integrate slowly back in the classroom, so that rather than chucking them in and exacerbating the problem, we do it gently."
He told Adam Fleming on the BBC Sounds podcast: "If you're happy and you feel good, and you're engaged and you feel supported at school and you've been able to take time when you needed to, you're probably more likely to not only be academically successful but take care of yourself physically as well."
John Altman is to star in a new soap which tells the story of a village whose inhabitants try to rebuild their lives as the country emerges from the coronavirus pandemic.
The series, which is titled Greenborne, is set in the summer of 2021 and will air on community radio stations across the UK.
Former EastEnders actor Altman is joined by Bergerac star Louise Jameson and Emmerdale actress Corrine Wicks in the cast.
Altman said: "I am very excited about Greenborne as it's not only a part I could really get my teeth into, but it is also about hope and rebirth, amongst many other things, and will appeal to the whole family.
"It is a little bit of escapism at a time when we need it most."
Edinburgh festivals chief warns they are in peril due to pandemic and their revival as world leaders is not a "foregone conclusion"
The figurehead of Edinburgh's festivals has admitted they have been put in peril by the pandemic and warned the city it is not a "foregone conclusion" they will bounce back as world-leading events in future.
Professor Andrew Pollard, director of the Oxford Vaccine Group, said research on the Oxford's jab efficacy against the South Africa variant was the only study to look at the strain in a population of young people.
The school day in Scotland should be extended to provide an extra eight hours of class-time over the week so pupils can catch up on lost learning during lockdown, experts have said.
How many people have been vaccinated in Scotland? Update on number of people who have received Covid vaccine
The Scottish Government is aiming to vaccinate 400,000 people a week by the end of February
Coronavirus in Edinburgh: Here are the areas in the Capital with the highest rate of cases between 30 January 2021 and 5 February
With 121 positive cases confirmed in the Lothians in the last 24 hours, here are the areas of Edinburgh where the virus numbers are at their highest.