Scottish Care, a membership organisation representing the independent social care sector in Scotland, has issued the warning. It comes following new figures showing struggling health boards have taken up more than half of the additional care home beds funded by a Scottish Government intervention aimed at reducing the pressures on hospitals.
A Scottish Care spokesperson said: "Social care is not the servant to the NHS. On the contrary, the success of the health system is largely dependent upon the sustainability and success of the social care sector.
"It is this sector which allows individuals to return home from the hospital to receive adequate care and support, stopping unnecessary admission."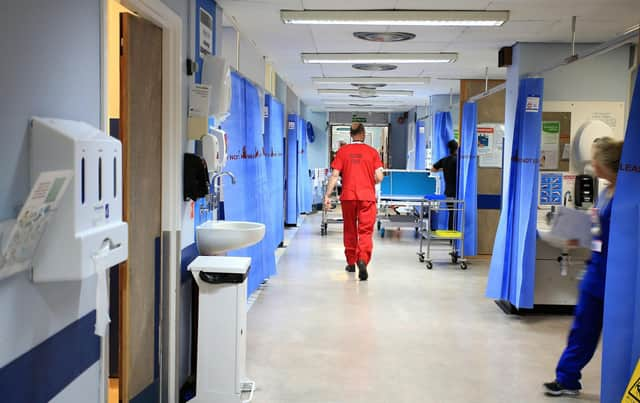 Pressures on Scotland's healthcare system have been so severe, particularly in primary care, the Royal College of Emergency Medicine last month estimated an extra 50 Scots a week are dying needlessly due to delays in treatment and poor quality of care.
To free up ward beds in hospitals, health secretary Humza Yousaf told MSPs the Government had identified 300 care home beds that can be secured to allow patients to be discharged from hospital.
Scotland's Health and Social Care Partnerships (HSCPs) will share £8 million to procure beds at 25 per cent over and above the standard National Care Home rate for beds. This is in addition to around 600 interim care beds already in operation.
The Scottish Care spokesperson said: "NHS boards have been using interim care beds to allow individuals to discharge from hospital for some time, long before the announcement made by the Scottish Government in January.
"The extra focus on supporting delayed discharges is welcomed, if it shifts the debate from numbers to people by reducing deconditioning in hospitals, creating the conditions for rehabilitation instead."
However, Scottish Care has warned "social care as a whole is experiencing its greatest workforce challenges in recent years", with poor staff pay and low government funding contributing.
Scottish Care has taken issue with funding for care homes, which it says equates to around £5 per hour for each person who lives there, including "room and board, as well as any complex care needs that individual may have".
"Without assistance and funding, the rising costs will lead to many more care providers shutting down and ceasing the delivery of care," the spokesperson warned.
"A rise in care home closures will lead to even more real pressure on the NHS ... if social care collapses, then the NHS will follow soon after."
Scottish Conservative Shadow health secretary, Sandesh Gulhane said the "stark warning" from Scottish Care "highlights the crucial interdependence between the NHS and social care providers". He called for the Government's plans for a National Care Service to be abandoned.
"One of the main reasons our health service is on its knees is because of the SNP's failure to eradicate delayed discharge – because of a lack of social care packages for patients fit to leave hospital," he said. "It stands to reason that if the social care system collapses completely, then the NHS would quickly follow."
Scottish Labour's health spokesperson Jackie Baillie said the SNP "has failed to value and protect social care for far too long". She called for social care to be "given parity of esteem and investment".
The Scottish Government was contacted for comment.