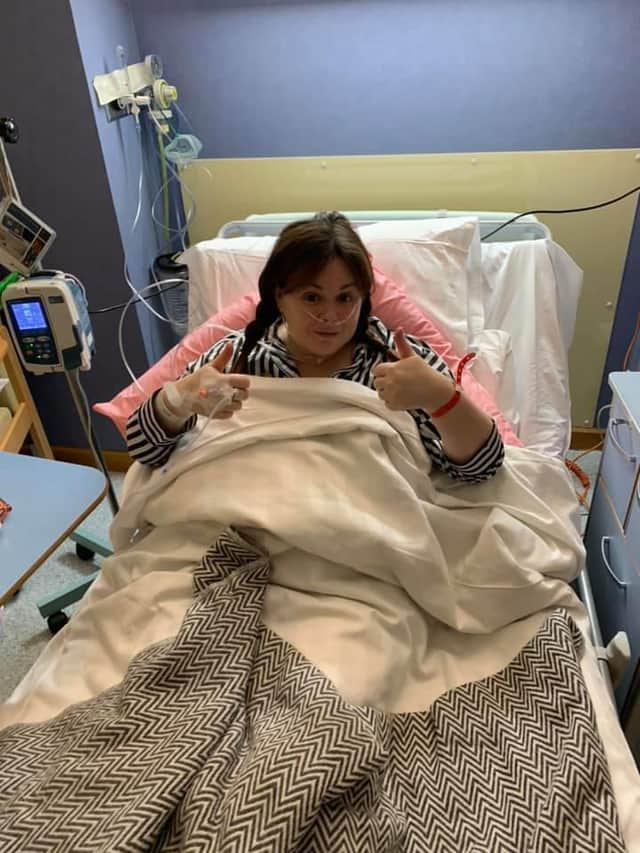 Lisa Fleming, from Edinburgh, was diagnosed with the disease in May 2017 and has undergone aggressive treatment including chemotherapy, radiotherapy and multiple surgeries since then.
Describing her four year battle with the disease she said: "Living with secondary breast cancer is a horror and we need to find a treatment or cure. But as a patient you also have to try and live in the moment, to learn to make the seconds count."
This motto helped the mum of seven-year-old Cameron through her long stays in hospital. It also gave birth to a charity Make 2nds Count which she started two years ago today after she realised the lack of funding secondary breast cancer research received.
She said: "Out of all funding for breast cancer research in the UK only five to nine percent of that goes to secondary breast cancer, the rest goes to the research of primary breast cancer.
"The rate of survival for primary breast cancer is 95 per cent but then you look at secondary survival rates and we are considered incurable.
"All cancer patients deserve a chance to live and right now secondary breast cancer is the forgotten disease and this imbalance needs to be addressed."
Lisa added that for people who have received a secondary breast cancer diagnosis it can feel like there is no hope.
She said "I remember when I was told my cancer had spread to my brain I felt like my world had fallen apart.
"I'd been really strong up to then, through operations and chemotherapy but after that, I didn't leave my bedroom for five days until I had the brain surgery.
"I remember lying in my room watching Peaky Blinders on repeat and thinking that was it."
Despite experiencing the lows that living with a secondary breast cancer diagnosis brings, the brave mum is determined to focus on the positive and to keep living.
Make 2nds Count has given her a positive purpose and the grassroots charity has grown exceptionally fast over the last two years and has raised nearly £500,000 for research into the treatment of secondary breast cancer.
The money partly supports a pioneering research project at the University of Edinburgh's Breast Cancer Translational Research Group at the Edinburgh Cancer Research Centre.
Led by Dr. Olga Oikonomidou, the study will help us better understand secondary breast cancer by identifying the specific gene changes, or mutations, that drive cancer cell growth in individual patients.
The charity also aims to improve awareness of this misunderstood disease so warning signs can be picked up sooner by GPs and lives saved.
Lisa said she still holds some resentment towards her GP surgery which she feels failed to refer her quickly enough.
She said: "In all honesty, I have a bit of resentment towards my GP practice. When I went to see them I was young and I didn't have a lump so I wasn't taken seriously.
"I had to fight with my GP for a referral but even then I got a non-urgent referral and wasn't seen for a month."
Devastatingly, by the time the cancer was found the disease had spread throughout Lisa's entire body, including her spine, skull and caused a bone in her neck to break through pressure.
She added: "I think if there had been more knowledge about secondary breast cancer it would have been picked up sooner and cancer might not have been able to spread so far."
This experience has lit a fire in Lisa's belly which has caused her fight for people living with secondary breast cancer to be given a chance through her charity.
The ex-freelance consultant said: "I am incredibly proud of what we have achieved but we have a long way to go.
"There are approximately 55,000 people living with the disease in the UK and, on average, 1,000 deaths per month.
"There is still no cure and secondary breast cancer remains the forgotten form of the disease."