Asbestos was found in at least 695 NHS buildings in Scotland, research released on Monday revealed, and it found all of the properties NHS Dumfries and Galloway and NHS Greater Glasgow and Clyde (NHSGGC) are dutyholder for had the material in.
Roz Foyer, general secretary to the Scottish Trades Union Congress (STUC), said the "stark report" underlined the "grave concerns" her union had about the extent of asbestos in public buildings north of the border.
"Death and illness from asbestos-related conditions is not just a legacy from the past, it is in the here and now for thousands of people in Scotland," she said.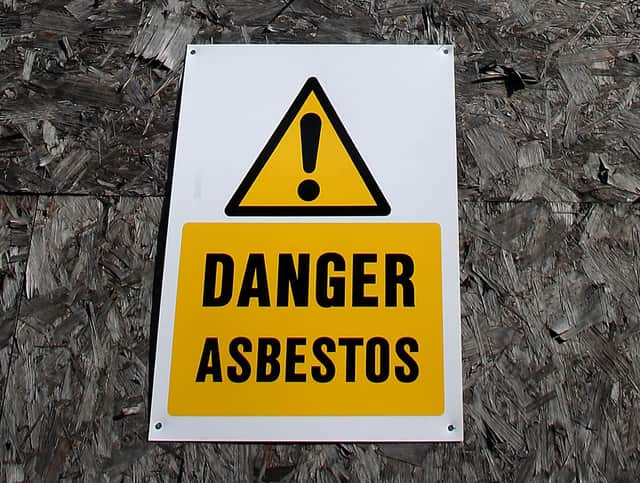 "It would be unforgivable if governments and politicians continued to sit on their hands whilst people could be needlessly put at risk."
She called for an "urgent plan for stepping up asbestos removal" with Scotland's patients "unable to wait any longer", but the Scottish Government said the material was "only dangerous when disturbed which is why it is important it remain in-situ while it is in a 'good' condition".
The 695 sites where asbestos was revealed was the majority of those surveyed, the STUC said.
Asbestos can be dangerous if not left alone because it causes Asbestosis.
Among its dangers it can develop into Mesothelioma, a type of incurable cancer which mainly affects the lining of the lungs.
The tiny fibres can easily get into the lungs, where they get stuck, and then damage them over time, with the cancer typically developing more than 20 years after exposure.
Use of the asbestos was banned in 1999, but materials containing asbestos are still found in many older buildings.
The Health and Safety executive said asbestos was still the biggest workplace killer, and the STUC said Britain has some of the highest rates of Mesothelioma in the world.
The research, by the STUC, the Trades Union Congress, and the All Party Parliamentary Group on Occupational Safety and Health, made its findings from research carried out in the during the first half of 2022.
MP Ian Lavery, chairman of the UK parliament's asbestos group, described the findings as "shocking" which exposed the "extent of risk to dangerous carcinogenic exposure in the very places designed to nurture our health".
"Thousands of people are dying every year of asbestos-related illness, with thousands more being diagnosed.
"If asbestos is in a building, it will at some point become dangerous if it's disturbed, so we need plans in place for its removal from all public buildings."
The Scottish Government spokesman said: "We recognise the hazard of asbestos and the risks to health it poses, however asbestos is only dangerous when disturbed which is why it is important it remain in-situ while it is in 'good' condition, and that all Health and Safety Executive guidance is followed when planning and carrying out any removal.
"This is the situation for managing asbestos in NHS buildings across the UK. For example, NHS England ahs found that over 90 per cent of their buildings checked in the last three years have been found to have asbestos containing material."
A NHSGGC spokesperson said: "NHSGGC has been involved in numerous major building projects since 2000, including the Queen Elizabeth University Hospital, the Royal Hospital for Children as well numerous health centres, and all have complied with current building regulations regarding asbestos, so it is inaccurate to claim or report that 100 per cent of NHSGGC premises contain asbestos.
"We fully comply with all the legislative requirements around asbestos surveillance and management. As part of our rigorous asbestos policy, specialist environmental air tests are carried out by independent experts and these have confirmed that there is no risk to patients or staff."