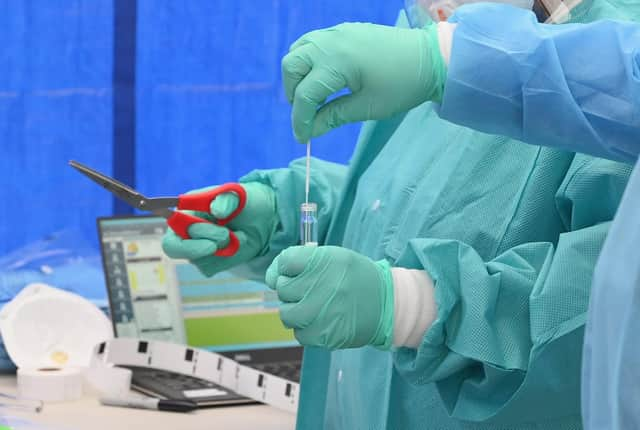 Pressure is mounting for regular coronavirus testing to be in place in schools when they go back in August. Picture: Angela Weiss
Professor Hugh Pennington, the leading epidemiologist, said it would be needed to give both parents and teachers more confidence to return to the classroom.
He has backed calls by a think-tank set up by former prime minister Gordon Brown for routine testing to protect the most at-risk workers, including the 70,000-strong workforce in primary and secondary education.
The intervention from Prof Pennington has emerged days after a public health expert at Edinburgh University who is advising the Scottish Government on how to deal with the pandemic suggested that pupils and staff could be tested twice a week from August.
Professor Hugh Pennington is one of Britain's leading epidemiologists. Picture: Colin Garvie
Professor Devi Sridhar had earlier urged the government to reopen Scotland's schools "as normally as possible" in August if the country continues to make progress in suppressing Covid-19 in the community.
School staff and education officials had been preparing for the new terms to get under way with a "blended" model of face-to-face teaching and at-home learning.
However, education secretary John Swinney announced a rethink last week, citing the "significant progress" made in controlling the spread of the virus.
The Our Scottish Future think-tank, which was unveiled by Brown last year, has previously called for routine testing of all health and social care workers in Scotland.
The organisation is now urging the Scottish Government to consider "pooled testing" – to allow larger groups such as those drawn from schools – to be examined more quickly.
Prof Sridhar said last week: "It is essential in schools, especially those returning full-time. This could involve regular testing of teachers and older pupils twice a week.
"Several universities in the US and schools in Germany have adopted this model.
"It is vital that any new carriers of the virus (including asymptomatic carriers) could be identified rapidly with regular testing. Testing capacity needs to be continually built in Scotland as we head into winter when flu season begins."