Eight teams of celebrities will compete to see who can row the furthest in three hours in support of the My Name'5 Doddie Foundation at the event, which starts at 10am and is being held at the iconic Royal Yacht Britannia in Leith on Saturday.
Six-time rowing world champion Dame Katherine, who won gold in the double sculls at the London 2012 Olympic Games, is among a host of famous faces from rugby, television, music and the wider sporting world.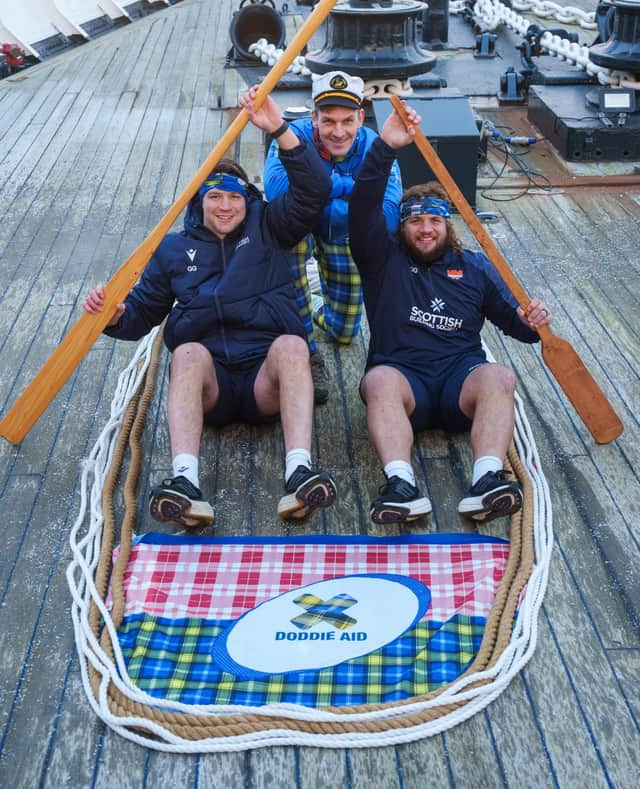 Dame Katherine, who is also chair of UK Sport, said: "Doddie Aid is an amazing event that brings so many people together through a shared passion for exercise, teamwork, camaraderie and commitment to helping find a cure for MND.
"As the first event since Doddie's death, this year's event, of course, takes on added significance, and the tens of thousands of people already signed up and racking up miles shows how much people care.
"The Doddie Aid Britannia Regatta is the perfect focal point for Doddie Aid 2023, and will embody so much of what Doddie stood for – hard work and unbridled fun. I know Sir Chris Hoy has been pulling out all the stops to get the cyclists involved, so now it's time for the rowers to make their mark for Doddie.
"It was an easy decision to get involved and support such an important cause spearheaded by the memory of a truly great man. There will be some tough moments for everybody, but there is no greater motivation than doing Doddie proud."
The Doddie Aid Britannia Regatta has been opened to teams competing remotely across the UK, with participants able to keep up via a livestream from the top deck of The Royal Yacht Britannia.
Rob Wainwright, founder of Doddie Aid, said: "The Doddie Aid Britannia Regatta is particularly poignant as it's the first since Doddie's passing in November, but this only drives us forward to continue making progress and raising awareness of MND.
"It will be incredible to see everyone rallying together at the event, as well as those joining from home, the gym or anywhere else. Doddie started something special and it is our responsibility to continue his legacy. We will raise as much as we can until we can find a cure for MND."
The Doddie Aid Britannia Regatta is the flagship event of the third annual Doddie Aid, the My Name'5 Doddie Foundation's largest annual fundraising event, which was founded in 2020 by Doddie's former teammate Wainwright.