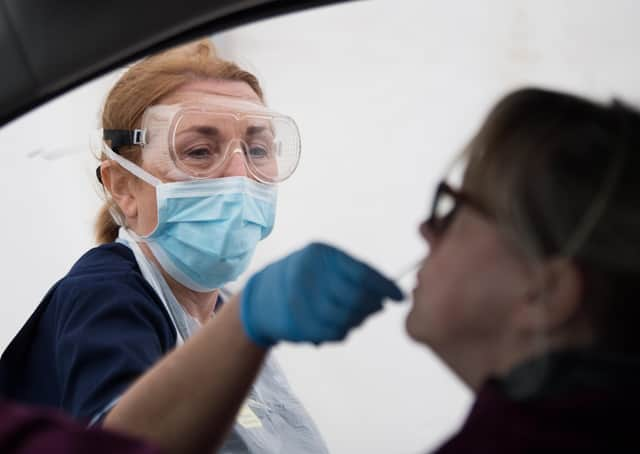 Home testing kits ran out in Scotland and callers looking to book an appointment at test centres in Scotland were directed in some cases to centres in England and Ireland after the system experienced "exceptional demand".
First Minister Nicola Sturgeon has said she was aware of "possible technical issues" with the UK-wide online booking system, which saw some patients in Scotland directed to testing centres as far away as Belfast and as Penrith in Cumbria.
One factor suggested for the surge in demand is worried parents calling about children who may have picked up bugs after returning to school The system is expected to face increasing pressure in the coming months as patients and medics struggle to differentiate Covid from seasonal flu cases.
The rise demand saw both Scotland and England run out of home testing kits yesterday.
The problems came as Ms Sturgeon revealed her education sercretary John Swinney was "in the final stages" of agreeing guidance for pupils and teachers to wear face masks in school grounds – although not in classrooms.
It also emerged just hours before health secretary Jeane Freeman announced she would be standing down at next year's Holyrood elections.
At her briefing yesterday, the First Minister said officials were looking into the cause of the technical problems, which may be a UK-wide phenomenon, but said the testing system was "working well" and asked people to "bear with us" as the issues were resolved.
"We have seen exceptional testing demand over the weekend and therefore we are looking right now at how we ensure that demand is properly and appropriately managed. Our testing system is obviously working, it's working well, but as demand increases or at periods of high demand bear with us as we resolve and understand any particular issues."
Anecdotal accounts suggested many parents were taking their children to be tested after they developed coughs, she said.
"We're going into a part of the year when people could have other illnesses and viruses that present with similar symptoms to Covid. So we expect to see demand for testing increasing as we go into the autumn and winter and there will undoubtedly be peaks in that demand period."
Dr Gregor Smith, Scotland's interim chief medical officer, said it was not uncommon to see more cases of coughs or colds as children returned to school after the summer. He said: "I think it's inevitable that as you bring people back together you get a rebound in the volume of respiratory symptoms. As a GP, this was very common whenever schools went back."
He said anyone with coronavirus symptoms should immediately book a test and self-isolate. Those not showing symptoms should only book a test if they have been advised to do so.
Monica Lennon, Scottish Labour's health spokesperson, said constituents in Blantyre had been told to go to Belfast, and said: "Jeane Freeman says testing is the way to hunt this virus down, now people are having to hunt down a test. The system is becoming shambolic, it needs to be fixed and keep up with demand."
And ahead of the winter flu season, and with Ms Sturgeon admitting she expected testing to be in greater demand over the coming months, Liberal Democrat health spokesman Alex Cole-Hamilton said they needed to "get to the root of this problem urgently".
"We can't afford for the system to fall down whenever demand increases." he said.