Follow along here to stay up-to-date with the latest developments on Tuesday, February 16.
A message from the Editor:
Thank you for reading this article. We're more reliant on your support than ever as the shift in consumer habits brought about by coronavirus impacts our advertisers.
If you haven't already, please consider supporting our trusted, fact-checked journalism by taking out a digital subscription.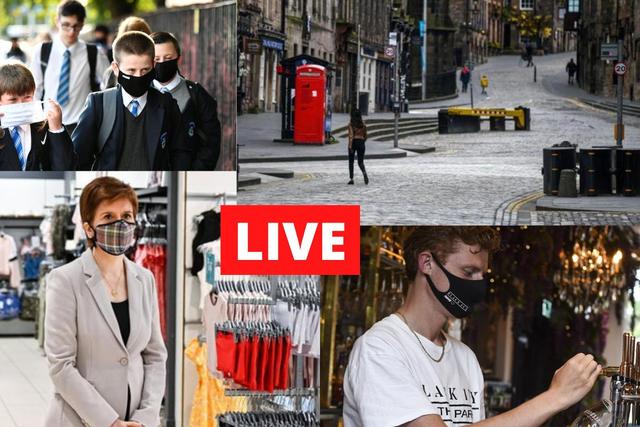 Live updates on Covid-19 in Scotland, the UK, and around the world.
Coronavirus in Scotland RECAP: The latest updates on Tuesday, February 16
Last updated: Tuesday, 16 February, 2021, 15:46
Follow The Scotsman website for latest updates on Scotland's budget announcement
£25m support announced to tackle poverty and inequality
This includes two 'key investments' according to Ms Forbes:
1. Further £100 covid hardship payment for children and young people receiving free school meals on basis of low income
2. Increase funding available to councils to tackle financial insecurity in local areas by an additional £20m
£275m for local government to support 'Covid pressures' - councils will have flexibility on how this is used.
£40m will go to local government for schools for Covid safety improvements.
£60m will go towards supporting further and higher education.
£20m increased capital to boost research and 'knowledge exchange' at education establishments.
Finance secretary Kate Forbes to make budget statement
FM's main points from today's Parliament statement
Some pupils will start to return to classrooms from Monday, 22 February in a phased return of schools - P1 to P3 and senior pupils required to carry out practical assignments
Plan for exiting lockdown generally to be published 'next week'
Easter holidays are 'unlikely' but staycations may be able to go ahead in the summer in the UK
Hospital numbers are falling - there are 1,383 (down 45) Covid-19 positive patients in hospital at the moment and 100 (down two) being treated in an ICU
MSP Ailson Johnstone asks if teachers get priority for vaccinations?
A number of teachers will have been in the first priority groups and will have received their first dose already, says FM.
Ms Sturgeon confirms the Scottish Government continues to abide by the JCVI advice on this vaccination programme.
She stressed safety in schools is a priority as the phased return commences next week.
FM promises routemap out of lockdown next week but warns Easter holidays are off
A new routemap for Scotland out of Covid lockdown will be published next week, says FM
She said the Scottish Government was preparing a revised strategic framework setting out "when and how we might gradually emerge from this lockdown".
MSP Jackie Baillie asks FM about different targets across the UK
She referenced NHS England and NHS Wales have both said they will complete the vaccinations of the over 50s and the clinically vulnerable – by the end of April.
But Ms Baillie adds that the deadline in Scotland is the end of May and asks why.
Ms Sturgeon says the target in Scotland is 'early May' and stressed again that Scotland has been seeing 'the fastest vaccination programme in the whole of Europe'.
MSP Willie Rennie asks FM about care home visits
When will care home visiting start?
FM says 'we can't afford' to make assumptions about the safety of the most vulnerable people and the country still needs to 'be cautious' in its approach to the elderly and vulnerable.
She said education has been a priority, and family contact, which includes care home visits, is being considered.
'I hope to give more updates before next Tuesday, if not, next Tuesday, on care home visit,' the FM added.
'We cannot throw caution to the wind when we are dealing with the most vulnerable in our society.'
MSP Ruth Davidson asks FM if other key workers will soon be included in vaccination programme
FM responded saying Scotland showed the 'fastest vaccination programme in the whole of Europe' and speeding up vaccinations for other key workers will depend on supply.
£100m for school recovery
Budget update to include £100m for school recovery
Local authorities and schools will get an additional £40m, as part of a wider £100m package to accelerate school recovery.
The finance secretary will confirm details from 3.20pm.
Next review of lockdown restrictions will be in two weeks, FM says
She said looking at a gradual return to normal will be discussed over the next two weeks and a further update on lockdown exit will be held in Parliament in a fortnight.
'A cautious approach will be more effective and sustainable,' FM added.
'Treat Monday's return as a milestone for education,' says FM
Ms Sturgeon stressed this phased return for school is not gradual return to 'normal life' for adults and the public still need to stick to the rules.
FM said she hopes to see more pupils return to school in March
This phased opening however depends on everyone continuing to 'abide by the wider restrictions.'
She is asking parents and employers to still work from home even if their children are going back to school under the latest phased return rules.
'Employers should continue supporting employees working from home as far as possible,' FM added.
To parents Ms Sturgeon said: 'If you're child is going back to school, please don't use this as an opportunity to meet up with friends.
'If the return to school means adults will mix more, transmission will rise again and jeopardise our ability to sustain this limited phased return and make it less likely to get more pupils back soon and set back our progress more generally.'
FM confirms secondary pupils will have to follow 2m distancing rules while in school and on school transport