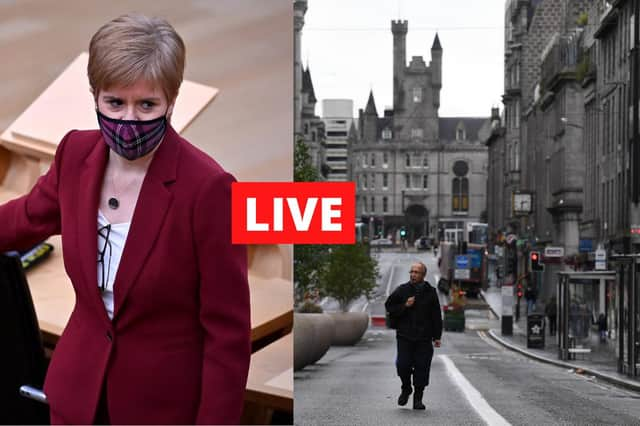 Coronavirus in Scotland LIVE
Follow along here to stay up-to-date with the latest developments on Wednesday.
Nicola Sturgeon FMQs: First Minister speaks for first time since Covid rules breach as she takes questions in Parliament
Last updated: Wednesday, 23 December, 2020, 12:54
1,190 people test positive for virus as country records 47 new deaths
Nicola Sturgeon apologises for Covid breach - Police Scotland confirms no action will be taken
Tough lockdown restrictions considered for Scotland as cases rise
First Minister to answer questions in Parliament this afternoon
Good morning, follow here for the latest updates across Scotland, UK and the rest of the world
Germany's confirmed cases rise by 24,740
Tougher lockdown measures are under consideration in Scotland, Nicola Sturgeon has announced, after Covid-19 cases rose by 15% in the past fortnight
First Minister Nicola Sturgeon will give an update to Holyrood on Tuesday
Cross channel freight is on the move again after UK reaches deal with France to allow hauliers to cross border
Scotland to stay 'aligned' with EU laws after MSPs pass Brexit Bill
The Scottish Parliament has passed legislation which would allow Scots law to remain aligned with EU rules and regulations when the Brexit transition ends in January.
Police Scotland say they are not taking any action against Nicola Sturgeon over her 'inadvertent' Covid mask breach, The Sun reports
The head of the Covid-19 vaccination programme in Scotland has been appointed the new chief executive of NHS Scotland
Caroline Lamb will also become the Scottish Government's director-general for health and social care
The appointment was announced alongside news that interim chief medical officer Dr Gregor Smith will take up the role on a permanent basis, while Professor Amanda Croft takes over as chief nursing officer.
Ms Lamb, who is expected to take up her post in January, began her career working as a chartered accountant in London before moving to Scotland and taking up management roles in the NHS.
She was chief executive of NHS Education for Scotland before joining the Scottish Government last year as director of digital reform and service engagement in the health and social care directorates.
As well as overseeing the Covid-19 vaccination programme across Scotland, she also has responsibility for Test and Protect.
Her predecessor Malcolm Wright stood down as NHS Scotland chief executive for health reasons in May and John Connaghan, chief performance officer in NHS Scotland and director of delivery and resilience, took on the role on an interim basis.
Nicola Sturgeon is due to answer questions in Parliament this afternoon at about 12.20pm
The First Minister will give a daily update on the latest coronavirus figures for the country.
Follow here for live updates.
NRS show 203 deaths registered between 14 and 20 December
A total of 6,298 people have died in Scotland with confirmed or suspected coronavirus, according to the National Records of Scotland (NRS).
The figures show 203 deaths relating to Covid-19 were registered between December 14 and 20, down 23 from the previous week.
Of these, the majority were in hospital at 124 (61%), with 71 in care homes and eight at home or in a non-institutional setting.
The statistics are published weekly and cover all deaths registered in Scotland where Covid-19 was mentioned on the death certificate.
They differ from the lab-confirmed coronavirus deaths announced daily by the Scottish Government because the NRS figures include suspected or probable cases of Covid-19.