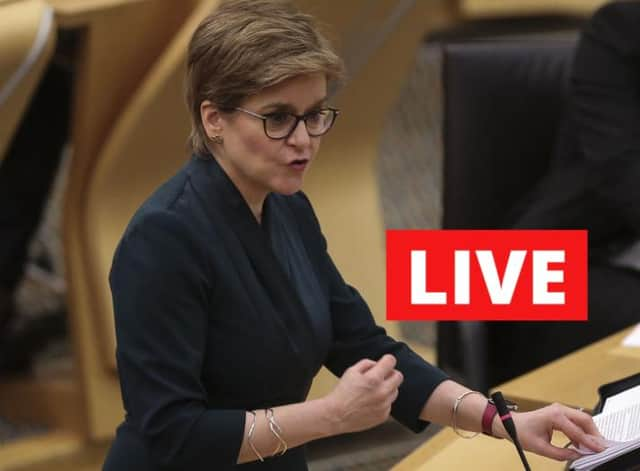 Nicola Sturgeon has said she is "cautiously optimistic" about Scotland's coronavirus situation ahead of a statement announcing any changes to restrictions.
The First Minister said the country is "in a better position than I feared we would be before Christmas", but would not comment on whether she plans to follow Wales with a mass easing of Covid rules.
Ms Sturgeon has chaired a Cabinet meeting this morning and will update Holyrood about the Government's plans later in the afternoon.
You can follow updates in our live blog, right here.
Nicola Sturgeon Covid update LIVE:
Last updated: Tuesday, 18 January, 2022, 15:20
Nicola Sturgeon is standing in the chamber to address MSPs.
The First Minister confirms the latest stats
7,752 positive cases were reported yesterday through PCR and lateral flow tests. 1,546 people are in hospital with Covid - 21 fewer than yesterday.
59 people are in intensive care, including 17 who have been in ICU for more than 28 days - 1 more than yesterday.
A further 31 deaths have been reported, taking the total number of deaths under the daily definition to 10,093.
Nicola Sturgeon says "Omicron is continuing to infect large numbers of people here in Scotland, across the UK, and in many other countries around the world. Hospital admissions and overall hospital occupancy associated with Covid also remain high."
She adds: "The evidence I set out last week suggesting that the situation was beginning to improve, has significantly strengthened in the past 7 days.
"A combination of booster vaccinations, the willingness of the public to adapt their behaviour to help stem transmission, and the temporary protective measures introduced in December, has helped blunt the impact of the Omicron wave."
Data for the past 13 days, taking account of both PCR and lateral flow tests, shows a significant fall in the number of new positive cases says Nicola Sturgeon.
Nicola Sturgeon confirms "that the rise in cases driven by Omicron peaked in the first week of January and that we are now on the downward slope of this wave of cases."
Admissions to hospital of people with Covid are falling. In the week to 7 January, 1,040 were admitted. In the week to 14 January that was down to 960.
The First Minister says that "Although cases are now falling, the NHS remains under acute pressure and staff absences are still causing some disruption across the economy and critical services."
Nicola Sturgeon has been criticised for failing to make public key data around Covid-19
"We will also from Monday remove the guidance advising adults against non professional indoor contact sports, so that these can resume as normal.
And from Monday we will also lift the guidance asking people to stick to a 3 household limit on indoor gatherings.
However, it is important to stress this point: notwithstanding the improving situation, the level of Covid infection circulating in the community is still high."
Nicola Sturgeon says the Covid certification scheme will continue to apply for now to large indoor and outdoor events, and to late night venues - all settings where transmission risks can be higher.
She adds that Cabinet had a decision today on extending the certification scheme to other premises, such as licensed hospitality venues.
She says: "Given that cases are now falling quite rapidly, and the current wave is receding, we decided that we will not at this stage extend the Covid certification scheme to other premises. "