Live

Nicola Sturgeon coronavirus update LIVE: First Minister announces fresh Level 4 lockdown tightening
First Minister expected to announce further delay to return of Scottish schools and restrictions closer to the stay-at-home lockdown in March.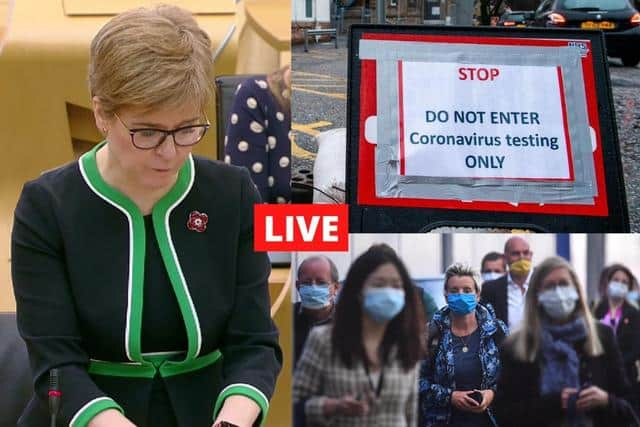 Follow along here to stay up-to-date with the latest developments on Covid-19.
Follow along here to stay up-to-date with the latest developments on Monday.
Coronavirus in Scotland LIVE: The latest updates on Covid-19 on Monday, January 4
Last updated: Monday, 04 January, 2021, 14:24
Key Events
Nicola Sturgeon announces full lockdown from midnight
Scottish schools to remain closed until February
Scots only allowed to leave home for 'essential purposes'
Boris Johnson to told press conference at 8pm
Over 50s and vulnerable Scots to receive vaccine by May
Show new updates
Health expert comments on Sturgeon's announcement
It is no exaggeration to say that I am more concerned about the situation we face now than I have been at any time since March last year.
Nicola Sturgeon
Over 50s and vulnerable Scots to receive vaccine by May
It is hoped the most vulnerable Scots and those over the age of 50 will have had their first dose of the Covid-19 vaccine by May, Nicola Sturgeon said.
More than 2.5 million people, the First Minister said, will receive either the AstraZeneca or Pfizer vaccine by the end of the spring.
She said: "Our current expectation, based on assumptions about supply and the new advice on doses being administered up to 12 weeks apart, rather than three, is that by early May everyone over 50, and people under 50 with specific underlying conditions, will have received at least the first dose of vaccine."
The First Minister also said that one million people will be vaccinated by the end of January.
FM: 'Stick with' new rules
First Minister Nicola Sturgeon has urged Scots to "stick with" new restrictions as a coronavirus vaccine is rolled out.
Addressing MSPs in Holyrood, Ms Sturgeon announced an enforced period of lockdown – due to last until at least the end of the month – including the closure of schools to most pupils.
She said: "I know that the next few weeks will be incredibly tough.
"I'm sorry to ask for further sacrifices, after nine long months of them. But these sacrifices are necessary.
"And the difference between now and last March is that with the help of vaccines, we now have confidence that they will pave the way to brighter days ahead. So – for everyone's sake and safety – please stick with it and stay home."
The First Minister also returned to the public messaging from the March lockdown, saying: "Stay home. Save lives. Protect the NHS."
Covid-19 patients 'close to April peak'
I would expect these to show that, nationally, the total number of Covid patients in hospital is close to its April peak. And in some boards, the pressure is already very real.

For example, in terms of hospital beds, NHS Ayrshire and Arran is currently at 96% of its Covid capacity, and three other health boards - Borders, Greater Glasgow & Clyde and Lanarkshire - are above 60% of their capacity.

The number of people in intensive care is still significantly lower than the April peak – which partly reflects the fact that treatment of Covid has improved significantly.

But even so, the total number of patients in intensive care in Scotland is already above normal winter levels. Indeed, all mainland health boards have now exceeded their normal intensive care unit capacity.
Nicola Sturgeon
Scottish schools to remain closed until February
Nicola Sturgeon has announced schools will stay shut to most pupils until February, as part of efforts to curb the spread of coronavirus.
With a faster spreading strain of Covid-19 having resulted in a sharp increase in case numbers across the UK, the Scottish Parliament was recalled for a statement by the First Minister.
Her announcement will mean an additional two weeks of home learning for most pupils.
The Scottish Government had already announced the festive break was being extended to January 11, with ministers having originally planned for remote learning until January 18.
However, schools will still be open for the children of key workers who cannot work from home, and for vulnerable youngsters.
Scots only allowed to leave home for 'essential purposes'
From midnight, the First Minister has announced, it will only be permissible for Scots to leave home for an essential purpose.
"This will include, for example, caring responsibilities, essential shopping, exercise and being part of an extended household," Ms Sturgeon said.
"In addition, anyone who is able to work from home, must do so.
"It will only be a reasonable excuse to leave your home to go to work, if that work cannot be done from home.," she added.
Nicola Sturgeon announces full lockdown from midnight
A full lockdown will be introduced as of midnight tonight in tier four areas in Scotland, the First Minister announced today, as cases continue to surge across the country.
Lockdown may last longer than January
Scotland's new lockdown may last longer than initially intended, Nicola Sturgeon has told MSPs.
A legal requirement will be in force to ensure Scots living in Level 4 areas remain at home as much as possible during January.
However, the First Minister told the Scottish Parliament that these changes will be kept "under review".
She said: "However, I cannot at this stage rule out keeping them in place longer, nor making further changes. Nothing about this is easy."
NHS in Scotland will be overwhelmed 'in weeks' without action
Without intervention, Nicola Sturgeon has said, the NHS in Scotland may become overwhelmed in the coming weeks.
According to modelling by the Scottish Government, the First Minister told MSPs that taking no action could see Covid-19 capacity in hospitals overrun within "three or four weeks".
Ms Sturgeon said: "We have an opportunity in Scotland to avert the situation here deteriorating to that extent.
"But we must act quickly."
Want to join the conversation? Please or to comment on this article.