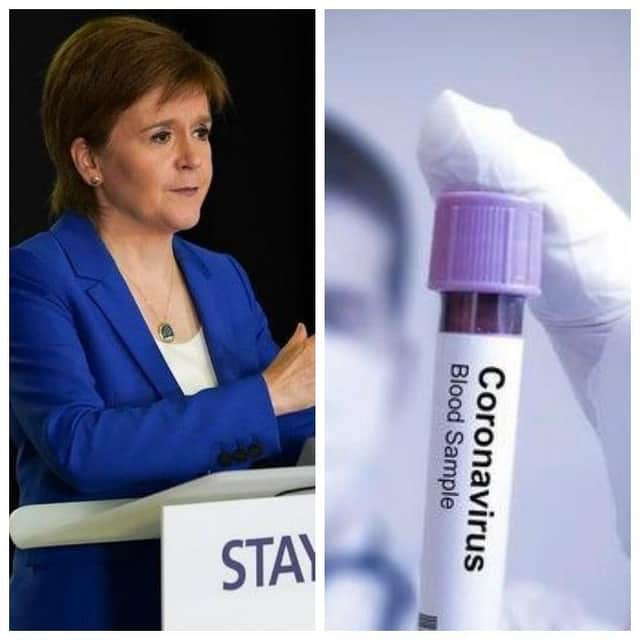 Keep up-to-date with the latest coronavirus developments in Scotland and across the UK.
Coronavirus in Scotland LIVE: The latest updates on Tuesday
Key Events
Rules on face coverings in Scottish high schools will be in lace next week
No.10 urged to review guidance on masks in schools
Oxford vaccine could be put before regulators this year
Show new updates
Face coverings should be worn by staff and pupils when moving around secondary schools in Scotland from next Monday, the Scottish Government has confirmed.
The rule will apply on school transport for primary school pupils aged five and above, and all those at secondary school, but not in classrooms.
The changes come into effect from August 31 but Scotland's Education Secretary John Swinney has stressed pupils will not be excluded from school if they do not wear a face covering.
Mr Swinney said: "We said that our guidance would be kept under constant review and, following updated scientific and public health advice and the experience of schools reopening, we are making changes that will apply from 31 August.
Nicola Sturgeon news briefing LIVE: First Minister said face coverings are not a substitute for all the other safety measures pupils should follow - stressing that good hand hygiene, regular cleaning and, where possible in schools, physical distancing, remains crucially important.
Nearly 100,000 patients were waiting for key diagnostic tests at the end of June, a figure 11% higher than before the lockdown.
New figures show a dramatic increase in waiting times compared with pre-pandemic levels, with around 65% of patients waiting longer than the target time of six weeks.
A report from Public Health Scotland, covering the three months to June 30, showed 98,332 patients were waiting for the eight key diagnostic tests at the end of that month.
This included 68,407 waiting for radiology tests and 29,925 waiting for endoscopy tests.
The total number of patients waiting was 11.4% higher than the equivalent figure at the end of February.
Some 63,550 patients were waiting longer than the target time of six weeks, around 65% of the total.
Cancer Research UK said the figures showed the scale of the backlog caused by the emergency measures.
People attending courts and tribunals will be asked to wear face coverings from Monday to help reduce the risk of spreading infection amid the coronavirus pandemic.
The Scottish Courts and Tribunals Service (SCTS) said it continues to expect people using its buildings to maintain two metre physical distancing and is introducing face coverings as an additional measure.
Those visiting its premises from August 31 are strongly advised to wear face coverings when entering and leaving the building, while moving around the building, or while waiting in communal areas such as reception points, witness rooms or outside a courtroom.
It comes as the Scottish Government announced that secondary school pupils should wear face coverings when moving around schools and on dedicated school transport from Monday.
Nicola Sturgeon news briefing LIVE: First Minister says there has been a 'sharp increase' in demand for testing
A "major spike in demand" for coronavirus testing over the weekend caused problems for people trying to book tests, Nicola Sturgeon has said.
The Scottish First Minister suggested that a UK-wide surge in people attempting to get tested for Covid-19 was responsible for the "technical issues".
Speaking at the Scottish Government's coronavirus briefing, she said: "Over the weekend, there was a major spike in demand for testing – not just in Scotland, but we think across the UK.
"That led to some constraints on the booking portal throughout the day yesterday and that, in turn, resulted in a surge of calls to our Covid-19 helpline.
"I know this will have been frustrating for people trying to book a test so I want to thank everyone for bearing with us as we've worked to address these issues."
Nicola Sturgeon news briefing LIVE: Only book a test if you have Covid-19 symptoms, says First Minister
The National Wallace Monument is to reopen from September 1 after closing due to the coronavirus pandemic.
Built between 1861 and 1869, the 67-metre tower commemorates Sir William Wallace, the Guardian of Scotland who was executed in 1305.
Stirling District Tourism, which operates the monument, have put in place measures to allow for social distancing.
The monument will be open from 10am-5pm every day and reservations must be made in advance.
Nicola Sturgeon news briefing LIVE: "We are also establishing 11 local walk-through testing centres." This will help increase sampling capacity by more than 3,000 tests a day, adds First Minister
Nicola Sturgeon news briefing LIVE: The first of three mobile testing units deployed across the central belt of Scotland will be operational in Glasgow this afternoon, says First Minister