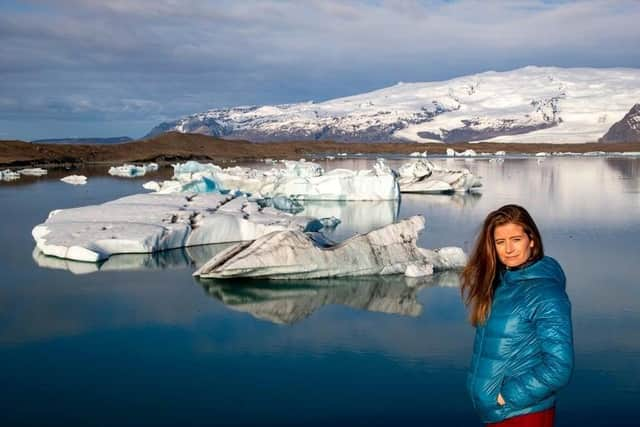 Una Sighvatsdottir, from Iceland, is enjoying exploring her home country which is free of tourists for the first time in years.
Will increased social contact lead to a spike in cases of Coronavirus, which has dwindled to just a handful of new infections a day in Scotland in recent days?
Countries around the world have taken different steps at different times - with wide ranging results.
New Zealand, where the virus has all but been eradicated in the community as prime minister Jacinda Ardern closed down the island's borders, has lifted its lockdown entirely after having no cases transmitted in the community since April - allowing citizens to mingle without social distancing and return to a completely normal life.
Lockdown is a distant memory for Hannah Smith in New Zealand.
Meanwhile, other nations such as Romania, where the quarantine period was more stringent from the start of the pandemic before an easing last month, are beginning to see numbers creep back up as measures to stop the spread of the bug are lifted.
In Beijing, China, which saw a relatively light outbreak in January, compared to other Chinese cities such as Wuhan, residents have been warned by officials that they are experiencing the feared "second wave" after dozens of cases were found linked to a wholesale food market in the city earlier this month.
How the Coronavirus outbreak has affected life around the world:
Hannah Smith, 41, a third sector consultant from Edinburgh, had planned a move to Wellington, New Zealand, where she has family, later this year, but found herself living within its borders earlier than she expected as the pandemic took hold.
Yue Li, a teacher from Beijing, China, had started socialising again before the second wave of the virus hit.
"Now the lockdown has been completely lifted, there is almost nothing that is different from before. We are back to hugs, dinner with friends, sitting next to people on the bus and everything normal here. We almost can't imagine it now.
"I arrived for a work trip in February and had planned to return to the UK and also travel to other places for work in the next few months. I already had my work visa for New Zealand in place as I had planned to settle here from September, so it made sense for me to stay as it became clear that this virus was becoming a problem around the world and things started to be cancelled.
"There has been very good messaging from the government here and it was pitched well as us being a team of five million people who have to work together. Jacinda Ardern, the prime minister and the chief medical officer have become stars - there are t-shirts made with their faces on them.
"When the two people who had come in from the UK tested positive last week and it turned out they had driven the length of the country and hadn't been tested before leaving government quarantine, people were shaken. We had had 24 days without a new case before that. No-one wants tourists coming back here right now, the feeling is very much 'we can live without them'.
Panchart Mitrakul, from Thailand.
"But in the main, nobody is thinking about it at all. A friend had a birthday party the other night and we went out for dinner and then on to a club - a packed room full of sweaty bodies, completely normal."It was quite strange when it was announced that the borders were closed to foreigners as a lot of my family are back in the UK. As I have a work permit and not citizenship, if I had to leave, I wouldn't be allowed back in at the moment.
"Further down the line, it might be quite weird. If every country in the world has to get used to living with the virus and we are this little covid-free island, that could be strange."
Teacher and Glasgow University graduate Yue Li, 34, lives in Beijing, China, with his wife, Jenny. After a strict lockdown appeared to have the virus under control, a second cluster of dozens of cases emerged in Beijing earlier this month.
"Before the second outbreak in recent weeks, things were very much starting to return to normal. There is a shopping mall close to our place and I would say it had returned to 70 to 80 per cent capacity, although there are temperature checks on the door and a QR code system on your cellphone to check that you are 'green' before they let you in.
American Kim McKay lives in Sweden, where there has been no formal lockdown.
"I have hardly been to a shop throughout the whole outbreak - around 90 per cent of everything I get, including groceries, is delivered. That was already quite common in China, but the delivery network has increased massively. When I get a delivery, I wear a mask and make sure I am very careful.
"In May, my wife and I had started meeting friends in chain restaurants and cafes, where they were exercising very cautious policies. We went out every weekend during that month.
"Some schools had reopened towards the end of April and then the younger grades were just about to go back to school - then the second wave hit Beijing.
"It was hard, as we were finally psychologically ready to get back to doing things. People are generally still practising a lot of caution, although there is not a second lockdown like there was before, restaurants and businesses are still open.
"The numbers in Beijing have been going down again in recent days and this outbreak seems to be under control. The medical experts have been showing cautious optimism that this is an isolated incident and it isn't going to be of the magnitude of the first wave."
Lia Herteg, 35, an IT services delivery manager, lives in Cluj, Romania.
"The lockdown was quite strict at first. There were certain times we weren't allowed outside and if I did leave the house, I had to carry a paper stating why I was out. If you didn't stick to the rules, you could be fined a large amount - around £1,000.
"I have been careful even since the lockdown eased as I live with my dad, who is nearly 70. The government here hasn't really told us not to go inside each other's houses, so people are visiting each other as normal, although I haven't done it a lot. Since the distancing has lifted, the cases are starting to go up slightly again, although that is to be expected. The government has been warning about a potential second wave and the message is still very much that this is not over.
"Bars and restaurants are open, but only those with outside spaces, although they are packed. Museums are also open, although hardly anyone goes. I met my boyfriend at the art museum the other day and we were the only ones there. There were five members of staff following us around the rooms with hand sanitiser.
"We still have to social distance in theory, although people are not really following that when they meet. Here it is common to kiss people when you meet them, although now it is a bit more controlled, everyone is more reticent to do that now, outside of a close circle of family and friends. If you go anywhere inside, even to work in an office, you have to wear a mask.
"One thing I have allowed myself is to take trips to hike in the mountains with friends. There, we can easily social distance. I'm probably in more danger from the bears up there than the virus."
Katie Pineau, 24, a business consultant, lives in Washington DC, US.
"I live with a roommate, so we have been a bubble during lockdown. We were good friends beforehand but she used to travel to Chicago for work Monday to Thursday. This has brought us even closer and we feel lucky to have such a good friendship.
"As things are starting to open up, we realise that friends are doing things differently as to how much they socialise and how, so we have had to decide together what we are happy with. We sometimes have friends over to our patio and set chairs out separately and have a drink, or meet in the park and sit on our separate blankets.
"I took part in the Black Lives Matters big protest in DC. I weighed it up and decided it was important. Everyone was wearing masks, so it didn't feel too unsafe.
"In DC, everyone wears masks in the stores, but I took a trip with my roommate to a holiday home my family have on the coast and it was very different there. All of the states are doing things very differently. It's just become normal to me: when I go out, I take my keys, wallet, mask and hand sanitiser.
"I have only seen my family once and I made sure we were socially distanced. My dad had the virus, although he has recovered now. The main thing I'm worried about is infecting my mom, so I am being really careful."
Goran Stupar, 43, a media officer from Belgrade, Serbia, lives with his wife, Danica and son, Bogdan.
"There was a few days of total lockdown at the beginning in Serbia. We were not allowed out, although our apartment is in the city centre next to the river and there were places I could sneak outside to get a breath of air.
"It is not clear that all of the cases or deaths have been reported fully here. When the lockdown was lifted, people were all just ready to go out, they were fed up. I don't go to clubs or anywhere that is crowded or indoors - I go to a bar to meet friends, but it has a huge terrace.
"This week, the effects of Novak Djokovic's tennis tournament have come out - Djokovic himself and other players and coaches have all been diagnosed with the virus. It was crazy. I am Serbian and I cheer for him, but over this, he was an idiot. Why did he have to do this in the middle of a pandemic? There were tennis matches in Zagreb and Belgrade with thousands of people on the stands, when across Europe, football matches have all been played with no crowds.
"Djokavic is a real idol over here, so perhaps it will send a message to people - they will see that if Djokavic can get Coronavirus, they can too."
Rory Reynolds, 34, is a Scottish journalist working in Dubai and Abu Dhabi.
It was only when we flew from Dubai to London, on March 13, for my best friend's wedding, that the pandemic hit home.
A Chinese family, head-to-toe in masks, goggles and raincoats, stood beside us at Dubai airport. They had a toddler in a pram covered in plastic sheeting, and looked terrified. My wife and I didn't even have masks on.
At that point, UAE had a dozen cases per day. It brought the Easter school holidays forward by a week, but life remained normal.
Four days later, we dashed through Heathrow to buy 600 pound tickets back to Dubai, cutting short our trip short. The UAE was to close its borders for the first time in 50 years.
As cases climbed, Dubai imposed a 24-hour curfew between April 4 and April 24.
My wife Lyns and I took turns to apply for a police permit to go shopping. We cycled to the supermarket and avoided taking taxis.
In that time, thousands of firefighters sprayed disinfectant on streets and public places.
Masks became mandatory. Failing to wear one still carries a penalty of Dh3,000 (£650).
The testing campaign has been staggering. At least 3m of the 9.5 million population were swabbed, the highest proportion in the world. We were among them.
An expat friend from Glasgow, who was on the same flight, tested positive. The country's impressive tracing unit found my wife and I and we were brought in for a nasal swab. We were negative.
After that, we spent a month in our two-bed flat, on the first floor of an old villa. For exercise, we ran up and down the outside steps.
As a journalist for the main broadsheet newspaper, we told the story of the lockdown and its heroes.
To date, there have been about 46,000 cases and just over 300 deaths. Swift action and a very young population helped.
In July, tourists can return to Dubai as we try to bring back the 17 million annual visitors that make it what it was. The other emirates plan the same.
Most people have returned to work and beaches are often full - though they even wear masks there.
Kyoko Tomisawa, 34, who runs a work sharing and child rearing support company, lives in Ichinomiya, near Tokyo, Japan.
Japan's state of emergency was ended on 30 May and most people are fairly back to their pre-corona lifestyle. We are supposed to follow social distancing of one metre, avoid the '3 Cs' (closed spaces, crowded places, and close-contact settings), but they are not as strict rules as we had a month ago.
"The new academic year started two months ago and most schools have reopened. Schools are reducing break time and the summer holiday is going to be reduced to 30 days, from the usual 40 days in an attempt to catch up on missed classes.
"Big businesses are more likely to have switched to adopt remote working, but most workers are back to travelling to work in a packed train.
"Our town, Ichinomiya, the host town of the Tokyo Olympics surfing venue, is receiving the same number of visitor surfers as the pre-corona period. Many people are quite pessimistic about the Olympics - which have been postponed until next year at the moment - as they think it's a waste of public money. However, in my local area which has a shrinking local economy, we are committed to this event. So we really want it to go ahead. At the same time, I think that will be difficult.
"My tennis club restarted at the beginning of June, the online drinking meet-ups with friends are no longer being held and half of my work is back to face to face.
"We know that we might be going to face the second wave of the virus but are too tired of being under restriction and economical damage."
Sarah Hanneman, 39, lives in Montreal, Canada, with her partner, Nick and two children.
Here in Montreal, people are respectful of one other. They try to keep two metres apart when possible and let people pass if there is not enough space.
Some people, mostly older, wear masks, but in general much of the population is not that stressed.
All is the public safety rules are for commercial spaces are in place, such as having to sanitise your hands as you walk in. There is a limit to the number of people allowed in stores, but like anywhere, some don't comply.
Since cases outside of the Montreal area are low, life there is back to normal, with sanitation of hands, restaurants open with two meters of space between tables and waitresses wearing head gear. People now in Montreal and outside of the city are now walking freely and gathering in parks, everyone is using there good sense about it.
Where we live, with our two kids in the centre of Montreal, there are a total of ten children in the neighbourhood, but they all play together with social distancing. I think the younger generation is less stressed between themselves but do respect physical distancing with their elders. For example with my parents, we'll have lunch outside in the yard at a distance.
On the other hand, my partner's parents – his dad who is 91 years old and his, mom who is a retired nurse - say Covid is over, and we share a country house with them and we eat together. But we don't touch nor kiss.
Ryan Truscott, 46, nature and wildlife writer, lives in Harare, Zimbabwe, with his wife and two children.
"One of the biggest impacts the lockdown has had here is on schools. They've been shut for more than three months. My teenager is fed up. He misses his friends at his boarding school in eastern Zimbabwe, and especially the gym. His rugby team was supposed to go on tour to South Africa in April. But that was cancelled due to coronavirus. Even our weekly walks at Harare's National Botanic Garden have been disrupted. The last time we tried, the gates were firmly shut. Inter-city travel remains off limits, so we haven't seen my elderly parents - who live three hours away - since February.
"Face masks remain mandatory and you can be arrested and fined for not wearing one. At the last count, nearly 68,000 people had been prosecuted for things like not wearing masks or for engaging in unnecessary travel. Needless to say, people are finding a way around the restrictions. Judging by the enormous fuel queues, people are doing a lot of travelling.
"Many here are in denial about Covid-19, perhaps as they watch countries in the northern hemisphere lift their lockdowns. But in Zimbabwe, with six deaths and just over 500 confirmed cases, it can't be said to have really begun yet."
Una Sighvatsdottir, 35, is a journalist from Reykjavik, Iceland.
"For the last few weeks Iceland has felt like a post-covid safe zone. Community spread has been contained due to rigorous testing and tracing and for a while there were no new cases. People started to relax again, return to work and even hug friends and family, although handshakes are still mostly avoided.
"One of the most awaited milestones was the May 18 reopening of the public pools, which are an integral part of daily life in Iceland. To celebrate, all the pools in Reykjavik opened at midnight and stayed open the whole night. Life feels almost back to normal, except that restaurants and bars must close at 11pm, which is proving to have interesting effects on the Reykjavik nightlife, previously notorious for starting late.
"Icelanders have been keen on traveling abroad in the last few years, but have now embraced the reality of "traveling at home" this summer. The best seller in all book stores right now is "The Iceland Road Guide".
"After the tourist boom which followed the financial crisis, Iceland is suddenly back the way we used to know it: empty of people.
"Since June 15, however, people arriving in Iceland from abroad are no longer required to self-quarantine for two weeks, as had been the case since April. Everyone is now tested on arrival, but with more frequent flights following the eased restrictions, some new cases have come up and people worry how well we will manage to maintain control of the situation."
Kim McKay, 67, a retired university professor, lives in Gothenburg, Sweden, with his wife, Jennifer.
"I'm an American, from Seattle, but now I'm a Swedish citizen, too. Pretty much everything in Seattle is locked down.
"Here in Gothenburg, my wife teaches middle school art, and school has been in session, in person, as usual throughout. Nothing else closed down completely—gatherings of 50 or more have been banned and restaurants have been limited to table service only and grocery stores put circles in the floor near the cashiers to remind people to keep their distance, but only in the checkout line.
"You can't get on the tram's front door to protect drivers, but they're running and, often, full - my wife gets to work and back that way.
"Every other precaution is recommended such as hand washing and social distancing, but masks are simply not a thing. Some of the recommendations have taken hold (travel for ski vacations by Stockholm residents during Easter was down 90 per cent), but as the sun's come out, outdoor cafes are open and the distance between customers not really noticeable.
"Sweden's infection/death per capita is the worst in Scandinavia, by far, and the surrounding countries - Denmark, Norway, Finland - have all told Swedes to stay home. Deaths in care residences have been high enough that folks talk about the 'sacrifice' of the old folks.
"I've stayed home pretty much, because I'm retired and I can – but when I do the shopping, I am uneasy. It doesn't feel to me that folks are following the distancing recommendations and I almost never see anyone masked."
Ermanno Feretti, 40, a philosophy teacher, lives in Rovigo, Italy, with his wife, Cinzia, and four children.
"Here in Italy, the situation has partially returned to normal. You can safely go out on the streets, avoiding gatherings, and in my region, it is no longer mandatory to always wear a mask: only when you are in a queue or close to other people, or in closed places.
"Restaurants have reopened and the beaches are starting to work for the summer season. All companies have also resumed activities, although some prefer to go on with smart working. For now, the situation seems to be under control, even if in some regions - such as Lombardy - some cases of Covid continue to emerge, a sign that the disease has not disappeared.
"We have no idea how school will start again in September, because it will be difficult to comply with all the rules of distancing.
"The feeling is that for now the situation is globally under control and perhaps for this reason people are starting not to respect all the safety rules and the risk, feared by some virologists, is that in the autumn, this lifting of restrictions can cost us a return of the coronavirus.
"I wouldn't say I'm worried. I would rather say that I am careful. For example, so far we have gone to only one restaurant, because we had to celebrate my grandfather's 90th birthday, but with a very large room and well-spaced tables.
"For the rest of the time, we still prefer to get food in restaurants or pizzeria with takeaways."
Panchart Mitrakul, 24, a post-graduate student at the University of Edinburgh, returned to his home in Bangkok, Thailand during the lockdown.
"When the pandemic began, the Thai government decided to close down the border and introduce a curfew. At the beginning, people were confused and scared to leave their homes. Now, the curfew has been lifted, but the emergency decree is still on to allow the government to react immediately if needed..
"On TV here, presenters are required to wear masks and face shields to encourage people to follow the new normal trends and people are encouraged (if not required) to always wear at least a mask when going out. Some shops and services will refuse to serve you if you're not wearing a mask properly.
"The government has introduced a system for citizens to use when entering any building - shops, or restaurants. Body temperature is measured and registered via a QR code on your mobile phone before someone can go in or out.
"I am going out and meeting friends as normal, but restaurants have rearranged their floor plans, making sure that each table is at least 2 metres apart. Plastic walls have been installed at tables to separate each customer from contact with others, even if you live in the same house. It is strange as in Asian culture, we never order one dish each, we get a hotpot and pick what food we want from shared plates - but we can't do that anymore.
"Pubs and bars are now open, but apart from the singer - who is required to sing in a protected area - no one is allowed to sing or dance.
"Traffic congestion is very well known when talking about Bangkok, but this crisis is making it worse as people avoid public transport and taxis."
A message from the Editor:
Thank you for reading this story on our website. While I have your attention, I also have an important request to make of you.
The dramatic events of 2020 are having a major impact on many of our advertisers - and consequently the revenue we receive. We are now more reliant than ever on you taking out a digital subscription to support our journalism.
By supporting us, we are able to support you in providing trusted, fact-checked content for this website.