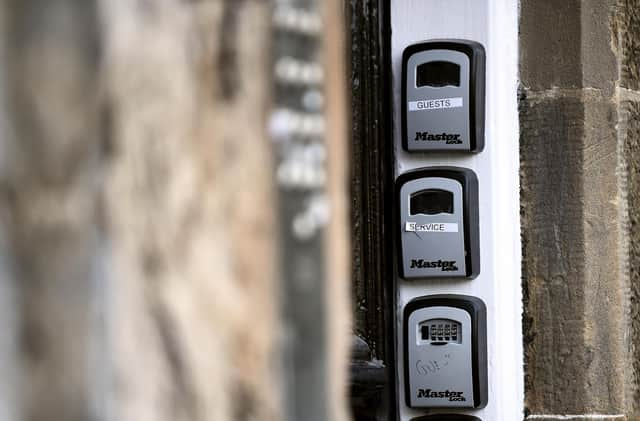 AirBnB locks outside a block of flats in Edinburgh
Hundreds of holiday lets are still available to book on websites such as Airbnb despite self-catered businesses being told to shut.
More than 300 rooms or flats are available to be booked in Edinburgh on Airbnb, a search on the holiday accommodation website on Friday showed.
When searching for places to book in the Capital with check-in on Saturday and check-out on Monday, more than 200 listings were available to be booked in the city centre alone with more than 100 around Leith Walk.
Grassroot campaigners PLACEEdinburgh who are fighting for tighter regulation around holiday lets said the number of lets was concerning.
They said bookings can lead to overcrowding and the potential of spreading coronavirus quickly across the city.
A spokesman for the group said: "PLACE are very concerned to see that Airbnb owners in Edinburgh are still advertising their properties to rent in the midst of a pandemic
"All Scottish self-catering properties were instructed by the Scottish Government last Sunday to stop accepting visitors to protect our communities.
"The vast majority of these short-term lets in Edinburgh are now doubly unlawful as they are now operating without planning permission, and in breach of a lockdown."
The group added they had also conducted a search of properties available for large groups of people, potentially bringing disease to stairwells and tenenements.
They added: "To use Airbnb as an example, there are almost 80 properties, bookable for groups of ten or more, for this weekend alone.
"Overcrowding is common with the number of customers exceeding what would be reasonable given the number of bedrooms.
"Many of these are in tenements where the groups will occupy communal spaces with residents who are trying to isolate.
"We contacted Airbnb, Booking.com, Visit Scotland and Flipkey earlier this week to make sure they were aware of the lockdown and the risks to communities where unscrupulous hosts, using their platforms, are putting their personal profit before public safety.
"None have replied and all are still advertising properties."
Airbnb were contacted for comment but did not respond.