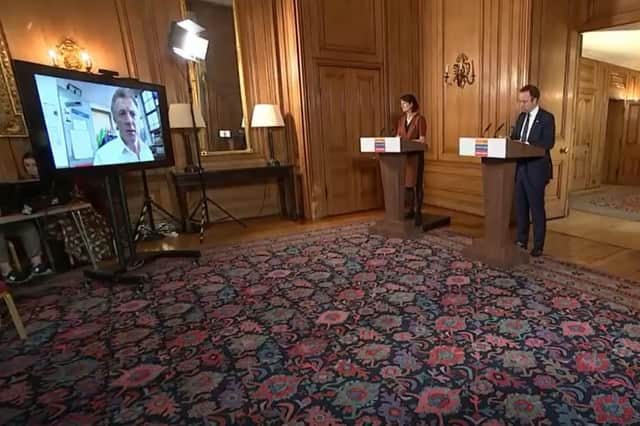 Deputy Chief Medical Officer for England Dr Jenny Harries and UK Health Secretary Matt Hancock answer questions from the media via a video link in 10 Downing Street
The UK Health Secretary confirmed the government was launching a new scheme to recruit volunteers in good health to help support vulnerable people in the community, easing pressure on the NHS.
He said more than 35,000 extra NHS staff have already joined up to help fight against the virus, including retired doctors and nurses returning to the service, and final year students rushed onto the front line.
Mr Hancock also announced that a new hospital with capacity for 4,000 people will open next week at the Excel Centre in east London after being set up with the help of the military. The facility will be called the Nightingale Hospital.
As the public comes to terms with the day of a nationwide lockdown, Mr Hancock said restrictions on leaving the house had to be followed to stop the spread of coronavirus.
"These measures are not advice, they are rules and will be enforced including by the police, with fines starting at £30 up to unlimited fines for non-compliance," Mr Hancock said.
"We are engaged in a great national effort to beat this virus, everybody now has it in their power to save lives and protect the NHS.
"Home is now the front line. In this national effort, working together, we can defeat this disease, everyone has a part to play."