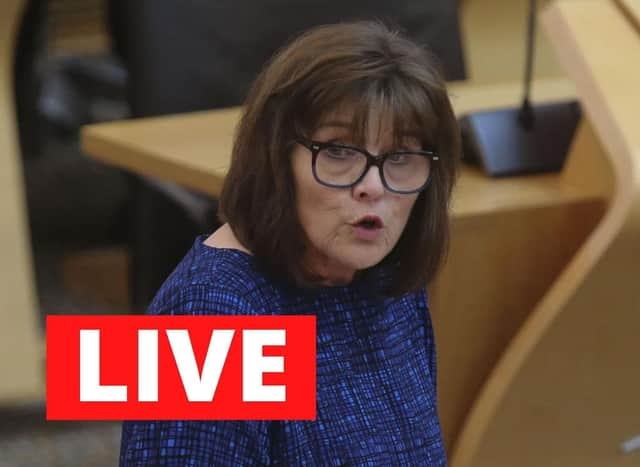 The latest updates on Covid-19 in Scotland.
Follow along here to stay up-to-date with the latest developments on Friday, January 29.
A message from the Editor:
Thank you for reading this article. We're more reliant on your support than ever as the shift in consumer habits brought about by coronavirus impacts our advertisers.
If you haven't already, please consider supporting our trusted, fact-checked journalism by taking out a digital subscription.
Coronavirus in Scotland LIVE: The updates on Friday, January 29
Last updated: Friday, 29 January, 2021, 13:39
Scotland's Covid-19 death toll rises above 6,000
70 further coronavirus deaths on Friday
1,155 more cases recorded in Scotland
North Sea platform shut down after outbreak
Scotland bans passenger flights from UAE
Scotland's R number has dropped below 1
The reproduction number, or R value, of coronavirus transmission across the UK is between 0.7 to 1.1, according to the latest Government figures.
Johnson & Johnson vaccine '66% effective against Covid-19'
A vaccine from Johnson & Johnson is 66% effective at preventing moderate to severe Covid-19 but offers high protection against people needing to go to hospital, trial results show.
The single-shot vaccine, which has been developed by Johnson & Johnson's pharmaceutical arm Janssen, is 66% effective overall at preventing moderate to severe Covid-19 28 days after vaccination.
The firm said the jab was 85% effective in preventing severe disease "and demonstrated complete protection against Covid-19-related hospitalisation and death as of day 28".
The jab worked across multiple variants of coronavirus, including the South African variant which has been worrying scientists, the firm said.
The UK has ordered 30 million doses of the vaccine, with the option of millions more.
UK coronavirus infections have levelled off – official data
Coronavirus infections appear to have levelled off across the UK, according to the latest data from the Office for National Statistics (ONS).
An estimated one in 55 people in private households in England had Covid-19 between January 17 and 23, broadly unchanged on the previous estimates for the period January 10 to 16.
Meanwhile, in Wales, around one in 70 people had Covid-19, also unchanged from the previous estimate.
The figure for Northern Ireland was around one in 50, up slightly from one in 60, while the estimate for Scotland was broadly unchanged, down slightly from around one in 100 people to one in 110.
Coronavirus in Scotland: death toll exceeds 6,000 as the country records another 70 deaths in the last 24 hours
In the last 24 hours, another 1,155 people tested positive for coronavirus and another 70 deaths were recorded.
Almost half of Scots took advantage of Christmas relaxation rules as trust drops in Scottish Government
New research published by the Scottish Government shows almost half of Scots took advantage of the relaxation of restrictions around Christmas.
Jeane Freeman LIVE
It's "not credible" for the UK Government to provide details of vaccines to the media, but not expect the Scottish Government to release data, Scotland's Health Secretary said.
Speaking at the coronavirus briefing in Edinburgh, Jeane Freeman said: "The bottom line here is that the UK Government has repeatedly briefed key statistics on how much vaccine has been allocated and delivered to Scotland.
"So it's not credible for them one day to tell journalists… what these figures are and another day tell us that putting out these figures is a matter of national security.
"That circle really doesn't square.
"We've held off publication in the past at their request but that's no longer tenable. So the public have a right to clarity and we will give them that.
"We're not talking about future supplies, we're talking about known supplies – and I think that's exactly the right thing for us to do."
UK travellers rush home from UAE before 1pm flight ban
Thousands of British travellers rushed to return home from the United Arab Emirates (UAE) on Friday before a flight ban came into force.
Social media influencers and models are among those affected by the decision to ban direct flights from the UAE from 1pm.
Transport Secretary Grant Shapps announced the policy at 5pm on Thursday, giving travellers just 20 hours to make arrangements.
The measure is aimed at stopping the spread of the South African coronavirus variant.
Three flights from Dubai and two from Abu Dhabi were due to land at Heathrow before the 1pm curfew on Friday.
One flight arrived at Manchester Airport from Abu Dhabi, and one landed in Glasgow from Dubai.
Jeane Freeman LIVE
Around 96% of care home residents have received the first dose of the vaccine in Scotland, the Health Secretary has said.
Standing in for the First Minister at the coronavirus briefing in Edinburgh, Jeane Freeman also said 68% of people over the age of 80 had received their first dose.
Ms Freeman said the Scottish Government was "well on track" to hit its vaccination target of all over-80s by "early next week".
Two more mass vaccination centres will also open in Scotland from Monday, Ms Freeman said, in Aberdeen and Edinburgh.
Jeane Freeman LIVE
The Scottish Government is "urgently examining" a rise in cases in the Western Isles, with a shift to Level 4 possible.
According to Health Secretary Jeane Freeman, six new cases were reported on Friday and nine on Thursday.
Paired with a separate outbreak on Barra that pushed the island into Level 4 in recent weeks, the Western Isles Hospital in Stornoway has now reached capacity.
A decision on the Western Isles' future will be made on Friday, but the Health Secretary urged people in the area to take extra caution now.
"I would urge people to please not wait. Please stay at home whenever possible and help your local National Health Service through this," she said.
70 further coronavirus deaths in Scotland
Scotland has recorded 70 deaths from coronavirus and 1,155 positive tests in the past 24 hours, Health Secretary Jeane Freeman said.
It brings the death toll under this measure – of people who first tested positive for the virus within the previous 28 days – to 6,040.
Speaking during the Scottish Government's daily briefing, Ms Freeman said 177,688 people have now tested positive in Scotland, up from 176,533 the previous day.
The daily test positivity rate is 5.8%, up from 5.6% in the previous 24 hours.
Of the new cases, 337 are in Greater Glasgow and Clyde, 207 in Lanarkshire, and 147 in Lothian.
There are 1,958 people in hospital confirmed to have the virus, down 25 in 24 hours, and 144 patients are in intensive care, up two.
Ms Freeman added that 515,855 people have received their first dose of a coronavirus vaccine.