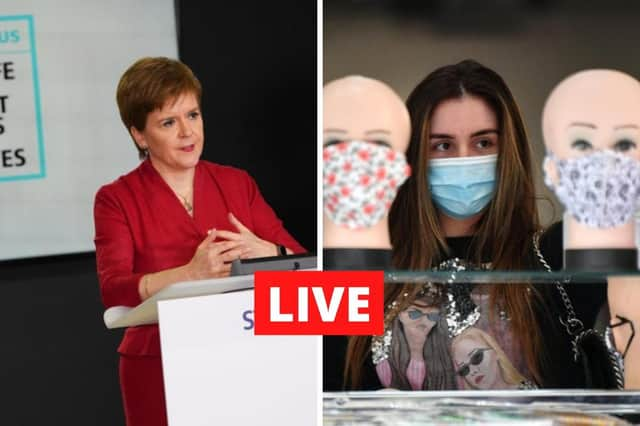 Follow along here to stay up-to-date with the latest developments on Thursday, January 7.
A message from the Editor:
Thank you for reading this article. We're more reliant on your support than ever as the shift in consumer habits brought about by coronavirus impacts our advertisers.
If you haven't already, please consider supporting our trusted, fact-checked journalism by taking out a digital subscription.
Coronavirus in Scotland LIVE: The latest updates on Thursday, January 7
Key Events
Scotland records 78 more coronavirus deaths in 24 hours
2,649 more people have tested positive for Covid-19
BBC Scotland to air educational shows to help with home learning
UK records highest daily Covid-19 death toll since April
Show new updates
Judy Murray, Sanjeev Kohli and magician Kevin Quantum will help bring educational content to pupils in Scotland to help with home learning during lockdown.
Shown on BBC Scotland and CBBC, the programming will offer Bitesize learning specifically for Scottish students, covering maths, English, science and social subjects for primary and secondary pupils.
Judy Murray will help students to stay active, even in small spaces, Sanjeev Kohli will bring fun to maths and magician Kevin Quantum will offer a unique take on science.
Additional online content will also be offered on subjects such as health and weather.
Shown on BBC Scotland from 10am every weekday, starting Monday January 11, the content will be focused on the Curriculum for Excellence, for both primary and secondary learners.
Doctors leaders in Scotland have voiced concerns about UK plans to delay giving people the second dose of the Pfizer coronavirus vaccine, claiming the move could cause a drop in the number of vaccinations in coming weeks.
Dr Lewis Morrison, chairman of the British Medical Association (BMA) Scotland, said there was "clearly disagreement" among experts on the effectiveness of the Pfizer vaccine, with the second injection now due to be given 12 weeks after the first.
It was originally planned that people would be given the two doses three weeks apart, but with the UK struggling to deal with the faster spreading strain of Covid-19, leaders have opted to try to get more people their first dose.
In Scotland First Minister Nicola Sturgeon has said it is hoped that extending the gap between the two doses to 12 weeks could see 2.5 million people given at least one injection by early May.
That could give all those aged over 50 and younger people with underlying conditions some protection against the virus.
People drank more alcohol, ate less fruit and vegetables, and took less exercise during the UK's first lockdown, according to research.
The study by the University of East Anglia suggests that young people, women and those who are overweight were most likely to adopt unhealthy behaviours.
More than 1,000 participants signed up to a daily lifestyle survey in April last year and answered questions for three months.
Analysis indicated that people drank more alcohol in total, with women consuming it more frequently but men drinking in greater quantities per occasion.
People ate on average one portion less of fruit and veg per day during the lockdown, the study indicated.
There was a 20% reduction in days where participants were doing 30 minutes or more moderate to vigorous physical activity, according to the research, but some people increased their strength training.
More than 1,000 coronavirus deaths have been confirmed in the UK in the highest daily reported figure since April.
The Government said a further 1,041 people had died within 28 days of testing positive for Covid-19 as of Wednesday.
It is the highest daily reported total since April 21, when 1,224 deaths were recorded.
It brings the total number of coronavirus deaths in the UK to 77,346, although separate figures published by statistics agencies and additional data on deaths that have occurred in recent days show there have now been 93,000 deaths involving Covid-19.
London's hospitals are on the verge of being overwhelmed by coronavirus even under the 'best case' scenario, according to an official briefing.
The Health Service Journal said NHS England London medical director Vin Diwakar had established the stark predictions to the medical directors of London's hospital trusts on a Zoom call.
The NHS England presentation, seen by the HSJ, showed that even if the number of Covid patients grew at the lowest rate considered likely, and measures to manage demand and increase capacity, including opening the capital's Nightingale hospital, were successful, the NHS in London would be short of nearly 2,000 general and acute and intensive care beds by January 19.
The briefing forecasts demand for both G&A and intensive care beds, for both Covid and non-Covid patients, against capacity. It accounted for the impact of planned measures to mitigate demand and increase capacity.
For both G&A and intensive care, three scenarios are detailed: "Best", which projects 4% daily growth; "Average" which plots 5% daily growth; and "worse" which forecasts 6% daily growth.
The briefing says that growth on January 5 was 3.5% for G&A beds and 4.8% for ICU beds.
Scientists from across the world have created an online guide to help fight the spread of misinformation about the coronavirus vaccines.
The experts say the guide will arm people with practical tips, the latest information and evidence to talk reliably about the vaccines, constructively challenge associated myths, and allay fears.
Led by the University of Bristol, the scientists are appealing to everyone, from doctors to parents, to understand the facts, follow the guidance, and spread the word.
Lead author Professor Stephan Lewandowsky, of the University of Bristol, said: "Vaccines are our ticket to freedom and communication about them should be our passport to getting everyone on board.
"The way all of us refer to and discuss the Covid-19 vaccines can literally help win the battle against this devastating virus by tackling misinformation and improving uptake, which is crucial.
"That's why we produced this handbook so everyone has the basics, as well as more comprehensive information, at their fingertips and can do their part in sharing facts, not fiction, to put us on the road to recovery rather than a path of further suffering."
Lawyers have warned that coronavirus measures operating in court buildings will not stop the new variant of the virus from spreading.
The Glasgow Bar Association said that insufficient adaptations had been made to interview facilities at court and in the dock and that there are not enough places where lawyers can discuss matters with their clients "privately and safely in the current pandemic".
The organisation voiced concerns after Scotland's most senior judge Lord Carloway urged people entering court buildings to follow coronavirus rules to ensure that the administration of justice can continue safely.
He also warned that flouting the rules may be considered contempt of court, which lawyers from the Glasgow Bar Association said they "strongly object to".
Scotland hopes to have just over 900,000 doses of coronavirus vaccines by the end of the month, First Minister Nicola Sturgeon has said.
The Scottish Government had hoped to vaccinate up to one million Scots by the end of January, however Ms Sturgeon said that vaccinations are dependent on supplies.
So far more than 100,000 people north of the border have been given a jab since the rollout of the Pfizer/BioNTech vaccine started last month and the Oxford University and AstraZeneca one this week.
With Scotland now in lockdown Ms Sturgeon also said she is considering whether further restrictions on non-essential business activities are needed to bring case numbers down.
Ms Sturgeon was asked in an interview on ITV Good Morning Britain how close Scotland is to vaccinating 1 million people by the end of January.
Lionel Blair has thanked scientists for their work after having the second dose of the coronavirus vaccine.
The 92-year-old entertainer said the vaccine was "the best birthday present I could have".
He urged people to "wear your mask, stay at home (and) wash your hands".
Blair told Good Morning Britain he felt "wonderful".
He said: "I'm feeling fine. It was the best birthday present I could have because I was 92 on December 12 and on that day they said I can have my first one, which I did, my first appointment.
"Yesterday I had my second."