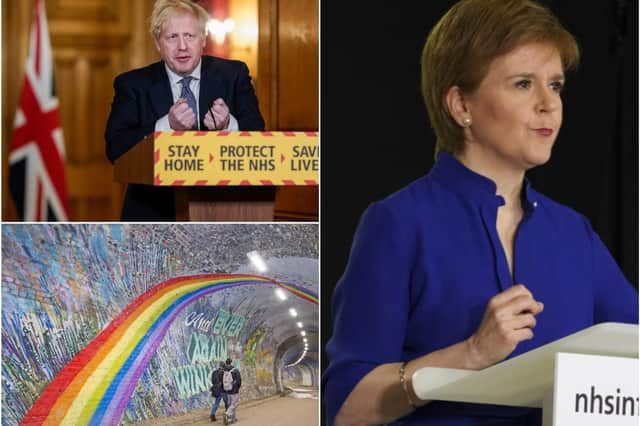 Coronavirus in Scotland LIVE
Scottish Government statistics show that 2,007 patients have died, while 14,117 patients have tested positive.
Nicola Sturgeon faced criticism from the Scottish Parliament at First Minister Questions about reports on lack of testing in care homes.
Coronavirus in Scotland: Latest updates on COVID-19 in Scotland
Last updated: Thursday, 14 May, 2020, 12:59
14,177 positive cases in Scotland
2,007 patients who tested positive have died (according to Scottish Government statistics)
FM under pressure to step up testing for care workers
FM says the importance is the relationship between the incidents of cases and the R number - not the R number alone.
FM: Jason Leitch has done a sterling job
FM: "All of the data right now tells us that we are in a fragile position"
Scotlands higher R number could be due to older population and more people with underlying health condition
Demographic of population impacts the R number.
Scotland also had later cases and therefore could behind the rest of the UK on coronavirus path.
FM on contact tracing - working on the advice right now that 'contact' counts as someone being closer than 2m. -this may change if the advice changes.
FM: "We need to adapt as we learn more"
Dr Gregor Smith: It's the range of the R number that should be focused on - not one specific number.
FM: "I've never rules out regional variations" though not yet proposing that different regions in Scotland will come out of lockdown at a different rate
Scottish Healthy Secretary: Care Inspectorate carried out an inspection on Home Farm care home in Skye, and have concluded that additional support is required.
Care Inspectorate not yet published report.
0800 111 4000 - the number to call for shielded people who do not have a mobile phone and want to register for free food parcels