Scottish Government statistics show that there are 1059 positive cases of coronavirus across the country and sadly 33 patients in Scotland who have tested positive have died.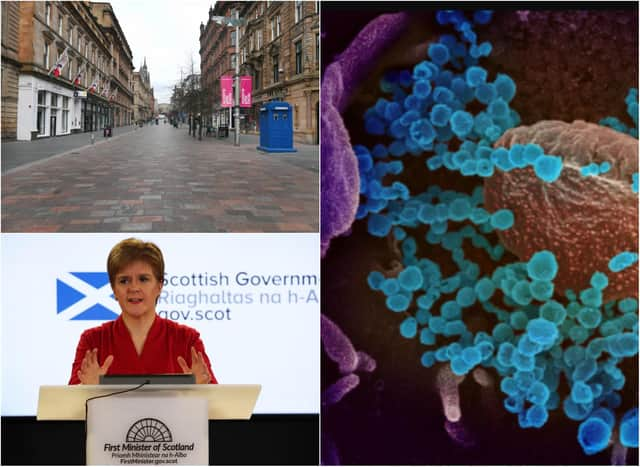 Coronavirus in Scotland LIVE: Latest updates on COVID-19 in Scotland
Show new updates
Sturgeon stresses importance of mental health during lockdown - £3.8 million has been put into the NHS Mental Health Fund.
NHS Inform website has had a new mental health page added.
Nicola Sturgeon: 'The most important thing that all of us can do for the NHS is to stay at home where ever possible'
Scottish Government update: 1059 positive cases confirmed (up 165 from yesterday), 72 patients in ICU and sadly a further 8 deaths, bringing the total to 33 in Scotland.
Unite the union has today (27 March) taken the step to write to Diageo senior management requesting a halt in production at its bottling and distilling operations in Scotland in light of workplace safety concerns and rising levels of stress.
The Prime Minister is self-isolating in Number 11 Downing Street. He lives in the flat above No11, and the Chancellor has vacated office space below where video conferencing facilities have been set up. The doors to No10 have been sealed. Staff attending Mr Johnson will observe 2m social distancing guidelines.
The PM first noticed he had symptoms yesterday afternoon, and got the results of his test at midnight. He is currently self-isolating for seven days. Meals are being left at a door for him to collect. His official spokesman declined to comment on the status of his partner Carrie Symonds - who is pregnant - or confirm if she is living at No11.
The PM's official spokesman said measures were being taken to ensure the illness does not spread further in government, but that No10 is a functioning workplace and staff can continue working following distancing guidelines until they begin showing symptoms.
The PM took part in the daily 9.30am coronavirus meeting of key government staff via video conferencing, and will continue to do so. He will not take part in daily press conferences while self-isolating. Foreign Secretary Dominic Raab is designated to stand in for the PM if needed, but Mr Johnson is currently continuing to carry out his role in full.
Last night he took part in the nationwide clap for NHS staff in Downing Street, along with Chancellor Rishi Sunak. The PM's spokesman said: "He did really want to take part in clapping NHS staff, he felt it was important... he ensured he didn't come into any close contact with anyone."
The Prime Minister has been tested positive for COVID-19 after showing symptoms yesterday.
A Downing Street spokesperson said: "After experiencing mild symptoms yesterday, the Prime Minister was tested for coronavirus on the personal advice of England's Chief Medical Officer, Professor Chris Whitty.
"The test was carried out in No 10 by NHS staff and the result of the test was positive.
"In keeping with the guidance, the Prime Minister is self-isolating in Downing Street.
"He is continuing to lead the government's response to coronavirus."