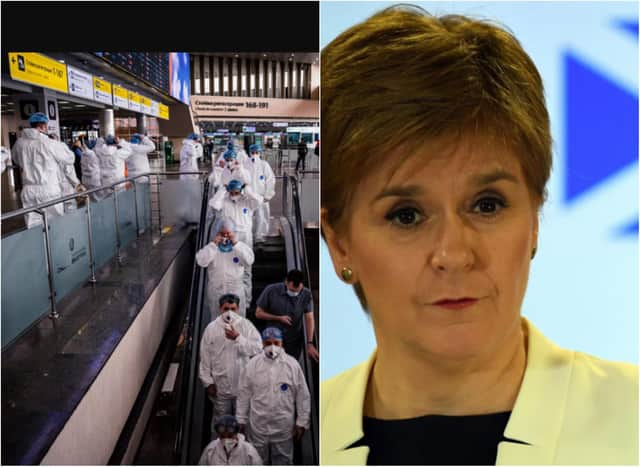 Coronavirus in Scotland live blog
Scottish Government statistics show tat there are 584 positive cases of coronavirus across the country and sadly 16 patients in Scotland who have tested positive have died.
Coronavirus in Scotland RECAP: Latest updates on COVID-19 in Scotland
Last updated: Tuesday, 24 March, 2020, 13:52
Country on 'full lockdown' after emergency measures put in place
Restrictions on when the public can leave their homes
All non essential shops to close
UK Gov: The PM's spokesman also confirmed the growing row between the UK Government and the Mayor of London Sadiq Khan over images of packed underground trains in the capital. Boris Johnson and the Transport Secretary Grant Shapps have asked for reduced tube services to be beefed up again to allow travellers to practice safe social distancing
UK Gov update: At a teleconference briefing with the Prime Minister's official spokesman, journalists were told that partners who do not live together should use their "common sense" over whether to meet in public or in private - but clearer guidance may be on the way.
UK Government update: There remains no clarity on when the government will announce measures to support self-employed workers who have lost their income due to the coronavirus.
Earlier, Chancellor Rishi Sunak told the Commons that the issue was difficult to resolve because the only data on who was earning self-employer income, and how much, came from 18 month old self-assessments. But the Chief Secretary to the Treasury Stephen Barclay later added that the self-employed will "not be forgotten" and said that "help is on the way"
Scottish Government statistics: Here is the breakdown of the positive coronavirus cases across the country
Scottish Health Secretary: Ninewells Hospital, Glasgow Royal Infirmary and Edinburgh Royal Infirmary to have parking fees dropped.
Scottish Health Secretary: 'An announcement on increased testing will be given shortly'
Sturgeon: 'The changes we're asking people to make to their lives, difficult thought they are, are absolutely essential'
The First Minister encourages solidarity during this time.
Scottish Parliament will only meet one day a week instead of three
Sturgeon: 'It is not possible to offer bespoke guidance'
The First Minister has confirmed that they expect construction sites to be closed unless the building being worked on is essential.
Scottish Government update: Later this week, legislation will go through to give them the power of enforcement
Sturgeon confirms that emergency measures will be enforced when legislation passes.