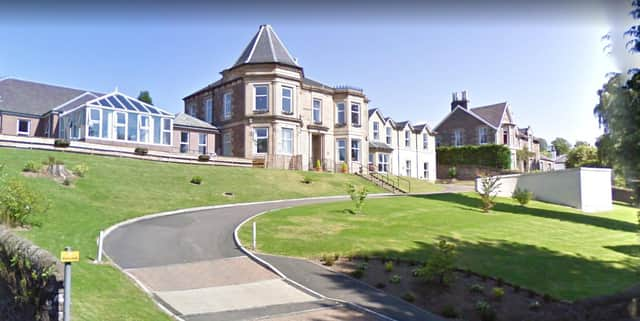 The incidents happened at the Balhousie Dalnaglar Care Home in Crief.
Darrell Ogilvie, who was working as a Care Assistant at Balhousie Dalnaglar Care Home in Crieff, was also found to have told the resident: "I wish you would die".
At a hearing by the Scottish Social Services Council (SSSC), Ogilvie was also found to have grabbed one resident's hands and forcefully pushed them down onto their chest.
The incidents all took place in March 2020, and were the subject of a hearing by the SSSC, which decided that Ogilvie should be struck off.
In a report, the hearing panel referred to the two residents affected as Resident AA and Resident BB in order to protect their identities.
The panel found that allegations against Ogilvie were proven true, and that his fitness to practice had been impaired.
The panel ruled: "Social service workers are trusted to care for the most vulnerable members of society. They must protect them, insofar as possible, from harm and not abuse them.
"Your behaviour is very serious in that you verbally abused a vulnerable service user by stating that you wished Resident AA would die and used offensive and vulgar language in AA's presence and while referring to AA.
"Stating to your colleague in the presence of AA that you wished you could take a nail gun to AA's head, was also threatening and disrespectful behaviour, in a place where AA should feel safe and protected,
"Restraining Resident BB in a forceful manner by grabbing BB's wrists while BB was receiving personal care was physically abusive and placed BB at risk of physical, emotional and psychological harm."
In summing up, the panel found: "The SSSC considers that a Removal Order is the most appropriate sanction as it is both necessary and justified."
The panel told Ogilvie: "Having been advised of the consequences, and recommended to take legal advice, you admitted the facts and that your fitness to practise is impaired and accepted the Removal Order on 7 January 2021.