'Braille saved me': Blind woman from Edinburgh who now teaches braille on how it changed her life
When Sue Marshall, from Portobello, first began to learn Braille after becoming blind at the age of 17, she found the system difficult to master and made "loads" of mistakes.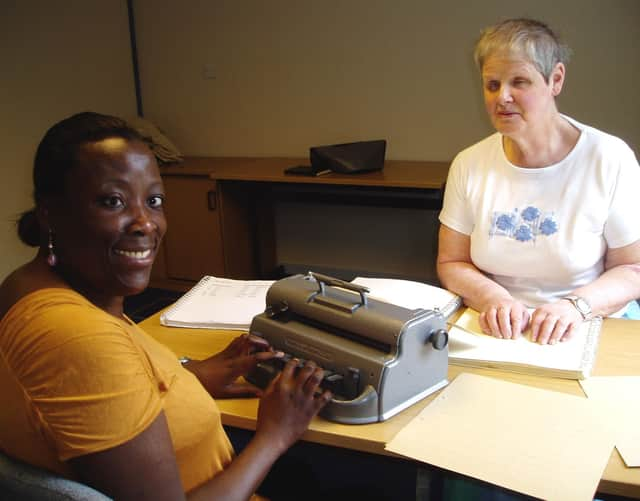 Sue Marshall (right) with one of her students.
But she persevered with two lessons a week and many years later can now skim over the dots of braille faster than some people read by sight.
Ms Marshall continued her mastery of the Braille system and is now teaching it to others, as a volunteer with sight loss charity the Royal National Institute of Blind People (RNIB).
"I was partially sighted until the age of 17 then I became totally blind, so I learnt braille," Ms Marshall said.
"I had two lessons a week and made loads of mistakes, but I persevered."
She added: "It's liberating. Once you've done it, you'll never want to do without it. And you're never too old to learn."
Asked how long the system takes to master, she said: "It firstly depends on how sensitive your fingertips are, and then how much effort you're willing to put into it.
"If you do a lesson a week, you'll learn braille in a year. But if you haven't got at least one fingertip that is sensitive enough to feel the braille dots, you can't do it no matter how much you want to.
"But most of the people who come to us are pretty determined. It's not as hard as people think."
Sandra Wilson, convener of Edinburgh-based RNIB and a braille user, said there was a lack of information about Covid-19 in accessible formats at the beginning of the pandemic.
RNIB has since provided braille copies of information from the Scottish Government, she said, adding that people should contact RNIB Scotland for those materials.
"The invention of braille is often compared to the invention of the printing press for sighted people," she said.
"For thousands across the world, braille means independence, knowledge and freedom."
RNIB has the largest collection of braille books in Europe, with 20,000 titles available for free loan, as well as 14,000 braille music scores.
The inventor of braille, Louis Braille, was born in Paris on January 4 in 1809. He developed the system after losing his sight in an accident at the age of four.
A message from the Editor:Thank you for reading this article. We're more reliant on your support than ever as the shift in consumer habits brought about by coronavirus impacts our advertisers.
If you haven't already, please consider supporting our trusted, fact-checked journalism by taking out a digital subscription.
Want to join the conversation? Please or to comment on this article.