A buyer's guide to CBD gummies in the UK
You may have heard of CBD. But what is it? And does it work? Read this guide on the 7 best CBD gummies in the UK to find out.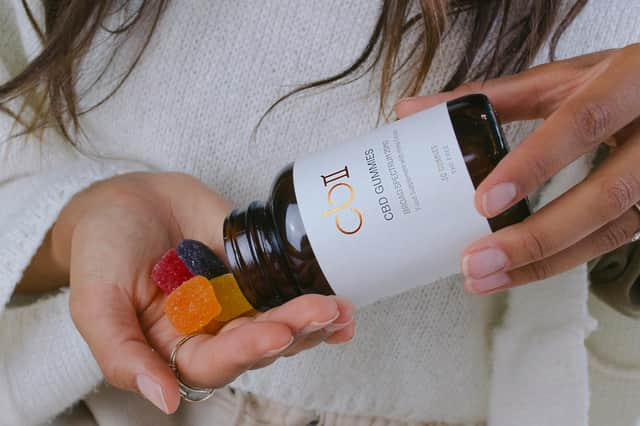 Considering the turbulence that 2020 and 2021 delivered, it's no wonder 2022 has many of us exploring ways to ease anxiety and improve our mental wellbeing.
CBD is a chemical found in the hemp plant, and promising research suggests it may be a helpful tool in combating a range of health issues, from anxiety and depression, to insomnia and PTSD.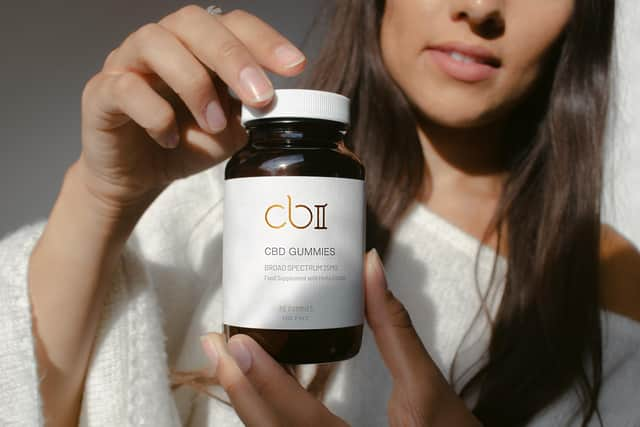 On the market, there's a variety of forms of CBD, from oils and balms, to tinctures and CBD capsules. However, one of the easiest ways to get your dose also happens to be the tastiest: edible gummies.
Discreet, portable, and with no measuring required, CBD edibles come in a range of shapes, sizes, flavours, potencies and prices, making them a fun way to try consuming CBD.
In this buyer's guide, we've rounded up seven of the best, weighing up all the variables to help you decide.
The top spot for highest quality CBD gummies goes to CBII's fruity offerings. Delivered in a sleek glass jar and offering a mix of four flavours (watermelon, tangerine, lemon and raspberry) CBII's gummies combine potency, taste, and quality for a top CBD edible offering that doesn't break the bank.
Each gummy contains 25mg of CBD, but upon taste, it's easy to mistake these morsels for corner shop treats. Light and sweet, with a pleasant chewy texture and a sugar-coated exterior, there's none of the aftertaste often associated with hemp products.
Made using broad spectrum CBD, the gummies are guaranteed to contain less than 0.2 per cent THC - the chemical found in marijuana that causes a high. However, unlike gummies made using CBD isolate, they still contain the complementary cannabinoids required to deliver the synergetic 'entourage' of benefits that hemp extracts are known for.
The CBD itself is sourced in Oregon - the most strictly regulated market in the US. From there, CBII works with Swiss manufacturer Linnea to extract the CBD using a patented method that's gentler and more eco-friendly than many alternative techniques.
All in all, the gummies are pushed through a five-step lab testing process and are independently verified to ensure standardised dosage and quality across the board.
Furthermore, the gummies are free from artificial preservatives, use colours gleaned from natural ingredients, and are fully vegan. And the cherry on top? There's free shipping to all UK addresses directly from CBII's website.
2. Zen Bears CBD Gummies, £39.95 for 30 gummies, 20mg per gummy
With 20mg per sweet, Zen Bears' gummies administer a decent dose of broad-spectrum CBD, and fans praise the delicious taste and texture that stays true to that of a standard gummy bear.
Additionally, instead of being infused with CBD, Zen Bears' edibles are pharmaceutically coated with it. This means the extract diffuses under the tongue for faster delivery - but you have to chew or suck the bear for 60-90 seconds to get the full benefit.
The brand makes the transparency of its products a priority, marking each glass jar with its unique batch number. This makes it easy to track down the third-party lab results so you can verify the gummies' potency and quality.
Like CBII's gummies, these bears are fully vegan.
3. Indica Beauty CBD Gummy Worms, from £20, assorted strengths
Available in 400mg, 1600mg or 4800mg tubs, Indica Beauty's pastel-hued worms deliver doses of 20, 23, or 68.5mg of broad spectrum CBD per gummy, depending on which tub you choose.
Regardless of dosage, the worms come bursting with a fruity flavour reminiscent of regular worms you'll find on the confectionery shelf. Harnessing ingredients such as turmeric, organic cane juice, and grape juice, the worms are vegan and gluten free.
Better yet, the CBD is extracted using an advanced, solvent-free method; a strategy that cuts out unnecessary chemicals to provide a cleaner CBD experience.
4. Medterra CBD Gummies Keep Calm, £34.99 for 30 gummies, 25mg per gummy
In terms of taste and texture, Medterra's CBD gummies are up there with the best, delivering a soft, chewy consistency and a sweet tropical punch flavour.
Alongside 25mg of CBD isolate per gummy, the squares also include powerhouse ingredients turmeric (good for soothing inflammation) and L-Theanine (an amino acid with the potential for easing anxiety and improving overall mental function).
Because the gummies use CBD isolate instead of broad or full spectrum CBD, there will be no other cannabinoids present in the formula. This means the gummies are devoid of the cannabinoids that can work with CBD to deliver a wider range of benefits.
5. Eden's Gate High Strength CBD Gummies, £44.99 for 25 gummies, 20mg per gummy
Eden's Gate is a family-run business that prides itself on being open and honest about its process. The team has full visibility over the entire manufacturing process of its CBD range, which includes everything from waxes to teas.
With 20mg of full spectrum CBD per gummy bear, their sugar-coated gummies live up to the same high standards as the rest of the products.
Regular users laud the delicious taste of the mixed fruit-flavoured gummies, as well as the health benefits, which range from pain alleviation to reduced anxiety.
6. Excite CBD Gummies, £54.95 for 30 gummies, 25mg per gummy
Excite CBD is a Glasgow-based, family-run business, and each of their jewel-toned gummy bears - 30 in each jar - come packed with 25mg of CBD.
Using hemp sourced from organic farms in Colorado, the bears are infused with a tropical flavour, with users giving glowing reviews of the taste and soft jelly texture.
Fully vegan, the gummies use broad-spectrum CBD to deliver a strong CBD experience. However, at £54.95 per jar, Excite CBD's offering is one of the more expensive on the list.
7. Cannaray CBD Gummies, £18 for 30 gummies, 10mg per gummy
At just 10mg per gummy, these zesty discs are an excellent option for those who are just starting out with CBD, or who prefer to administer lots of smaller doses - rather than one or two larger ones - throughout the day.
Juicy and zingy in taste, the gummies are vegan, and free of sulphates and GMOs. They call on natural colouring gleaned from pepper and carrot to give a deep orange hue. They're also triple lab-tested, with the reports readily available on the product page to provide ease of mind.
How much CBD should you take a day?
The FSA guidelines advise against exceeding 70mg a day, and it's important that you check with your medical professional before starting out.
Once you've got the all-clear, it's recommended that you start out small with your dosage, and track how your body feels before bumping up the number of gummies you take each day.
Like THC (the compound responsible for causing a marijuana high), CBD comes from a plant in the cannabis species. But while THC is extracted from marijuana plants, CBD is extracted from hemp, which has only trace amounts of THC.
To be sold legally in the UK, CBD products have to contain less than 0.2 per cent THC. For this reason, manufacturers filter THC out of CBD formulas during the extraction process.
In short, that means CBD products sold in the UK have none of the psychoactive effects that THC does.
Which type of CBD should you look for?
Above, we've touched on the fact that CBD isn't the only cannabinoid present in the hemp plant - there's a whole host of compounds that, when taken in conjunction, bolster each other's effectiveness. This is called the 'entourage' effect, and you'll be able to tell if your gummy will produce it by noting which type of extract the manufacturer has used.
- CBD isolate has gone through a crystallisation process to strip out all other compounds, meaning your dose will contain just pure CBD. This can be a good option if you don't want to ingest even trace amounts of THC, but it means you won't experience the entourage effect.
- Full spectrum CBD is the rawest form of CBD. That means it comes with other cannabinoids present in the hemp plant. Because of this, it often has a more botanical taste, and higher amounts of THC. It's harder to ensure full spectrum products come under the legal UK limit of 0.2 per cent THC, so you won't find many true full spectrum products in the UK.
- Broad spectrum CBD is similar to full spectrum, in that it's jam-packed with other cannabinoids from the plant. However, during the extraction process, the manufacturer has stripped out the THC. This means it comes in under the legal UK limit of 0.2 per cent, but still delivers the entourage effect.