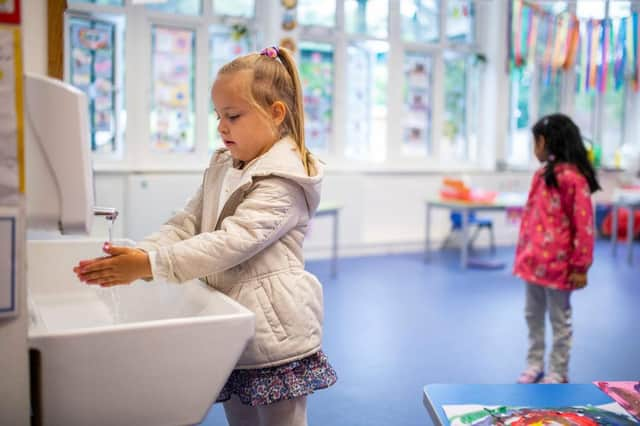 The intention is to have all children back in a full-time learning structure by 18 August.
Strict hygiene measures, however, will be in place to ensure the suppression of Covid-19 in Scotland.
What did the First Minister say?
Speaking on 30 July, the First Minister revealed that sacrifices in recent months had been made with a return to full-time education in mind.
Ms Sturgeon said, "A key reason for our cautious approach to lockdown over the last two months and over the next few weeks, is a determination to drive the virus down and keep prevalence low, so that schools can reopen in August.
"I am therefore pleased to confirm today that schools will return from August 11.
"Given how long children have been out of school, some local authorities may opt for a phased return over the first few days.
"But we expect all pupils to be at school full-time from August 18 at the latest."
Prior to reopening, schools must undergo a risk assessment.
According to government guidance, there should be risk assessments for vulnerable groups, such as older staff, new mothers, and BAME staff.
There must also be a consultation with a union or professional association representative.
A rigorous approach to environmental cleaning must be implemented to prevent the spread of the virus. Consideration should also be given to limiting the extent to which pupil belongings are brought into school.
Enhanced personal hygiene must be adopted, with children allowed to clean their hands with soap at regular intervals. Schools must be equipped with adequate sanitising and hand washing stations throughout the site. Arrangements must also be in place for children with complex needs.
Children and staff must practice good respiratory hygiene - for example, sneezing into their elbow or a tissue, and avoiding touching their own face.
In order to minimise the risk of an outbreak spreading, schools are encouraged to maintain children and young people in consistent groups throughout the school day, wherever possible.
Two metre physical distancing must be in place between adults, as well as adults and children not from the same household whenever possible. Children will not be required to physically distance from each other, though schools are encouraged to implement distancing between young people whenever possible.
Pupils, unless clinically required to, will not be required to wear a face covering. If a child desires to wear a face covering, they are allowed to.
Teachers in close contact with children for more than 15 minutes will be required to adopt a face covering.
Face coverings may be encouraged if the disease becomes more prevalent in Scotland.
School transport is to be treated as an extension of the school site, with strict hygiene measures in place.
Distancing between children and young people on dedicated school transport is not required, although, where possible, some practical approaches to grouping and distancing are provided.
Face coverings are not required for children and young people on dedicated school transport, though those who wish to wear a face covering should be permitted to do so.
Children and young people travelling on all other public transport, where there is no dedicated zone, must follow the requirements on face coverings and distancing for public transport.
Parents and carers concerned about their child's return to school should be actively engaged with.
Schools and local authorities should communicate with those parents and carers to provide reassurance on any concerns, overcome any barriers to learning, and support attendance.
Schools should have a contingency plan in place in the event of a local or national outbreak of the virus. Parents and carers must be fully informed of this plan.