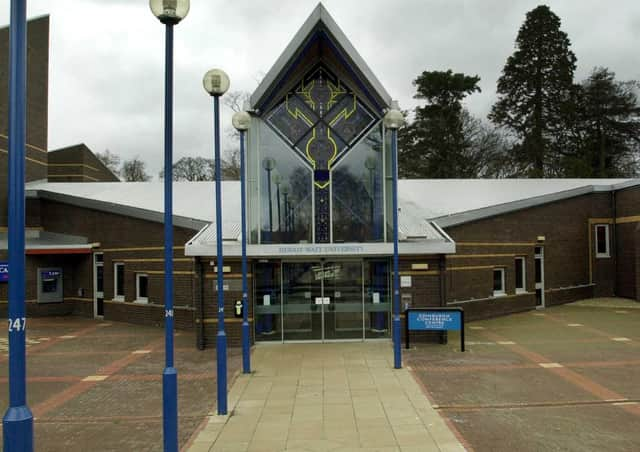 Heriot-Watt, Riccarton campus
Like every further education institute in Scotland, bosses at Heriot-Watt University are struggling to balance its books in the wake of the Covid-19 pandemic and its economic impact.
A Heriot-Watt spokesperson yesterday failed to deny a report claiming it was aiming to slash its costs by axing the foreign language department and will consider the future contribution of the programme.
The spokesperson said: "As with all universities, we regularly review our portfolio of courses to ensure we are providing a programme that meets market demand."
All 19 of Scotland's universities are struggling with the fall-out of fee paying international students spending lockdown at home, creating a financial black hole of £300m-£400m in the next academic year.
The university plans to make non-payroll savings with a reduction of wage costs by conducting "vacancy management" strategies.
University leaders across Scotland are making the cuts, potentially putting languages at risk, a major part of Heriot-Watt's curriculum.
Last month, Evening News reported that Edinburgh University vice-chancellor Peter Mathieson had announced plans to reduce staffing costs through voluntary redundancy and pay freezes for staff earning more than £100,000. Similarly, consultations underway at Edinburgh Napier, announced planned losses of up to 70 jobs, including seven academic posts, with pay freezes for another 1,600 staff members.
Union representatives are advising the university to "exhaust" all other options before undertaking the cost-cutting measures.
Staff at Dundee University were also asked to consider taking unpaid career breaks, reduce working hours or even early retirement.
Last month the university announced plans to cut its German classes, which lecturers have described as "an intellectual Brexit", echoing fears that languages are in the firing line of education leaders.
The University and College Union (UCU), believes employers are acting too hastily, recommending that institutions should first consider the enrolment of international students for the next academic year.
Last year, Heriot-Watt was ranked as the top university in the UK for employability of modern language graduates.
However, a full financial report before the pandemic for the year ending July 2019, confirmed the university has a recorded deficit of almost £29m due to one-off pension costs.
The Heriot-Watt spokesperson added: "We are conducting an externally-led review into our spoken language courses which will evaluate the likely future contribution to the University's strategic ambition and consider how that contribution might be enhanced.
"This will consider, amongst other things, revisions that may be needed to the curriculum, the languages offered and the delivery of teaching.
"This is at a very early stage and no decisions will be made until we have the results of the review."