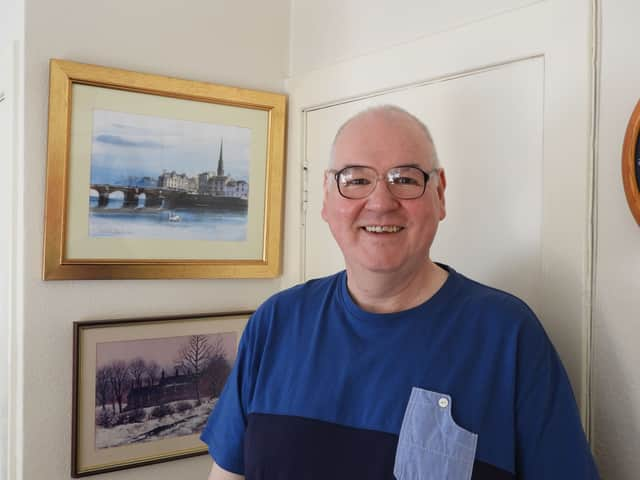 In the many years Jimmy McLaughlin served pints and peanuts at Glasgow University's Queen Margaret Union, he served up a side of ridiculous fiction that became legend on campus.
Most will recognise Jimmy from maintaining order in the first-floor Games Room, but his involvement in the former ladies' Union activities extended much further than pouring a perfect pint.
Tens of thousands of Glasgow University students have passed through his bar during his tenure and gained the respect of dozens of QMU staff. For a time he even lived in one of two flats on the fourth floor of the famous venue. He dressed up as Santa at Christmas, a pantomime dame and a natural Master of Ceremonies.
"That was a weird and wonderful time," he recalls, "as I say, what bar job would you get 9-5? It's like office hours."
Jimmy calls this period the "golden years of unions" - footfall was up, business was booming and drinks were steadily pouring from open til close.
"Term time brings a fabulous energy and all of it comes from the students.
"I can remember some 12-hour Cheesy Pops at one or two in the morning - I'd open my living room window and I could hear the music still pumping and I'd be thinking, 'yeah, good… they're still having a good time'."
Glasgow University Queen Margaret Union
"Of course, you'd then go on duty at 8am and people would be falling asleep in the corners."
Campus superstar DJ Toast's pop classics weren't the only thing going bump in the night.
"I remember one time after a '12-hour' - it must have been about 11 o'clock, so most people had drifted away by this time. We'd done a building check - nobody in the building - next thing I hear the lift.
"Now, I have a very vivid imagination and there's so many stories and legends, I thought, 'could it be this ghost I've heard so much about?'"
The lift arrived, the doors opened and to Jimmy's horror it appeared totally empty, but then the limp body of a girl rolled across the lift floor, stared up at him and said, "Hullo Jimmy".
The napping reveller was helped onto her feet, fed and watered and opted for a refreshing walk home.
Ghosts aside, Jimmy knows a thing or two about legends of the QMU.
Former QMU President Gary R. Brown (2006-7) produced a book as part of his year in charge, entitled 'Ladies First: The history of the Queen Margaret Union of the University of Glasgow'. In it, Jimmy was asked to write an essay on the origin of 'Matron', and how she came to be so well-known among union members.
Jimmy McLaughlin at his home
The omnipresent Matron was borne from an act of kindness extended to a poorly student Jimmy was attempting to cheer up. The barman joked he would "go and get Matron", but the student declined any fuss.
From that moment of inception, the fictitious, no-nonsense nurse repeatedly crept into Jimmy's conversations. He painted her as a Guinness-drinking, cigar-smoking, fry-up-after-the-gym kind of woman, who developed a taste for drinking whisky and ether "in the trenches".
For years, Jimmy told students that Matron lived in a flat on the fifth floor and not once was he called out on it: "Most of the time they'd say, 'Wow - I never knew there were flats up there', completely overlooking the fact there only was four floors."
Matron became the same clandestine lie as Santa Claus and the Easter Bunny. Here though, students in their late teens and early twenties shrugged off their teenage cynicism and bought into her existence on various levels. Word of her exploits spread through campus and her narrative evolved into a complex work of fiction, not of books and films, but word-of-mouth alone.
Her well-being was asked after, her advice was sought and her wrath was promised to those that crossed the line. Students shared tales of her exploits and she would call to find out how they had done in exams. Occasional 'sightings' only added fuel to the fire in an endless game of chinese whispers.
On one occasion, Matron was 'caught' in the science building's back stairwell sharing her lethal concoction of ether and whisky with "that" professor. Tsk.
To Jimmy's delight, her legend took flight when other eyewitnesses reported seeing an old stern woman keeping the peace around the union.
The view along University Gardens
"Matron actually gained some street cred at a battle of the bands show," says Jimmy.
"I was keen to hear how some of the students had got on the next day when a very despondent young chap comes in."
The cynical student begins grilling Jimmy over his relationship to Matron and questions his tale's authenticity but before the legend is unravelled, three embattled bands join them at the bar.
To Jimmy's relief, one of the band members recalls seeing Matron with his own eyes, claiming 'some old cow' ejected some of his band's rowdy fans after they ran amok in the backstage area.
"You know," said Jimmy, counting his blessings, "that sounds like Matron to me."
Laughing about it now, he says: "Bearing in mind that the average age of the students coming out with these phrases was between 18 and 19, the 'old cow' they were talking about was the then-Entertainments Manager who was 35 years of age."
Many students past the age of believing in Santa, the Tooth Fairy and the Easter Bunny bought into the fiction wholeheartedly. If the stories alone weren't enough to get students intrigued by Matron, Jimmy's delivery left no room for doubt.
For those struggling with living away from home for the first time, the steep learning curve of academia or the constant revolving door of relationships, Jimmy's Matron was a welcome breath of fresh, absurd air in an echo chamber of intense, accumulating pressures.