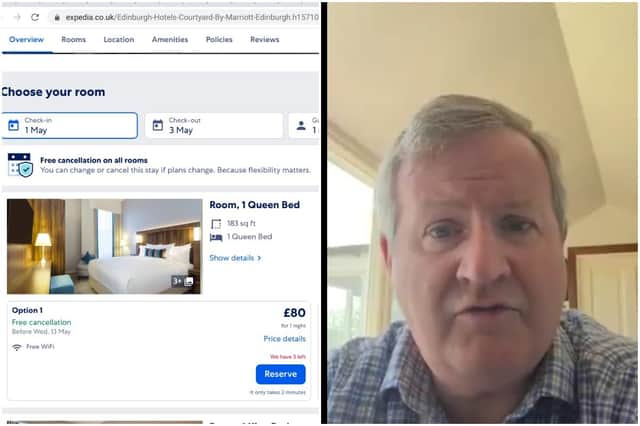 Expedia slammed for keeping Scotland hotel bookings open
A travel firm has been slammed for continuing to accept hotel bookings in the Capital during the coronavirus lockdown.
Expedia, which manages hotel and flights bookings, is still advertising holiday accommodation on its website, including a three bedroom penthouse in Edinburgh costing £5,000 for two nights.
The booking page has a pop up COVID-19 message that reminds customers of the lockdown measures and that some hotels may be restricted.
Yet it still allows payment to me made.
MP for Ross, Skye and Lochaber Ian Blackford said he find the company's behaviour "reprehensible."
He said he has received messages from hotel bosses saying they continue to receive bookings through the travel company and are feeling under pressure to make a decision whether or not the guest is there for essential travel.
In a video online the SNP politician said: "I regret to say that this morning I have had a conversation with Expedia and they're refusing to stop the opportunity for travellers to book accommodation in the Highlands – I find this reprehensible, I find this bad corporate practice from a company that seems to be putting the opportunity to people to make bookings ahead of the responsibility to restrain travel.
"What I find extraordinary is that Expedia is accepting bookings and giving the responsibility to the the operator and B&B provider to tell whether or not it's a legitimate traveller, and when they turn up at the accommodation they have to make a judgement whether or not they are accepting the individual. It simply isn't good enough."
Mr Blackford said the company is letting down communities across Scotland.
He said staff at a hotel in the Highlands are worried about the Expedia bookings as they are bringing holidaymakers to rural communities, despite the threat of Covid-19.
MP for Edinburgh East Tommy Sheppard said the website should be shut down if action is not taken to remove the open bookings.
He said: "It beggars belief that Expedia are actively trying to frustrate the government's public health advice.
"What part of 'stay at home' do they not understand.
"This is damaging the company's reputation as it looks as if it is prepared to risk the health of the public in our city in order to make money.
"If it does not immediately cease then action should be taken to close the site down."
Competitors Airbnb and bookings.com show no available listings available for holiday accommodation in Edinburgh, or across Scotland.
Scottish MP for Edinburgh North Deidre Brock slammed the company for being "irresponsible" and said it has a responsibility to act now to shut down its bookings.
She said: "No-one should be travelling to Edinburgh - or anywhere else in Scotland - for any kind of a holiday just now and Expedia should not be taking bookings. It's irresponsible to carry on as if nothing was wrong and the company should act now to shut down its bookings.
"We love tourists and we value our visitors but we need people to stay away just now. We'll be delighted to welcome people back when this is over but we need to keep people as safe as possible just now."
Expedia has been contacted for comment.