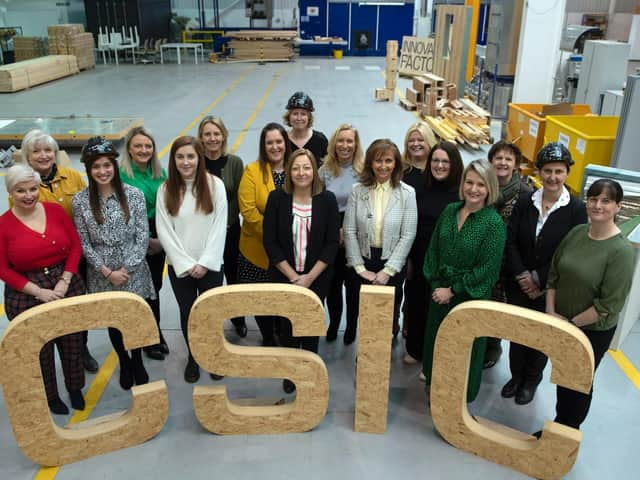 That may seem a bit harsh, but the ­reality is that the pace of change has been incredibly slow, especially in terms of the number of women working in the ­industry. ­Women make up around 13 per cent of the total construction workforce – not much of a change from 20 years ago when that ­proportion sat at around the 11 per cent mark.
It is even lower in manual skilled or on-site roles, at a meagre 2 per cent. It is baffling when statistics show that there is an equal number of females studying STEM (science, technology, engineering and mathematics) subjects.
In a world that is deemed to be ever-changing and fast-paced, why are we not seeing a ­dramatic increase? For the past two decades I have been recruiting candidates for a wide spectrum of construction organisations, at all levels from graduate to director, and have witnessed both positive and negative behaviours when it comes to ­considering women for what are deemed to be ­traditional men's roles.
The construction industry creates the environments in which we all live and work. Engaging more women from all ­sections of society helps to create spaces that are inclusive and representative of everyone's needs. Yet so few women are choosing a career in construction to shape the built environment. Why?
There are many organisations tackling the issue head on and change is happening. But the old image of the industry has been difficult to shake, so the majority of women are not choosing a career in the sector as they don't like what they see. They don't see a positive role model higher up the career ladder.
We need to change this from an early age. Much work is being done by organisations like Equate and DYW, engaging with teachers, parents and influencers who can help to change perceptions during formative years and demonstrate the wide variety of careers that exist in construction.
For those that do choose to enter the industry, we need to work better to retain them. Organisations need to offer greater flexibility in how and where we work. The reality is that the days of presenteeism, where working 50-hour weeks is seen to be the norm, have gone. Efficiency and smarter working practices are essential to ensure the industry remains competitive in a global market.
It is possible to have a successful career in construction working part-time hours and I have witnessed this through some of the more progressive companies I have worked with, who show real diversity of thought and leadership, irrespective of gender. These companies which have committed to proactively addressing diversity through organisational design have been successful in creating collaborative and flexible working environments that inspire innovation, ultimately giving them an advantage.
So positive change is possible. It just needs to happen on a bigger scale. Now.
In my role as a board member at Construction Scotland Innovation Centre (CSIC), a key focus is to support the transformation of the industry and a key driver of this is to ­dramatically increase the pace of change when it comes to diversity. This is not an option but essential to remain competitive in a global market.
A good starting point is to stop the tick-box exercises and have diversity as a proper agenda item, from the very top at board level. CSIC is leading the way with women making up 50 per cent of the board, and 63 per cent of the workforce. Others need to follow suit, and not because it meets a quota.
Research repeatedly shows that companies achieve greater commercial success as a result. Profitability is a serious agenda item. Diversity can support the delivery of this. So move it up the agenda and take it seriously. It's a win-win.
Emma Marriott is a CSIC board member.